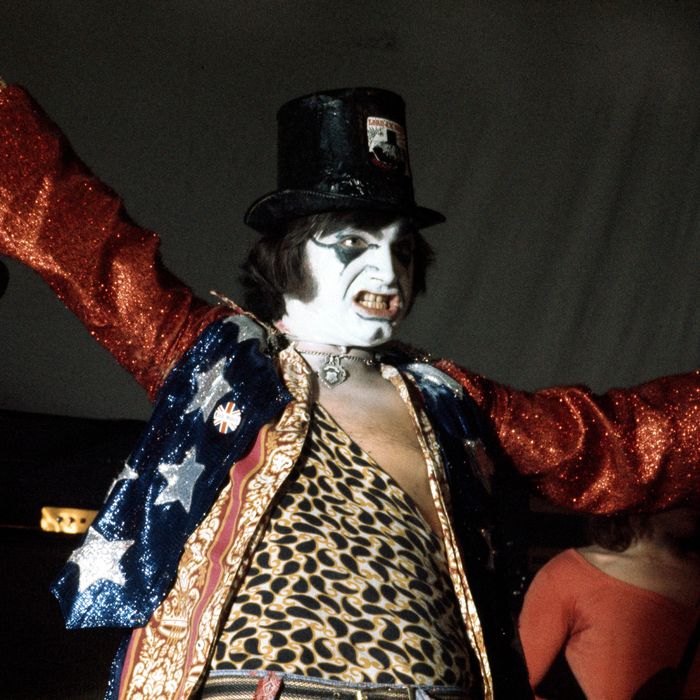 For months, critics and fans have been abuzz about Savages, the London post-punk revivalists, who made a rip-roaring American television debut last night on Jimmy Fallon. But Jehnny Beth and company are not the first London band called Savages. Nor, with all due respect, are they the most savage Savages.
The Savages were the backing band of Screaming Lord Sutch, one of the great eccentrics in British rock history. The group was formed in London in the early sixties and performed for years, on and off, in a bewildering array of configurations. At various times, band members have included Jeff Beck, Albert Lee, Keith Moon of the Who, Danny McCulloch of the Animals, Noel Redding and Mitch Mitchell of the Jimi Hendrix Experience, and Jimmy Page and John Bonham of Led Zeppelin. Researching the Savages, I've discovered, is task that can send a man careening through a Borgesian labyrinth of mirrors. There are at least three separate Wikipedia pages devoted to the band; one of them lists 36 different Savages lineups. Today, fourteen years after frontman Lord Sutch's death, the Savages are evidently still a going concern. One Wiki page lists founding Deep Purple bassist Nick Simper as a current member.
It's difficult to envision the Savages without Screaming Lord Sutch, who was born David Edward Sutch, in 1940. Forget the boldface names in the backing group: Sutch was the star. His stage name winks at Screaming Jay Hawkins, an obvious inspiration for Sutch's wild-eyed stage presence. But he was a deranged visionary in his own right: a shock-rock pioneer. When Alice Cooper was still a schoolboy in knee socks, Sutch would take the stage, his face smeared with ghoulish greasepaint. He sang from the inside of a coffin. He dressed as Jack the Ripper; he wore devil horns. He menaced the young women in his audience with axes, daggers, and, um, a dust mop attached to a microphone stand. It is an act that has to be seen to be comprehended.
Last night on Fallon the young women in the Savages glowered over their instruments and whipped up an almighty sound. It was pretty punk. But they didn't fire a pistol into the front row of the audience, now did they?