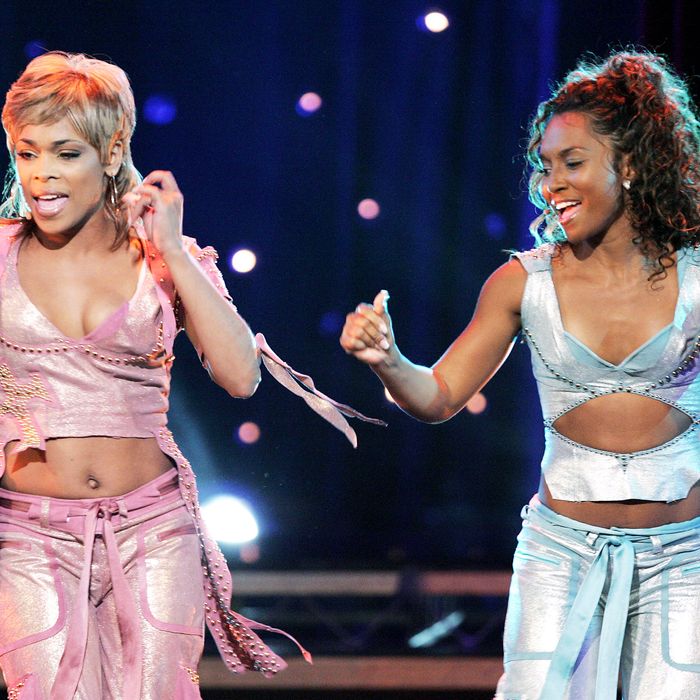 Photo: Vince Bucci/Getty Images
"Crooked Smile," the new single by J. Cole, is a pleasant but innocuous piece of inspirational rap about how learning to love yourself is the greatest love of all. Specifically, it's about J. Cole learning to love himself despite (and because of!) his "twisted grill" — a set of teeth that appears to have been stacked higgledy-piggledy along his gum line by a drunk supermarket stock boy. Undoubtedly, "Crooked Smile" will be bolstering the morale of the dentally impaired deep into the dog days of August.
For the rest of us, the song offers a different kind of uplift: those voices singing the hook belong to Tionne "T-Boz" Watkins and Rozonda "Chilli" Thomas, the surviving members of the great nineties girl group TLC.
Watkins and Thomas have spent years in a purgatory of basic cable reality-TV series while promising a musical comeback. There have been teases. In 2009, they played short concerts in Japan and Las Vegas. They performed a medley on the 2011 American Idol season finale. Every now and then, you hear a rumor that they are in a recording studio, at work on an album.
Even without much TLC, there is no shortage of TLCism in current music. Surf the Internet, cock an ear to hit radio, and there can be no doubt: Watkins, Thomas, and their late bandmate, rapper-singer Lisa "Left Eye" Lopes, are among the most influential pop musicians of the past two decades. R&B had begun to play footsie with hip-hop in the late eighties, with the rise of New Jack Swing. But records like "Creep" and "No Scrubs" made the blend of genres feel inevitable, and gave it a tunefulness and sheen that turned it into pop.
Credit for the sound and style — the beats, the girl-group harmonies, the hip-hop attitude — must be shared with their producers, especially Dallas Austin, Babyface, and Kevin "She'kspere" Briggs. But T-Boz, Chilli, and Left Eye had a charisma of their own — a "CrazySexyCool" mix of diva hauteur and screwball daffiness. They were fashion forward. (Remember their condomwear?) Above all, they were feminists. They didn't have big voices like their competitors En Vogue or their successors Destiny's Child, but they had fearsome swagger; their songs answered hip-hop misogyny with cheerful viciousness. There may be no more devastating diss in modern music than the way TLC shoos away the pest in "No Scrubs": "A scrub is a guy that can't get no love from me / hanging out the passenger side / of his best friend's ride / trying to holler at me." In "Red Light Special," T-Boz bluntly demanded cunnilingus, which was novel for a No. 2 hit in 1995; the video was set in a brothel full of writhing, half-naked male prostitutes, with Left Eye dressed as a zoot-suited pimp. To the extent that pop continues to be centered on spectacular demonstrations of female self-reliance, powered by R&B vocals and hip-hop beats, we live in the TLC era.
It's nice to hear those familiar croons in the chorus "Crooked Smile." Whether this is more than a modest nostalgia trip remains to be seen. As ever, there is talk about a TLC comeback album. This July, Watkins and Thomas are appearing at the Mixtape Festival in a performance hopefully billed as "The Return of TLC." Thomas told the Daily News that she and Watkins will pay tribute to Lopes, who died in a car accident eleven years ago. But there will be no hologram cameo, like the one Tupac made at Dr. Dre's Coachella show last year. "A hologram is very expensive," Thomas said.