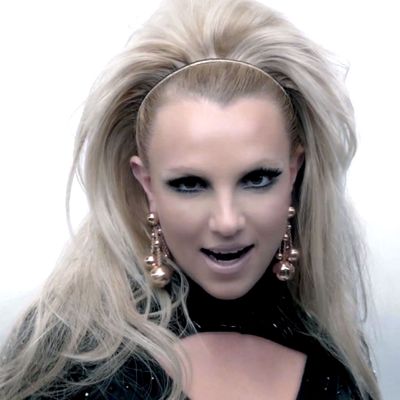 The release of Kanye West's Yeezus sucked all the air out of the musical universe this week, launching a thousand think pieces and inciting debate about everything from misogyny to patisserie. Yet pop music went on. Here are a few new songs you may have missed while feasting on Kanye's croissants et confiture.
Britney Spears, "Ooh La La"
Britney Spears's contribution to the soundtrack of The Smurfs 2 is, according to the film's director, Raja Gosnell, "The perfect Smurf-party song … I am very excited that Britney is joining our smurfy adventure." It's an industrial-strength stick of bubblegum, concocted by Dr. Luke and a hundred or so other songwriters and producers. The song's strength lies in its ambiguity: a lyric that, depending on the kind of Smurf-party you prefer, might be about dancing in your pajamas at a fourth-grade sleepover — or about snorting coke and reverse cowgirl.
M.I.A., "Bring the Noize"
The first taste of M.I.A.'s long-delayed fourth album is an echt-M.I.A. mix of braggadocio and provocation, featuring shout-outs to Wikileaks, Slick Rick, and, crucially, "Fleas." The production, by Switch, is catchy but familiar — low-fi beats, bustling and clattery, a fine match for M.I.A.'s nattering flow. A coda drops the tempo and the temperature, and tacks on another allusion, to "Me and Bobby McGee."
Deer Tick, "The Rock"
The Rock, in this case, is both metaphorical ("I give the rock to only you / It is the piece that can break through / The window of our love") and musical: the snarling guitar and brass-propelled racket that arrives after a singsong intro. The latest from roots-maven John McCauley comes, as usual, with a heaping helping of corn; in McCarley's version of ye olde days, the weather was always dark and blustery, and no one ever had fun. But few fanciers of the American homespun rock this hard, and many try.
John Mayer, "Paper Doll"
The world's dullest celebrity love affair has now spawned history's most ineffectual musical feud. First came Taylor Swift's John Mayer dis, "Dear John"; now Mayer has responded with "Paper Doll," a gently shuffling ballad aimed, if the Internet is to be believed, at Ms. Swift. Like many of Mayer's songs, it's tasteful, well-played, finely sung, pretty; it's also comprehensively dull. The key line, online wags report, is "You're like 22 girls in one." (Get it?) "Ether" it ain't.
The Bloody Beetroots featuring Paul McCartney and Youth, "Out of Sight"
Yes, that's Grandpa Beatle, wailing along with the EDM wallop of Italian producer Sir Bob Cornelius Rifo, a.k.a. the Bloody Beetroots. Of course, McCartney jumped on that train long ago: He's put out a couple of electronic dance-ish collaborations with bassist and producer Youth under the pseudonym the Fireman, and in 2000 released a fun aural freak-out called Liverpool Sound Collage. (And let's not forget that the Beatles recorded the greatest techno track of all time.) Here, McCartney does an admirable job shouting above Rifo's synthy bombast, no mean feat.
Meek DeMeo featuring Kendrick Lamar, "Paper Birds"
Meek DeMeo, "Near Death"
I can't decide how I feel about Meek DeMeo, the R&B crooner who released a free EP, Capital Vices, this week. Is he in the vanguard of the new "progressive" soul music, with its desolate production and grim vision of sex and romance? Or is he a shallow pretender, blundering through the door cracked open by Frank Ocean and the Weeknd? DeMeo's new songs offer no immediate answers, but I'm impressed, at least, by his commitment: I don't think I've ever heard so self-effacing an R&B man, so willing to swamp his own voice in bleak atmospherics.