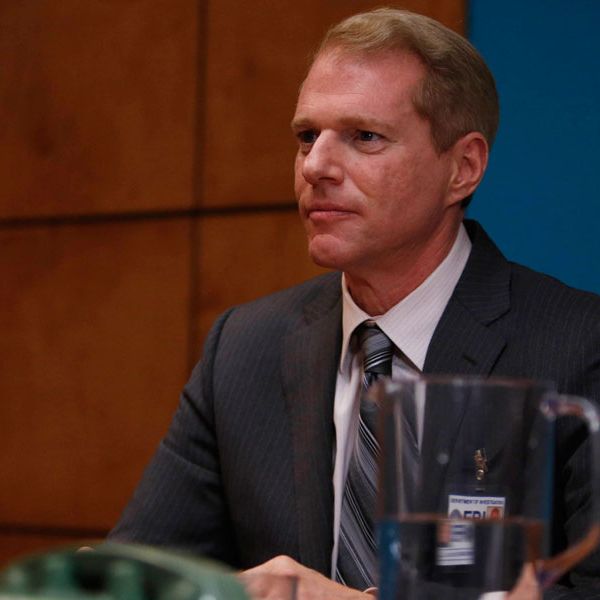 Noah Emmerich is one of those excellent, understated performers often referred to as a That Guy — in other words, he's a great character actor equally likely to turn up as the hero's best friend (see The Truman Show) or as a sadistic general (Super 8). On FX's standout spy drama The Americans, Emmerich finally gets a starring role, and the most wonderful thing about it is, a glance at his character bio will tell you that he's meant to be a supporting player. But that has always been the greatest test of a TV actor's talent: projecting so much intelligence, sensitivity, and inspiration that a secondary character seems to acquire the same weight and importance as the show's ostensible leads. As Stan Beeman, the depressed but super-competent FBI agent investigating Russian spies, Emmerich never seems as though he's trying to seize the spotlight; somehow it just naturally seems to swing in his direction, and when it's not shining on him, you wonder where he is and what he's thinking and feeling. It's a great match of actor and role, and during The Americans' most powerful Stan-centric moments, Emmerich gives me the kind of electric charge that I got while watching James Gandolfini in the first season of The Sopranos. It's the kind of part, and the kind of performance, that makes you realize that this former bit player always had star quality, but for whatever reason, it just took a while for the world to figure it out.
Emmerich wins you over right from the start, when, in the pilot, he talks to his next-door neighbors, the secret KGB agents Elizabeth and Phillip Jennings (played by Keri Russell and Matthew Rhys) and their kids in the Beeman family's kitchen. He has the sort of jocular confidence that you associate with certain mundane macho guys — assistant gym coaches, striving veteran salesmen, and the like. There's a smile in his voice but also an undefinable edge of menace; you can't be entirely sure why he's saying what he's saying, or how much he knows, and whether he's messing with you, and if he is, whether it's on purpose or because that's just how he comes across. This is a tremendously helpful quality to have when your job requires you to get information out of people.
But there's a lot more to Stan than affable intimidation. Before he moved to Washington with his family to become a counterintelligence agent, he went undercover with white supremacists in St. Louis, and the experience traumatized him so badly (the particulars are still a mystery) that he's seemed wounded and recessive ever since. Emmerich plays Stan as somebody who no longer trusts himself or knows himself, a man so psychically wounded that he feels as though marriage and fatherhood are a kind of extended performance, more given than felt. We don't know precisely what drives Stan, but we see his demons manifested in the actions he takes, and in the expressions on his face as he takes them. The conflicted feelings play out in Stan's eyes even as Emmerich composes the character's face in a way that would plausibly hide the turmoil from other people. This is as emotionally transparent as a performance can get without seeming as though it would give away the character's secrets if it were happening in life.
Stan's affair with the Russian consulate worker Nina (Annette Mahendru) doesn't seem like a refuge from a failing marriage, as his wife, Sandra (Susan Misner), is as beautiful and loving as a man could wish. Perhaps it's motivated by a desire to have something new in his life, something unspoiled? Or to be able to feel that he's protecting somebody in trouble, and making her life better rather than worse? Stan is chivalrous; you can see that in the way he talks to Nina and to his wife and to every other female he encounters. But he's also fearful and lonely, so much so that when Emmerich performs Stan when the character is by himself, the character's misery is so naked that it's difficult to look at. When Stan erupts in lethal violence — most notably in a shocking scene late in the first season that turned more than few viewers' sympathies away from him — you understand the roiling emotions that caused the explosion, even though the show hasn't revealed the particulars. It's all because of Emmerich; he makes this complicated, nearly broken man comprehensible and appealing even when he's teetering on the edge of madness.