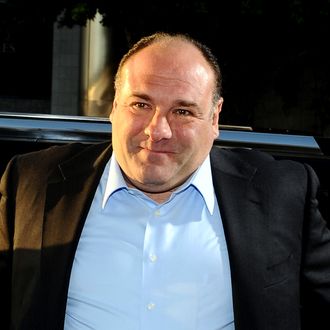 Photo: Angela Weiss/Getty Images
The Sopranos star James Gandolfini has died, an HBO representative confirmed late Wednesday. He was on vacation in Italy with his family and may have suffered a heart attack, the HBO spokesperson told Vulture. Gandolfini was 51. Gandolfini won three Emmys for his iconic performance as Tony Soprano on the HBO series, which aired from 1999 until 2007. We'll update this story as more information becomes available.
UPDATE: Gandolfini's managers have also confirmed his death, saying the actor "passed away today while on holiday in Italy." HBO issued a statement expressing its "shock" and "immeasurable sadness at the loss of a beloved member of our family.  He was special man, a great talent, but more importantly a gentle and loving person who treated everyone no matter their title or position with equal respect.  He touched so many of us over the years with his humor, his warmth and his humility….He will be deeply missed by all of us." HBO had recently greenlit a short-run series called Criminal Justice in which Gandolfini was set to play a down-on-his-luck criminal defense lawyer. He had completed production on the Dennis Lehane-penned feature Animal Rescue and an untitled feature film from director Nicole Holofcener, which also stars Ben Falcone and Julia Louis-Dreyfus.
UPDATE 2: Starz chief Chris Albrecht, the former head of HBO who developed The Sopranos at the network, has also issued a statement in response to Gandolfini's untimely passing. "Jimmy was the spiritual core of our Sopranos family, and I am stunned at this devastating loss," he said. "He was a great talent, but an even better man."
UPDATE 3: The Sopranos creator David Chase has reacted to the news. "He was a genius," a statement from Chase reads. "Anyone who saw him even in the smallest of his performances knows that. He is one of the greatest actors of this or any time. A great deal of that genius resided in those sad eyes. I remember telling him many times, 'You don't get it. You're like Mozart" There would be silence at the other end of the phone. For Deborah and Michael and Lilliana this is crushing. And it's bad for the rest of the world. He wasn't easy sometimes. But he was my partner, he was my brother in ways I can't explain and never will be able to explain."