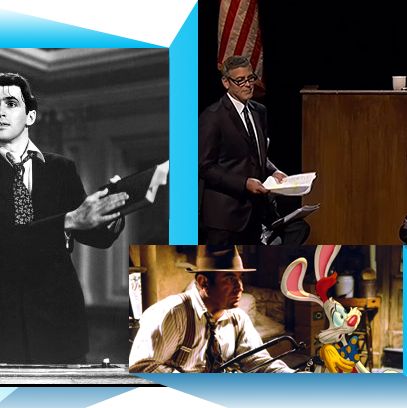 This weekend, as you search for a movie to watch, you can either go out to see The Heat, White House Down, or stay home and pick one of approximately 14 billion options available on streaming over a variety of services, be it Netflix, Hulu, Amazon, On Demand, or other sites. Every Friday Vulture tries to make life easier by narrowing it down to a handful of heartily recommended options. This week we get topical with a fascinating staged piece on the just-felled Proposition 8 and a classic celebration of the filibuster, as well as a push to rewatch Who Framed Roger Rabbit, just because.

8
This week, the Supreme Court concluded a two-year journey of legal back-and-forths and deemed both California's Proposition 8 and the federal government Defense of Marriage Act unconstitutional. The battle on behalf of same-sex marriage looked beyond saving when Prop 8 was passed in California after the 2008 elections. But gay-marriage advocates continued to fight, and when the case against Prop 8 landed in the U.S. Court of Appeals for the Ninth Circuit, there was finally a glimmer of hope. Last-minute papers submitted by the defendants prevented the appeal from being telecast, so no one knew what exactly made presiding Judge Vaughn Walker determine that Prop 8 was unconstitutional in 2010. But he did — and it opened the door for everything leading to the Supreme Court's decision.
Understanding how important it would have been to see this hearing, Academy Award–winning Milk screenwriter Dustin Lance Black rounded up court transcripts, news stories, and post-trial interviews in order to stitch together a condensed version of the Perry v. Schwarzenegger litigation. The result is 8, a documentary theater experience that's shocking and inspiring, and occasionally befuddling. The play was first performed on Broadway in 2011, then staged for taping in 2012 with the likes of Brad Pitt, George Clooney, John C. Reilly, Jamie Lee Curtis, Kevin Bacon, Jane Lynch, Chris Colfer, Matt Bomer, and more. There isn't much dramatization, and the actors read from scripts, but the plantiff witnesses are passionate, and the defendants stumble. 8 provides no room for doubt: This was (and continues to be) a cause worth fighting for. (Available on YouTube)
Weekend
A gay Before Sunset, Andrew Haigh's drama chronicles a 48-hour romance, this time between two men, Russell and Glenn, who meet at a club. They hit it off, and what starts out as a one-night stand becomes an intimate whirlwind of flirting, low-key partying, and confessions. Haigh avoids navel gazing by slowly building Russell and Glenn's relationship and obstructing it with the realities of their lives.
Yes, they're gay, and that comes with some particular hurdles. But their sexuality is an afterthought. The two men grapple with their potential for love. Their feelings metamorphosize in the cocoon that is Russell's apartment. The longer they stay in playing Guess Who?, drinking themselves silly, and describing their ex-boyfriends, the more they need each other. Yet there's a definitive end in sight that they both fear. That's a familiar scenario to almost everyone. (Available on Netflix)
Mr. Smith Goes to Washington
In addition to the Supreme Court decisions, this week saw Senator Wendy Davis pull off a ten-hour filibuster to block abortion regulations in Texas. At cinemas this weekend, Channing Tatum saves President Jamie Foxx from terrorists in Roland Emmerich's White House Down. It's a real "America, Fuck Yeah!" week.
Sometimes it's hard to love both this country and the people who run it. Frank Capra felt that tension in 1939, when he pitted grown-up boy scout Jefferson Smith (Jimmy Stewart) against the corrupt inne -workings of the U.S. Congress. But Capra had faith in his fellow man. After being recruited by conniving politicians who deem him a pushover, Smith decides he wants to push a bill through that will open up a camp for underprivileged boys. When his plans interfere with a moneymaking scheme masterminded by his mentor Senator Paine (Claude Rains), all hell breaks loose. He becomes target No. 1 and the opposition uses every slimy trick in the book to oust him. To combat the senators, Smith filibusters for 24 hours. By the end, he's disheveled and gasping for air. Not so glamorous for Mr. Stewart — but his endless speech is simply rousing. (Available on Amazon Prime)
Who Framed Roger Rabbit
Since it was released in 1988, Who Framed Roger Rabbit has not lost any of its luster. The script is sharp, the sight gags all land thanks to Zemeckis's gleeful direction, and the film's genre-blending makes it more than simply a reference-filled love letter to cartoons. It's also not afraid to take dark turns — remember the anthropomorphic shoe dipped into "the Bath" and Christopher Lloyd ripping off his face to reveal a murderous toon? Both are still nightmare-inducing.
Most of today's summer blockbuster stars don't have an ounce of the character, physicality, or heart that Bob Hoskins brings to the movie. Roger, Jessica, the Weasels — all great. But Hoskins makes Roger Rabbit work by being the tangible one. And it shows. There are traces of blue screen — not much choice when Hoskins's Eddie Valiant ends up in ToonTown — but for the most part, the actor is running around real rooms pretending to have Roger handcuffed to his wrist. It's a pinnacle of movie "make believe." By the end of Roger Rabbit, we believe that Eddie, a hard-nosed detective who lost his brother and became an alcoholic, can do a song-and-dance routine with an ACME punching glove hammer, all because he befriended a cartoon bunny. Has any movie in recent memory been this fun? (Available on Netflix)