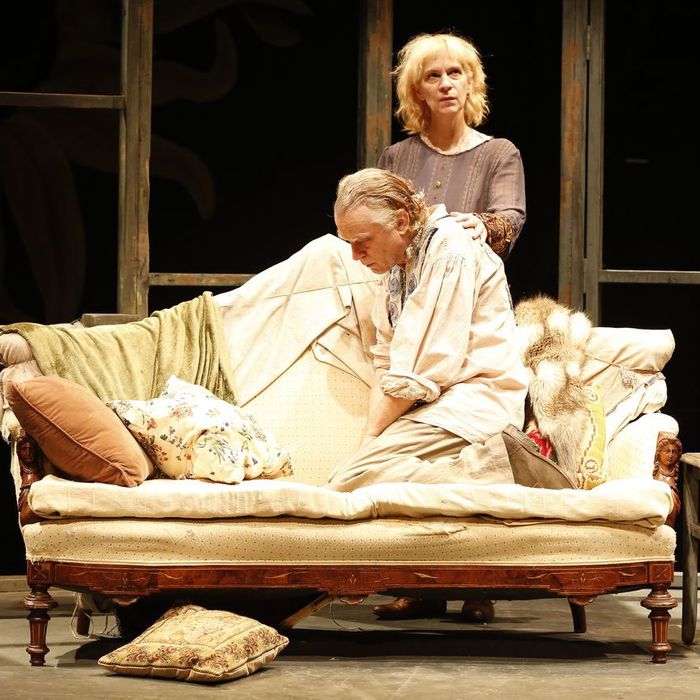 Brad Dourif and Amanda Plummer in The Two Character Play
Photo: CAROL ROSEGG
The Two Character Play (at New World Stages)
In the middle of the damp knot of Tennessee Williams's The Two Character Play — written (originally under the title Out Cry) in response to its recently institutionalized author's twin terrors, madness and irrelevance — Felice (Brad Dourif) discovers a pistol. "Has it always been there?" asks Clare (Amanda Plummer), Felice's fellow actor-inmate. "The revolver and the box of cartridges that you found last night have never been anywhere else, not in any performance of the play. Now I remove the blank cartridges and insert the real ones as calmly as if I were removing dead flowers from a vase and putting in fresh ones." That's a joke, or what passes for one in this grim, canted boneyard of decaying artifice: Felice, no cool customer, is a rubber band ball of twangy nerves. Clare is no better, a broken doll with one marble rolling around inside. (I could watch the fantastically frowsy Amanda Plummer for hours on end; she makes simply existing look so hard. And it is, right?) 
They're actors, they claim, and on a dilapidated set, they perform a distillation of Williams's core obsessions: truth and fakery, an inward-turned hatred of personal weakness crossed with a bottomless tortured empathy for weak and broken things, and, atop the heap, a fierce need to grasp the authentic via the theatrical. Williams wrote this play years after his "great" works were considered handsome antiques, and he revised it repeatedly, over a decade, like a prisoner digging an escape tunnel with a spoon. Director Gene David Kirk has selected two actors so marvelous at feigned insanity that another layer of ambiguity has been added: Where do the performers' histrionics stop and the play's inner life begin? This production is more of a sophisticated freak act than a dazzling illusion, but you come away feeling dreamy, cobwebby, as if you've just seen a show piped in from a hazier era — but an era where clarity was still worth fighting for.
The Unavoidable Disappearance of Tom Durnin (at the Laura Pels Theatre through Aug. 25)
Steven Levenson follows up The Language of Trees, his delicate cartography of modern American distress, with a straightforward story of a prodigal father's return. Tom (David Morse) is a disgraced attorney and con artist, back in town to reclaim his family. His chances, we see immediately, are nil: The enormity of his financial crime isn't immediately revealed, but it's clear he flattened the lives of every person who ever loved or trusted him. First among the victims is his son James (the exquisitely dented Christopher Denham), whose couch the now penniless Tom quickly talks his way onto. James saw most of his manhood, and some of his sanity, sapped by his father's schemes and subsequent arrest, and now he can barely maintain a conversation with the adorable flibbertigibbet (the protean Sarah Goldberg) in his community college writing class. Denham's excellent, but the play never gives his character a chance to square off with its central mystery: Tom, a shifting shadow of menace and deception. Morse is a frightening, ambiguous presence, but ultimately, neither the play nor James knows quite what to do with him. There's half an inspired text here, and with a cast this superb, that might be sufficient.