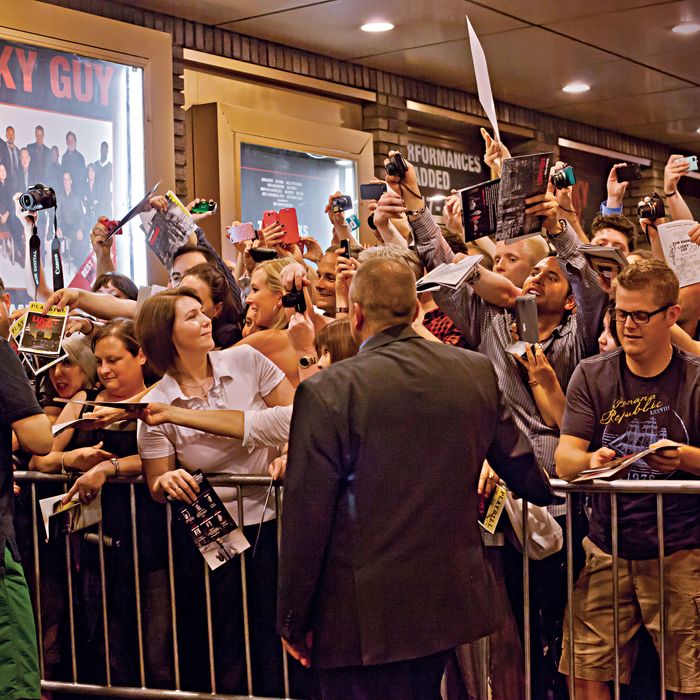 Photograph by Mark Peterson
Photo: Mark Peterson/?Mark Peterson
After every performance of Lucky Guy, swarms of Tom Hanks appreciators—often 300 people, a number eclipsing all other post-show Broadway crowds—gather expectantly.
"I have boobs out [to get his attention]. The boobs are always my strategy. They get you anywhere in this world, as long as you utilize them for good and not
evil." —Anna-Maria Fabbricante, 37, Atlantic City, New Jersey
"He's my favorite actor, and I'll just pass out if I see him. I'm a big fan. I'm so big, so big, since Big, 1988." —Dana Pizzimenti, 32, Astoria
"I just walked by, and I saw the crowd, and I figured that Tom Hanks must be here. I'm just hoping to get a picture at least. Bare minimum. An autograph would be great, if I had a pen, but … I kind of came unprepared. I got the camera. Three percent battery left. I'm hoping that it holds out." —Alex Greenfield, 28, Buffalo, New York

"I came to see him two months ago in the play, but I couldn't get his autograph, so I specifically came to the city tonight to get it. We tried to get the two o'clock matinee. The nice gentleman told us that Tom doesn't come out at the two o'clock, so we went and got something to eat. It would be a blessing if I could just shake the man's hand and tell him that I respect him; I don't need to grab his handkerchief out of his suit or anything." —Sue Snyder, 43, Allentown, Pennsylvania

"Tom Hanks is part of my birthday present. That's why we're waiting for him. We saw Lucky Guy this afternoon and came back to meet him—hopefully. My husband arranged this. It was a surprise. I showed up to the airport and didn't know I was coming here. His birthday is tomorrow, and mine is on Monday. He had to marry someone who had a birthday close to him so he would remember it." —Stephanie Kurtz, 30, Alberta, Canada

"Wilson!" —Joseph Durning, 27, Sydney, Australia
*This article originally appeared in the June 24, 2013 issue of New York Magazine.