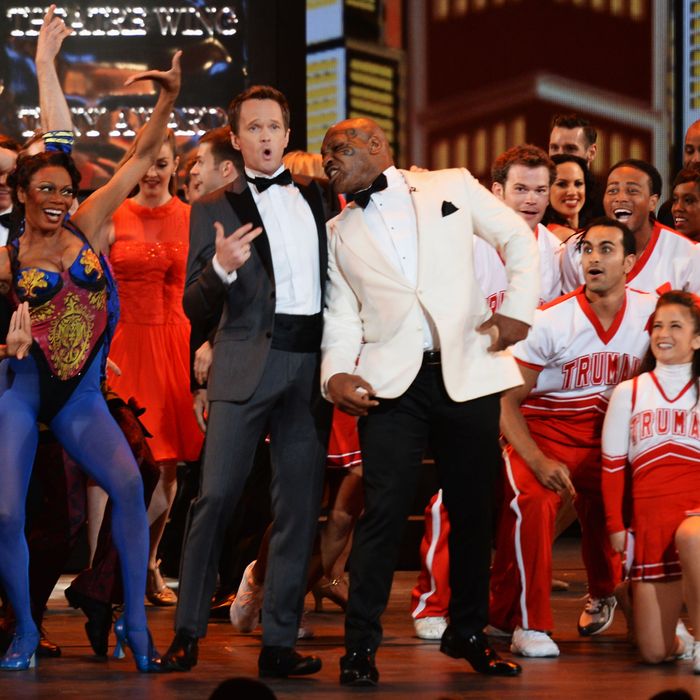 Neil Patrick Harris and Mike Tyson onstage at the 67th Annual Tony Awards.
Photo: Andrew H. Walker/Getty Images
The prizes at the 67th Annual Tony Awards have all been handed out, and the electrifying match-up between Matilda and Kinky Boots has been settled with a decisive victory for the latter. The two most-nominated productions (thirteen for Kinky Boots, twelve for Matilda) went head-to-head in eleven categories, with Boots picking up six statues, including Best musical and score, to become the most-awarded production of this season. Matilda wasn't completely shut out, however, picking up four awards for book, scenic design, lighting design, and featured actor in a musical (Gabriel Ebert).
Having the highest number of nominations is often a good indicator of success at the Tonys, and this year was no exception, but it's still surprising that Matilda didn't fare better. Having swept the Olivier Awards (Britain's Tonys) before transferring to Broadway on a wave of acclaim, it was long considered a shoe-in for best musical. It received rave reviews from the critics, and yet, for American audiences at least, turned out to be a musical that tickled the brain rather than tugging at the heart. Kinky Boots, in addition to having the home field advantage, clearly charmed voters with its sparkly costumes, show-stopping numbers, general light-heartedness, and familiar (though well-executed) formula. This was an upset victory, no doubt, but it's not exactly a surprise.
This year's best play race was weaker than it has been in recent seasons, but the prize went to Vanya and Sonia and Masha and Spike, Christopher Durang's riff on Chekhovian themes and characters. Its main competitor was Lucky Guy, penned by the late Nora Ephron, which received prizes for Courtney B. Vance (featured actor in a play) and lighting design. It's unusual for a comedy to win best play, but Vanya, more than its fellow nominees, will likely go on to have a healthy production life after this one closes. Plus, it was a way of recognizing the talent of Durang, who won his first Tony and only his second nomination for this play.
Mirroring the best musical race, many other categories had two favorites to win. Two men in drag, Bertie Carvel and Billy Porter, faced off for leading actor in a musical; Porter won, as he perhaps should have, considering that Carvel's delicious performance as the Trunchbull in Matilda would have been a better fit for the featured actor category. In other similar categories, Patina Miller bested Laura Osnes, Cicely Tyson won over Kristine Nielsen, Andrea Martin outshined Annaleigh Ashford, and Diane Paulus was rewarded for her direction of Pippin over main rival Matthew Warchus for Matilda.
Tom Hanks and Nathan Lane were widely considered to be the main contenders for actor in a play, but that award went to Tracy Letts for his fine work in Who's Afraid of Virginia Woolf? Other upsets were few and far between. George C. Wolfe was expected to win for his direction of Lucky Guy, but Woolf's Pam McKinnon won instead. In the extremely tight category of featured actor in a play, Courtney B. Vance was an unexpected winner over fellow nominee Richard Kind. Terrence Mann was considered the front-runner for featured actor in a musical, but lost to Gabriel Ebert. Unlike the other acting categories, Judith Light's win for featured actress in a play was all but guaranteed.
Perhaps the biggest narrative is that it was a historic night for both female artists and African-American actors. Cyndi Lauper became the first solo woman to win best score for Kinky Boots, and for the second time ever, women won both directing prizes. Meanwhile, half of the acting prizes went to African-American performers Billy Porter, Patina Miller, Cicley Tyson, and Courtney B. Vance.
The ceremony itself featured its usual mix of wonderful performances and cringe-worthy moments. Things started off strong with the opening number "Make It Bigger," in which Neil Patrick Harris literally jumped through a hoop to entertain the audience. As always, Harris was in fine form and made hosting a major awards show look as easy as planning a dinner party. In one seven-minute performance he rapped, made fun of Shia LaBeouf and Alec Baldwin, and danced with drag queens and Mike Tyson. His traditional closing number, the rap-recap, was better than ever and got an added boost from Audra McDonald's backup vocals. (The evening's one controversial aspect may have been the inclusion of Tyson in the proceedings, which prompted some viewers to tweet about his history as a convicted rapist.) The ceremony might also be unfondly remembered for having actors introduce performances in character. Having two guys from Rock of Ages introduce Cinderella was truly bewildering. True to form, the show again vacillated between appealing to mass audiences and serving up the most insidery jokes imaginable.
In between, the musical performances varied from brilliant to belabored, including a too-long medley from box-office juggernaut Motown, an unnecessary bit from The Phantom of the Opera, and a truly awful video montage of this season's plays set to the sounds of the Rascals. Selections from Matilda, A Christmas Story, and Pippin were the highlights, and Jane Lynch was simply great as Ms. Hannigan.
Other memorable moments included Jesse Eisenberg speaking way too quickly, Cicely Tyson's idiosyncratic acceptance speech, Cyndi Lauper spinning her Tony Award next to Jake Gyllenhaal, Christopher Durang silencing the orchestra that was playing him off with mention of his mother's death, and the "In Memoriam" tribute scored by Cyndi Lauper's "True Colors." Until next year, though, just ponder the meaning of Alan Cumming and Scarlett Johansson playing Pattycake backstage.