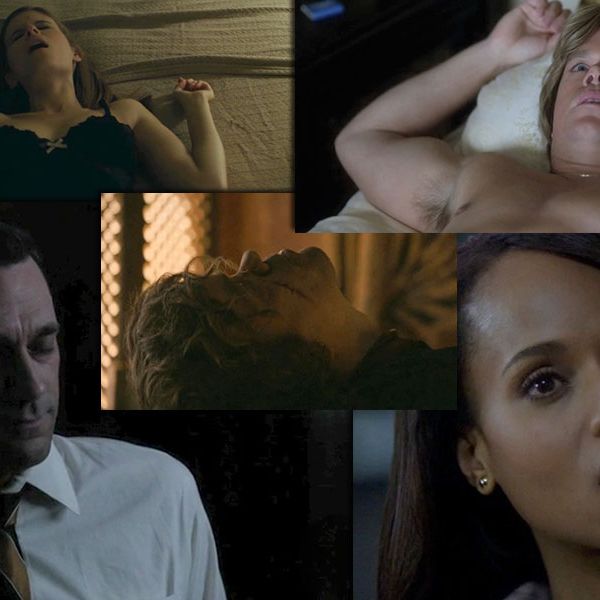 As we wind down our weeklong salute to the TV season that was, we've explored serious, important superlatives such as best visuals, best episodes, and most valuable guest star, to name but a few. But what about best sex scenes — and, more specifically, best oral sex scenes? It feels like we saw a disproportionate number of our favorite characters enjoying such shenanigans this season, so we figured: oral-sex-face GIFs! But also, what more fair barometer of acting talent is there than how expertly an actor emotes in these sorts of simulated intimate moments? Let's look more closely at the techniques on display this year, starting with the oral-sex-face master.
1. Peter Dinklage, Game of Thrones
Has any character on television ever received more oral services than Peter Dinklage's Tyrion Lannister? Watch here as he perfects the "lean back with joy" move.
2. William H. Macy, Shameless
Impressively, Macy even puts his whole body into it.
3. Jon Hamm, Mad Men
As ever, Hamm/Don Draper goes from furrowed brow to total calm on Mad Men.
4. Matt Damon, Behind the Candelabra
That's some major eye-acting, Matt Damon!
5. Random guy, American Horror Story
Even the red shirts get into the act, as we saw on American Horror Story when this orderly whipped his hair back and forth.
6. Kate Mara, House of Cards
Ever the multitasking blogger, Mara/Zoe Barnes talks to her dad throughout the act. Happy Father's Day!
7. Rose Leslie, Game of Thrones
As Ygritte, Leslie does some sort of sneeze maneuver in response to Jon Snow's, uh, talents. Ygritte and bear it!
8. Jeff Perry, Scandal
A classic: Perry opts for the long exhale.
9. Allison Williams, Girls
After a moment of frustration, Marnie goes with it. Brian Williams must be proud!
10. Kerry Washington, Scandal
Olivia Pope is great at focusing on the task at hand, except apparently, when the task at hand is getting oral services from the president. A cornucopia of oral-sex faces here!