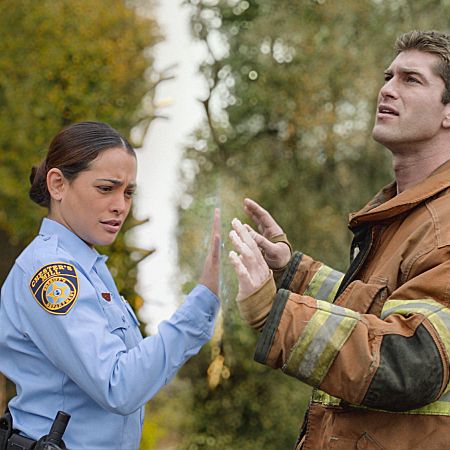 Stephen King has probably caused more sleepless nights than any other American author, not just because he's good at scaring us, but because he's such a compulsively readable storyteller. Films and miniseries based on his work have been hit-and-miss because filmmakers don't always understand, or perhaps aren't creative enough to reproduce, the psychological hooks that are embedded in all of King's fiction, good and bad. King has an unerring sense of how to dole out just enough illuminating facts without killing mystery. That's a quality you'd think would translate effortlessly to television, but for some reason it rarely does.
Producer Brian K. Vaughan's adaptation of King's book Under the Dome, about a small town that's suddenly enclosed by a force field, seems, on the basis of its pilot, to get King on a primal level. The first episode is not too artful, but it sustains an air of menace and delivers images that connect the series with some of executive producer Steven Spielberg's better science-fiction and fantasy pictures. King and Spielberg and other storytellers who work in this vein put uncanny events in a mundane world of interstate highways and chain stores, and unveil spectacular images in a casually overwhelming way, without comment, so that you can't be sure if the characters are experiencing a living nightmare or a miracle. The dome descends on the town of Chester's Mill with a Spielberg-worthy flourish, one of the nastiest, creepiest network-TV images outside of NBC's Hannibal. As the show's first hour unfolds, we get more "wow" moments, some related to the dome and its mysteries, others revealing hidden, often disturbing aspects of characters we mistakenly thought we'd figured out from a glance.
The Dome pilot reminded me that King's fiction owes as much to TV shows about small towns as it does to the community-based literary fiction he cites in interviews: James Joyce's Dubliners tales; Sherwood Anderson's Winesburg, Ohio, cycle; Ray Bradbury's short stories. Subtract the vampires from Salem's Lot, the returned dead from Pet Sematary, or the demonic clown from It, and you're looking at a soap opera along the lines of Peyton Place or One Life to Live, with splashes of cornpone eccentricity that might have been cribbed from Petticoat Junction or The Andy Griffith Show. The characters go to school and work, have affairs, cheat each other in business deals, worry about making peace with their troubled children or troubled parents, and swap homilies and malapropisms; it all happens within a community as intimate as Our Town's Grover's Corners. Under the Dome has that sort of feel. And it has the good sense to realize that we won't care about the mystery of the dome unless we're interested in the personalities, goals, and secrets of the characters trapped beneath it, so it lays then out in economical strokes.
There's a muckraking reporter (Rachelle Lefevre) trying to get to the bottom of things while searching for her disappeared, likely cheating husband, and a drifter named Dale "Barbie" Barbara (Mike Vogel of Bates Motel) who's done bad things but behaves heroically in a crisis. There's a councilman and local power-broker named "Big" Jim Rennie (Breaking Bad's Dean Norris, leading with his barrel chest), who's a bit too comfortable with being kissed-up to and obeyed, and a lesbian couple (Aisha Hinds and Samantha Mathis) with an insufferable daughter (Mackenzie Lintz) who get trapped under the dome en route to Los Angeles. There's a local psycho known as Junior (Alexander Koch) who too-predictably adds another note of impending doom, as if the townspeople didn't have enough to contend with. Colin Ford and Britt Robertson play siblings who get trapped when the dome descends; like all of the characters, they have secrets that will be exposed as the townspeople grow more desperate and spiral into Lord of the Flies behavior.
You don't immediately sense how all of the characters are connected or how they might eventually become connected — most of the pilot is scene-setting and mood-building — but what's onscreen is compelling. The small-town setting is a refreshing break from TV's upper-middle-class big-city norm. It's got a built-in poignant irony. The town's blood ties and historical traditions exert such comfortable allure that most of these characters might have spent their entire lives here without giving a second thought to relocation. Now their every waking second is spent worrying that they'll die in Chester's Mill, sooner rather than later.
Some of my colleagues have said that Under the Dome reminds them of Lost. I can see that and don't doubt that the success of J.J. Abrams and Damon Lindelof's so-called "magic box" drama was part of the reason CBS decided to green-light this show. It has that "All questions answered in due time" quality, along with the implicit guarantee (present in King's fiction as well as on Lost) that when the explanations arrive, they may not be as satisfying as what you'd imagined. More so than most series, mystery-driven genre shows demand a wait-and-see attitude from viewers, so I'm tamping my enthusiasm accordingly. But this Dome is promising. At the very least, it's good enough that you don't spend every minute thinking that King's book coincidentally had the same plot as that of The Simpsons Movie — though I confess that I fantasize about one of King's characters turning on their TV and seeing an ad for Dome Depot.