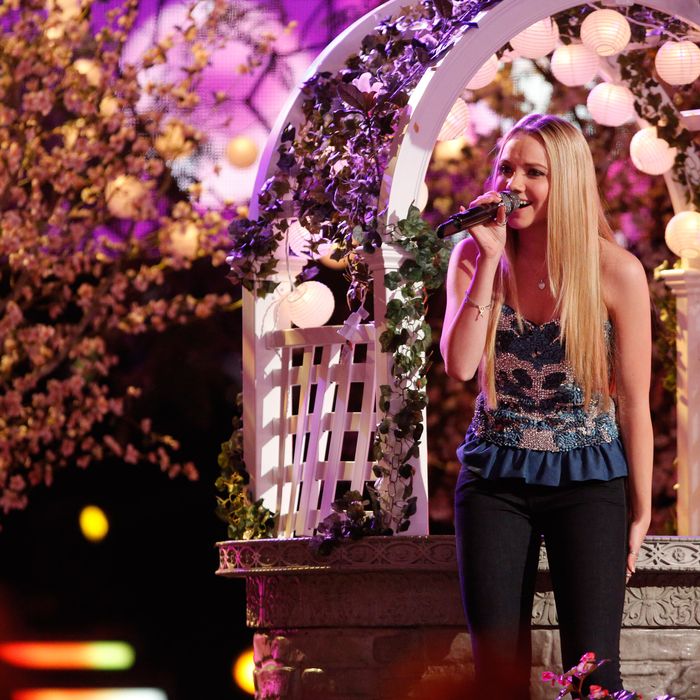 Hello. We're down to the finals of this glass menagerie. How do you feel? I am sad. I will miss the black pocket square of Carson Daly. I am also voting for the Swon Brothers. Swoncert forever! No one can say Rebecca Harrington does not embrace the passing of time.
"With a Little Help From My Friends," the Judges
Someone is shilling out at The Voice! There is nothing I like better than hearing a Beatles song on this wacky little show. It means that money is really being spent in penance for the previous mistakes made by America. The protestant ethic and the spirit of capitalism! This was actually kind of good, too. Everyone was trying to out-sing each other, and Adam Levine missed a cue.
The Swon Brothers, "I Can't Tell You Why"
I actually really loved this Swoncert. I can't lie to you, Readers. Yes, the Big Swon could not sing on key. Yes, Little Swon sang less than he has ever sung before. Is he mute? But I love falsetto. I loved when Shakira waved her Swon Brothers flag. Everyone even made less sense than usual while judging the Swon Brothers, because what was there to say? They are the new Eagles. Oh God, I hate myself!
Michelle Chamuel, "I Knew You Were Trouble"
I guess everyone had to sing a song they had already sung before. Does that not sound like a dumb and boring idea? No one can know. Michelle sounded the same on this song as she sounded on it before. It was fine.
Guess who is another person I am going to miss. Christina Milian! I just love her and her penetrating questions to the tiniest Swon in all the land.
Danielle Bradbery and Blake, "Timber I'm Falling in Love"
First things first — Blake went to meet Danielle's family in some sort of southwestern Salvador Dalí nightmare of a room. The family kept saying that Blake was the best father/son-in-law/suitor for Danielle that they could ever ask for. Blake seemed very pleased by that. This was a good Danielle performance. She seemed to use her dynamics better than usual. I also applaud her for making an ostensibly romantic duet with Blake Shelton into the least romantic thing I have ever seen. Blake kept moonily staring at Danielle, but she absolutely refused to engage. It made me like her.
Swons, "Danny's Song"
This song sounded the same as it always has. It was fine. I am voting for them!
Michelle Chamuel, "Why"
Oh my God. They made Michelle sing in front of mirrors again. What is wrong with this show? Michelle's mother is not Ruth Bader Ginsburg for nothing. She has to DO something about this. I don't even care about the fact that Michelle eventually walked away from the mirror, leaving herself imprisoned inside the mirror. The symbolism was lost upon me! It did not make it better when Shakira wore glasses to celebrate Michelle, either.
Swon and Blake, "Celebrity"
Blake met the Swon's parents in the same horrifying ranch he met Danielle's in. They seemed nice. When the Swons were bad, they used to send them into their rooms to write songs. Maybe I will do that to my sons for discipline. I was a big fan of this performance because the kids dancing in front of the American flag might have been the worst dancers I have ever seen. They looked like they were all collectively having a seizure! Were they? Maybe this is how you have to dance to country music.
Danielle Bradbery, "Maybe It Was Memphis"
This performance was the same, aside from the dry ice. My friend that I was watching The Voice with (I have them! I have them!) cleverly observed that dry ice is "the worst singing competition trope in history," and I have to agree.
Later, Shakira wore a hat to celebrate Danielle and told her, "You have gone straight to the vein of America, and that is priceless." Mensa!
Do you see a red balloon floating lonely around the Sprint Skybox? It's Christina Milian talking to the moms of all the contestants. Everyone is proud of her spawn.
Everyone, "Home"
All the finalists came back for this performance. It was fun! I missed them the most. It was good to see Cathia again, and I am glad Judith has a huge braid. Even Hi-Hat was there, in spirit.
Michelle and Usher, "One"
Unlike cheapskate Blake Shelton, who only hosts families in rooms with cow-print blankets and frightening paintings of desert wastelands, Usher took Michelle's family out to Cecconi's for brunch. Here it was revealed that Michelle's mother is awesome and her cousin was eating an entire plate of croissants. Literally an entire plate! Good for you cousin. Later, Michelle and Usher sang "One." I did appreciate their mutual bending.
Danielle Bradbery "Born to Fly"
Danielle sang this well, like she usually does. Afterward, Blake Shelton told her, "You are such an important person to music," which seems to be a slight overstatement, since who even knows if Blake himself is such an important person to music?
And that's our show! What are you going to miss the most? Carson Daly's skeleton? Blake's nightly cocktails? The wit of Christina Milian? Please discuss below.