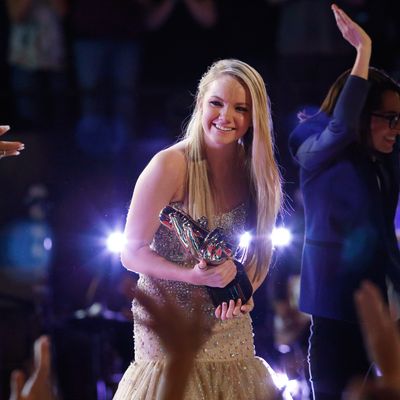 Oh, my pretties. It's over. The Shirley Temple of the South is the winner! What have we to say for ourselves? Are we happy? I, for one, feel satisfied. America proved a consistent, if dull and puritanical, mistress.
Christina Aguilera and Pitbull, "Feel This Moment"
Xtina!!! I do love her, especially when she becomes unrecognizable through some kind of makeover. I greatly enjoyed her performance, although she sounded slightly pitchy and weird initially. Also, is Pitbull a superlative dancer or what? I love him. My mother even texted me during his performance to say that she loves him also. So it runs in my family.
Swons and Various Country Stars From Times Past, "Stars Tonight"
This was a funny performance because literally everyone was better at this song than the Swons. Remember Amber Carrington? She's so great. Remember Holly? She's very fun. Remember Justin of montage fame? He has a square head. It was an interesting experiment.
This was followed by some kids doing judge impressions — the fulfillment of  Christina Milian's lifelong dream. I hope she was pleased somewhere in some other Sprint Skybox in some other sky.
One Republic and Michelle Chamuel, "Counting Stars"
Does anyone else think that the main One Republic guy looks like Ryan Gosling? I decided I love him. He is so charismatic and intense, like a Method actor. Also, should Michelle be in One Republic? Maybe this is the solution to all of this.
Next, there was a tribute to Blake Shelton, coach. Apparently, he gives the Swons shake weights and he dresses Danielle up in the Japanese style and uses chopsticks to "chop" the notes. I do not even want to talk about how offensive it was (and yet I DO! Message me later).
Florida George Line Cruise featuring Nelly, "Cruise"
How far has Nelly fallen? Very far. This song was such a depressing folk dance, and enthusiastic and rapid guitars did nothing to disguise that very sad fact. You couldn't even hear poor Nelly, and he has one of the most distinctive voices I have heard in modern times. (Remember "Hot in Here," a song Pharell knew in advance was going to be a hit?) That is how I would like to remember him. I would like to remember him singing "It's getting hot in herre/ So take off all your clothes."
Oh look! It's Chrissy! Dressed up like she is attending the Academy Awards. (In direct contrast to Carson's suit, which was elaborately mournful, even for him. What is he celebrating?)  She is interviewing the finalists about what they have learned from the other finalists. I did enjoy how nice Lil Swon was to Chrissy. He is really quite fun when he is talking. He might be a better talker than Big Swon! Danielle referred to everyone still left in the competition as her big siblings. This, I am sure, pleased them immensely.
VEDO, Josiah, Kris, Garrett, "Ain't Too Proud to Beg"
You know who was so great in this? VEDO! He sounded so smooth on this song. I wished he were the winner instead of the blonde Margaret O'Brien.
Sarah, Danielle, Amber, Caroline, "All-American Girls"
Danielle picked these girls to perform with her, and they all did a pretty decent job. That is a hard Carrie Underwood song! That woman is a vocal acrobat. In the introduction for this number, Danielle also referred to Sarah as her big sister. If you have a good description, stick with it!
Thank God, there are more Confessions! In Confessions news, Bebe Swon once got a perm. I would have liked to see that. I bet he looked adorable.
Bruno Mars, "Treasure"
This effing rocked. Bruno Mars is a genius and so is his entire band. I am obsessed with his red suit. The only bad part about it was that the lights from the stage kept blinding me from seeing the full extent of Bruno Mars's imitable staging. This might have been some seventies aesthetic choice, but I did not appreciate it.
Bob Seegar and the Swon Brothers, "Night Moves"
What a motley crew is The Voice audience! Not only do they like Bruno Mars, but they also like Bob Seger songs from 1976. It was good seeing old Bob again, though. I like his beard! Also, read the "Night Moves" entry on Wikipedia. It's very elaborate!
This was fun. It was just a montage of Shakira using big words and then some spelling test starring the other judges, attempting to spell these words. And guess what, none of them could do it! Blake thought diaphanous was a character in Sesame Street. "It's true. She's brilliant," said Carson Daly, swathed in black robes like Voldemort. He is celebrating Shakira and he is also mourning her, just like effective proprietors of funeral homes the world over.
Judith, Karina, Sasha, Cathia, "Never Gonna Get It"
This kind of bummed me out. These girls were all so excellent and this song is so incredibly awesome. This should have been the final four! What the HELL, America! America is really tremendously lame.
Later, we were treated to a montage of the daily life of the finalists. Michelle hates makeup and yet Danielle likes it. I was shocked. At some point this week, all of them were treated to new cars by the Voice's "partner," KIA motors. Danielle really charmed me with how excited she was about this car. All I ask is for a little human emotion!
Danielle Bradbery and Hunter Hayes, "I Want Crazy"
Wasn't this just like the modern equivalent of Liz Taylor and Mickey Rooney in National Velvet? Two such strangely mature presences riding a horse in concert! I thought this was one of Danielle's best performances. She has such accurate pitch. She was made to sing rapid harmonies with a tiny blonde man,  I think. (Swon?)
Team Usher, "We Can Work It Out"
I thought it was pretty nice for Michelle to reunite "Team Usher" as opposed to her personal friends. (Although, seriously, no one "admired" Judith or Sasha? People are really freaks, actually.) This was the best group performance of the bunch. VEDO impressed me again and so did Cathia. The whole team really seemed to get along well.
Oh my God. There are more confessionals. This time about what it would be like to win The Voice. Guess what? Winning The Voice will be just like living another day. Nothing will happen to you, guys! The Voice has never produced a pop star of any merit. I just laid a truth bomb.
Cher, "This Is a Woman's World"
I have to get something out of the way. Cher looks amazing. I adore her haircut and I am going to get it tomorrow. She sounds gorgeous. She redefined performing for me. Okay, that is done.
In other news, I am routinely amused by these songs like "This Is a Woman's World" or "Run the World (Girls)" by Beyoncé. These lyrics are blatant lies in every sense, but I appreciate the positive thinking. I wish, Cher!
And now we are down to the end, the wire!  (They handle suspense industriously on This Is the Voice.  There is no American Idol–type lollygagging.) The Swon Brothers got third place! This shocked me at the time. I thought they were going to win, as I stated previously. But then, Danielle won the whole thing. She cried and was really cute about it as her siblings gathered all around her. Danielle was a bland and fierce contender. Despite my love of Michelle, Danielle probably deserved to win. She does have a stronger voice. And she certainly reflected America's verdant and unending love of country music in a more effective way than les deaux Swon.
It's the end of this entire show, and thus this is the end of all my recaps. I will miss you, readers. I laughed out loud at your comments every single week. You made me learn why Oklahoma is southern and the French word for little. I am extremely grateful to get to know you. Next round, Xtina!!! You know you love it.