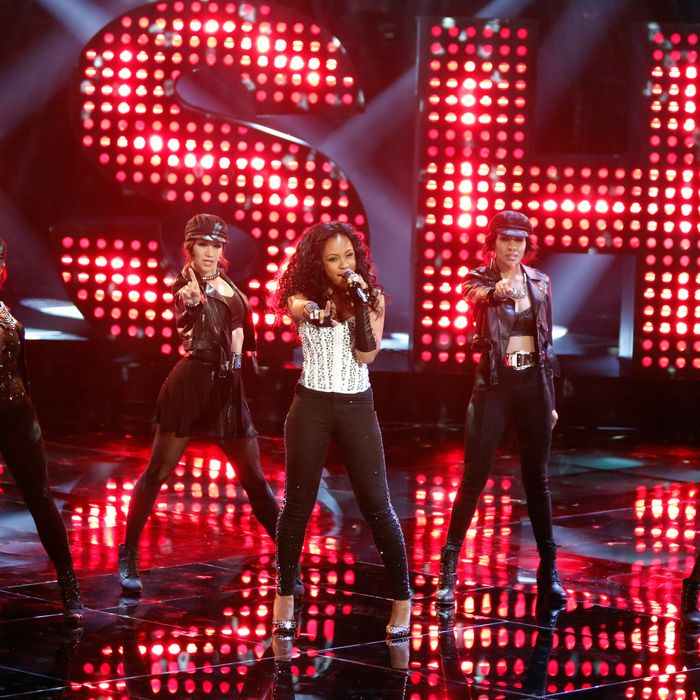 We are down to the top five, my friends, and what a top five they are! Is it wrong to be slightly bored by them? I felt slightly bored by all of them last night and I am usually indefatigable in the face of traditional forms of boredom. I mean, I own an instructional bridge book. (To my credit, I have never read it.) Even Chrissy just stood limply in the Sprint Skybox, like all the life had been squeezed out of her.
Usher's Performance
Usher was predictably amazing last night, even if I hated his tuneless song. And yet, this is the thing about pop today. At first you are like, "that song has no tune, I hate it," and then ever so slowly it wears you down and you become obsessed with it and the song in question is literally just a tambourine and an inexplicably jagged vocal line. This has happened to me more times than I can count.
Swon Brothers, "Turn the Page"
Well, this is still going on. The Big Swon belted his heart out and Lil' Swon had a vest sewn onto his shirt. I had people over to watch this with me last night and it was a great way to introduce them to the Swons.
Sasha Allen, "I Will Always Love You"
I really don't think anyone should ever sing this song aside from Whitney. Not that Sasha didn't sound great on it. She actually did! But it's really hard to hear Whitney in your head and listen to any other person. The good thing was, the staging of this song was amazing. There were several men dressed in white turtlenecks and white pants playing violins! A gigantic pair of French doors hovered over the stage like the retinas of Dr. T.J. Eckleburg. There was so much fog it seemed guaranteed to make people in the audience feel ill. I did like it when Shakira said her mother wanted Sasha to sing a Whitney song. Are you excited that Shakira is in Mensa? I really am.
Michelle Chamuel, "Clarity"
The Voice did a montage of home visits this week for their motley crew of conquering heroes. They were generally boring, or at the very least, nothing like The Bachelor's home visits, which are usually very dramatic and prominently feature the discussion of religion. For example, when Michelle went home to Amherst, Massachusetts, there were many people with naturally gray hair waiting in a café for her, which is exactly what anyone would expect in that locality! As for Michelle's performance, it was fine. I had never heard that song before, although later I looked it up on Wikipedia and realized it was mildly popular. It was written by a man named Zedd.
Danielle Bradbery, "Please Remember Me"
This was a normal Danielle performance. It was on key and very loud. But before Danielle sang proficiently on a live reality singing competition, we went on a home visit to Danielle's high school and it was kind of amazing. I literally think she is the most popular girl in the school! I was very glad about this. If Danielle isn't popularity material, then who IS, I ask you?
Amber Carrington, "Fireworks"
Amber Carrington dedicated this song to her friends, who apparently used to blare it while riding in a car. What Amber knows now, however, is that this song is horrible to sing in a car with your friends or on a competitive vocal reality show. It goes extremely low and terribly high. Poor Amber did her best, but Katy Perry can be tough! The judges loved it, however. Blake took off his wedding ring when he was discussing how much he liked Amber.
Swons, "Danny's Song"
I loved going to the Oklahoma Music Hall of Fame with the Swons. They seemed so happy there. They got a Rising Star award and Lil' Swon wore a real vest that was not sewn on. Later, they sang "Danny's Song" at a piano and Big Swon had on so many wallet chains. After their performance, Usher told them "you're either a 01 or a perfect 10" and then declined to specify which they were.
Sasha Allen, "Bad Girls"
I thought Sasha did a great job on Donna Summer. She sounded fantastic and I loved her arm warmers, because why were they there?
Danielle Blundell, "Who Am I"
The best part of this was how there were baby pictures in the background while Danielle was singing. Danielle was a really cute baby!
Amber Carrington, "Sad"
I thought that this was one of Amber's best performances. I was incredibly affected by it. I was sort of choked up at the end. Father Carson kissed her on the head afterward and he seemed moved, too!
Michelle Chamuel, "Time After Time"
They keep making Michelle sing Cyndi Lauper, which is fine with me (I love Cyndi), but must be boring for Michelle. It was fun when Shakira said that she was on a "permanent crescendo." Mensa!
And that's our show. What could have improved the home visits? What about a courtroom scene? Please discuss below.