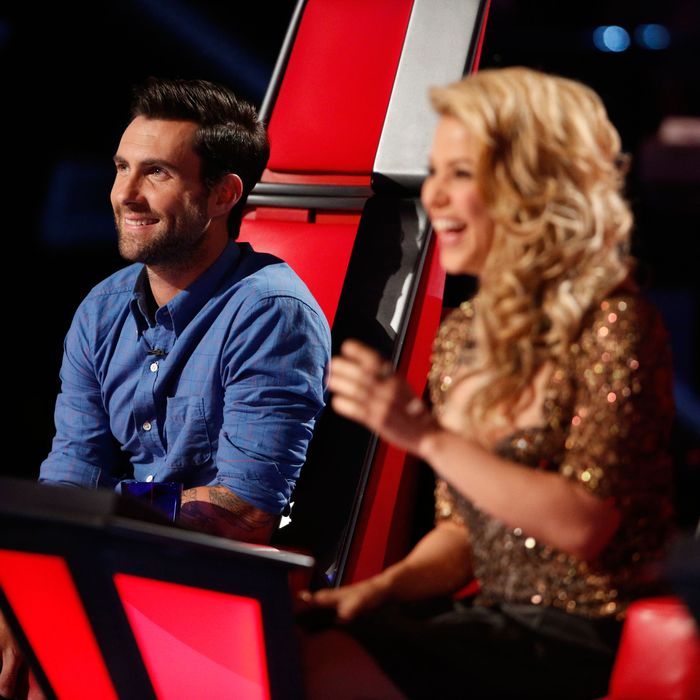 Oh, friends. How do we cope after a tragedy like the ejection of Judith Hill from this nationally televised, Starbucks-sponsored reality singing competition? Do we engage in self-destructive behavior, like Rebel Without a Cause Adam Levine? Do we fumble inarticulately for meaning like Italian Futurist Usher Raymond? Or do we develop an ironic attitude toward the Sprint Skybox, like Embittered Philosopher Carson Daly? All responses are equally valid.
Holly Tucker, "When God-Fearing Women Get The Blues"
This was fine, I suppose. They seem to be trying to exploit Holly's "spunky" side and so they keep giving her songs where a woman goes on some kind of destructive spree after she has been victimized in an unspecified way by a man. They should give her Blu Cantrell's "Hit 'Em Up Style" next! In that song, a woman really goes ape shit, but in a poignant way. The best parts of this performance were when Carson Daly told Shakira she looked "exceptionally beautiful" and when Usher asked Holly Tucker how she was doing, and she said she was good, and he said he was doing "okay."
Michelle Chamuel, "Somewhere Only We Know"
I happen to love this song, especially because the lead singer of Keane looks just like my dad! Michelle did well here, although her dynamics were slightly overdramatic. Does it really need to be that soft in the beginning? Also, in his comments, Usher rambled insanely about a place that only he and Michelle know. Where is it, I ask you?
Oh, look! A white flag is emerging from the western front, a.k.a., the Sprint Skybox. It's Christina Milian! Good thing Carson Daly finally realized she changed her hair. He also told her she supplied "good information" to the populace (which she does! But was this some kind of horrible joke?). Sometimes, I worry that no one notices her courage.
Swon Brothers, "Wagon Wheel"
Oh, god. In this performance, the Swon Brothers were joined by a ragtag group of cancan dancers, which I think were supposed to represent some pornographic view of the Old West. It was very disturbing. The little Swon couldn't even sing in front of them. He tried to hold a note and just faltered under the pressure because everyone was doing splits behind him. I felt as bad as I can feel for that little consumptive Swon.
Sasha Allen, "Ain't No Way"
I really did not enjoy Sasha Allen's dress. She's incredibly beautiful so it's sort of impossible for her to look bad. But yellow satin? I mean, what the hell, Voice! You are usually the epitome of taste and class. You are the reticent butler of reality TV. Sasha sounded amazing though. She's so incredible, she will probably be kicked off tonight.
Danielle Bradbery, "Shake the Sugar Tree"
Everyone went nuts for this Danielle performance, which sounded exactly the same as all of her other performances. She has a straight tone and is technically proficient. That is all I can ever say.
Amber Carrington, "I Remember You"
I am worried for Amber. Why did Adam make her sing this weird song? It was from the eighties apparently, but I had never heard it before and I am positive that few people in America have ever heard it. Adam said he gave her the song because he doesn't feel alive if he doesn't take risks, but I sort of feel like it is because he is depressed? Amber was slightly flat on some of the high notes, even.
Oh my god! Christina Milian is back! And she is interviewing Danielle's rather husky-voiced sister. Carson called it "touching" in perhaps an ironic way? He is being quite suspicious recently.
The Swon Brothers, "Okies From Muskogee"
Do you think the Swon Brothers smoke marijuana? This subject was explicitly addressed in the song "Okies From Muskogee." Apparently, they do not smoke marijuana but they do respect their college dean. I believe it! I actually bet their college dean loved them.
Holly Tucker, "My Wish"
I really enjoyed Holly singing in front of that weird panopticon. What would Foucault even say? I can only hope he would have enjoyed it, but my suspicion is he would not like singing competitions. How fun was Foucault? I would like you to address this in the comments section.
Chrissy just asked the baby Swon how to be country and he said the girls needed to smell worse. I don't feel bad for him anymore.
Michelle Chamuel, "I Knew You Were Trouble"
God, I love Taylor Swift. When she told Michelle her version of "I Knew You Were Trouble" was "emotional" in such a completely sincere and nice way, it became clear to me that she is a mensch. Michelle was great on this, too.
Amber Carrington, "Crazy"
This was fine, if a little boring. Like I said, I am worried for Amber!
Danielle Bradbery "A Little Bit Stronger"
This was slightly pitchy for Danielle, who is usually rock-solid in this regard, but was basically fine.
Sasha Allen, "Before He Cheats"
I liked this whole "Fever" version of "Before He Cheats." It was crazy when Sasha took off her dress to reveal a bustier and thigh-high boots, but I guess that is what you do before someone cheats.
And that's the end! Did you miss Judith Hill? How do you feel like Carson's unrequited love for Shakira is going? Do you think he was trying to make her jealous by talking about the cancan dancers in a weird way? Did it work? I don't think that works.