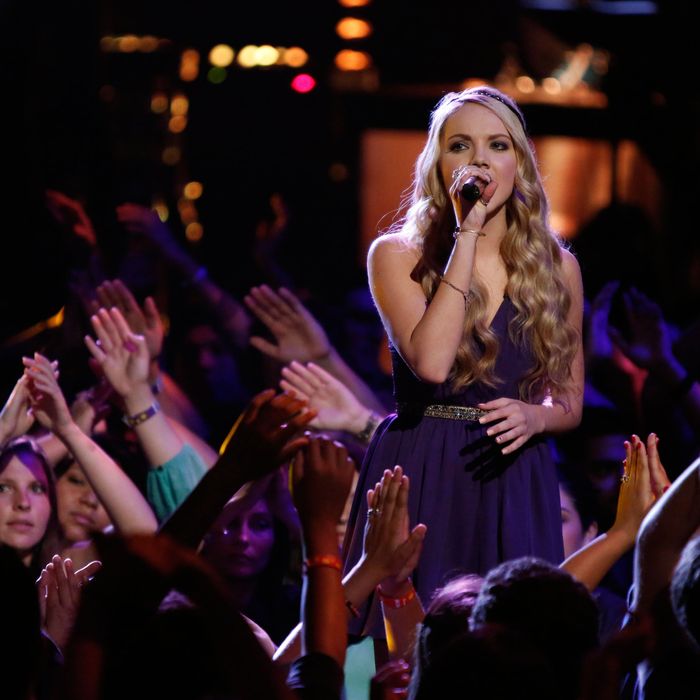 Photo: NBC/2013 NBCUniversal Media, LLC
I am going to make a prediction now. I think that the Swon Brothers are going to win this whole thing. What do you think of that, America? I think you love it! The Okies from Muskogee will not be stopped. They will sing songs about not burning draft cards and America will just plead for more like hysterical yet surprisingly conservative teenagers. And actually, isn't that really what the entire country is? So maybe this is only natural.
Cassadee Pope, "Wasting All These Tears"
So, full disclosure, I was not the biggest Cassadee Pope fan last season. She was fine, but I was a real Amanda Brown and Trevin Hunte fan. Like, I actually listen to their version of "Vision of Love" every day, and I do not really do that with "This Is the Voice" all that much. That being said, Cassadee was okay, her makeover was intense, and her new song was incredibly catchy. It's apparently a country song? What is country music? Please explain this to me in the comment section.
Michelle Chamuel and Sasha Allen, "Open Your Heart"
This was awesome. I adore early Madonna and I love Sasha and Michelle, so I bopped along while they sang this, like the hysterical teenager that I am. I wish they'd sing more Madonna on this show. I would love it if the Swon Brothers sang "Material Girl" for example. Blake Shelton should think about that suggestion.
Then, thank god, Michelle was saved, mostly because Taylor Swift came by and pretended that Michelle sang country music. I agree with you guys, that was so smart of Usher! The only people who vote during this competition, I am coming to realize, are country-music stalwarts. No wonder literally every person sang a country song last night, unless they got out of it somehow, like the wily and increasingly brilliant Usher. This is the new gerrymandering!
Look! It is that little fluff of cotton candy Christina Milian. And here she is telling Cassadee Pope that she is trending. The woman is the Steve Wozniak of Twitter and don't you forget it.
Next, all the Voice contestants toured the devastation in Oklahoma. It was incredibly sad to see. There was, I felt, an almost uncomfortable amount of bragging about the charity work that Starbucks is doing there. But regardless, it was still really sad.
Sasha Allen was saved, which, thank god. At least America's teens have some sense of decorum.
Holly Tucker and the Swon Brothers, "Leave the Pieces"
I really enjoyed this performance because (1) It seemed like they were in a digital representation of Kings Cross Station, which was cool — but also, why? (2) The Little Swon sang so hard and so desperately. Good job, Swon! Don't die from effort!
Later, and after a long meandering interview in which she talked about what she would normally do if she weren't on The Voice right now (Carson does seem obsessed with that question), Danielle was saved. Are you surprised? I am not at all. Danielle's greatest benefactor is Elbridge Gerry, of gerrymandering fame.
Amber Carrington and Danielle Bradbery, "Eternal Flame"
I liked that both Danielle and Amber were wearing essentially the same outfit. It was a nice touch. However, this song must be pretty hard considering both of them went severely flat on it. Matching outfits can only take you so far, apparently.
Next, Amber Carrington, the only contestant that Adam still had left, got moved forward. I am glad. I like symmetry. I want all the judges to be equally invested in the finale. Maybe that Skid Row song was not the virtual suicide it appeared to be to the naked eye. Maybe there are millions of Skid Row fans, lingering in the in the crevices of America, perhaps in the Grand Canyon or the subway, and only occasionally emerging from their homes to vote for Amber Carrington on their mobile phones.
And finally, it all boiled down to these seminal two from Blake's team (it had to end sometime): Holly Tucker and the Swon Brothers. And GUESS WHAT, AMERICA, the new Eagles won the day and Elbridge Gerry rolled in his grave. I felt bad for Holly though. She cried. She will never sing "Hit 'Em Up Style," probably.
And wow, that is it for this show of shows. It is, in many ways, a Nathaniel Hawthorne–style didactic tale. But how, you ask? Because it is.