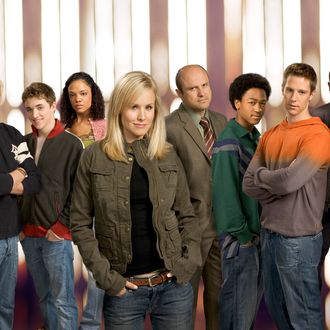 (Foreground) Kristen Bell, (background, l-r) Ryan Hansen,Kyle Gallner, Tessa Thompson, Enrico Colantoni, Percy Daggs, III, Joason Dohring and Francis Capra star in VERONICA MARS on UPN.
Photo: ROBERT VOETS/CBS
Add Wallace Fennel to the list of things the forthcoming Veronica Mars movie will have, thanks to Percy Daggs III signing up to reprise his role as Veronica's BFF. Show creator Rob Thomas made the latest casting announcement to the film's 91,585 Kickstarter backers on Friday night, but we're sure it's not the last vital piece of Neptune-related information we'll hear ahead of the film's 2014 premiere. Update: Piz (also known as Chris Lowell) has also signed on.