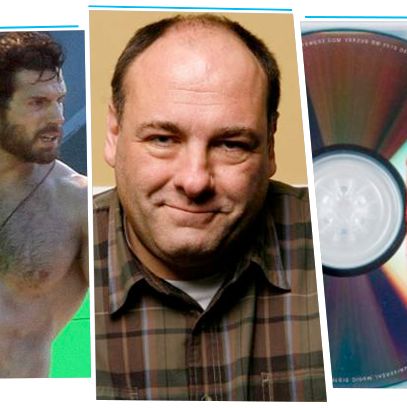 Every week, Vulture faces the big, important questions in entertainment and comes to some creative conclusions. This week we were all about Kanye's new album, Superman's groundbreaking chest hair, and remembering the legacy of James Gandolfini. You may have read some of these stories below, but you certainly didn't read them all. We forgive you.

Q: How is Kanye's album?
Yeezus, with all its fanfare, God-like bragging, and samples, is officially available for digital download. Our critic Jody Rosen is still torn: "Is it brilliantly tasteless? Or just plain tasteless? A cheap stunt? A tour de force? The worst song I've ever heard? The best?" Either way, you've got to congratulate Kanye on his first Father's Day and feel a little sorry for him that his BFF Jay is dropping an album in just about two weeks.
Q: Hold up, Jay-Z is releasing a new album in a few weeks?
Yep, and it's already gone platinum because Samsung snatched up 1 million copies to give to Galaxy users. It's called Magna Carta Holy Grail, and if that doesn't make you laugh, well, look at these GIFs of Jay and his production Dream Team fooling around in the studio.
Q: I need more things for my summertime playlist.
How about Miley's newest party jam? Or something more chill, like John Mayer's single, "Paper Dolls"? Or any of these other songs.
Q: But what if I want to watch movies while I listen to music?
Well then, you better see This Is the End while it's still in theaters, because it has an awesomely bad band cameo. Here are more awesomely bad band cameos.
Q: Am I too late to see Man of Steel?
Nope, you should. If only to ogle his magnificent chest hair.
Q: Ugh, but Superman is so boring.
Not so fast!
Q: Should I catch The Bling Ring this weekend?
Definitely, if that's your sort of thing. But make sure you lock your house first. And bookmark this for afterwards.
Q: Are all my favorite TV shows leaving me?
Not quite! Aside from the shows you've already chosen to "divorce," there is plenty of shameless summertime TV headed your way. Not your style? Well, Breaking Bad is back on August 11, and if you started Wednesday (well, you can also start today!), you'd only have to watch one episode per day to catch up in time for the finale season.
Q: Come on, I knew that Breaking Bad was coming back — I read Vulture after all. But I still need some other things to entertain myself with this summer.
How about watching (or perhaps rewatching) The Sopranos? The show's star, actor James Gandolfini, passed away on Wednesday, and the show happens to be one of television's greatest. So was James.
Q: How much crossover is there between Cars and the Fast and Furious franchises?
Well, both defy laws of physics and have nearly lifelike performances. Jesse David Fox put that, and many other Pixar movies, into infographic form.