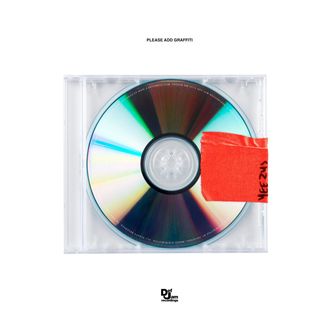 For those who have been off the Internet for a day or so: Kanye's stratospherically anticpated Yeezus leaked on Friday afternoon. Like Kayne in general, it is quotable, and it is intense. It's seems it's going to take a while for the world to fully process the ten-track album, but some professionals have been brave enough to offer up their first impressions.
*"Yeezus is ambitious, but it's blessedly free of the longueurs that attend so many Great Albums. Twenty years from now, West's previous records will remain important, but a new generation may first gravitate to the lean vibrancy of this one…The album is so tonally unified that it comes across as one very long single—an extended thought, coughed up quickly. There are few steady drumbeats, and West can't seem to resist pausing the sound and then bringing it back from silence; he never wants you to forget that he is standing over the boards. This is music with a lot of empty space: it consists largely of profane rapping over wildly distorted bass lines, which often serve as the only melodic motifs. When synths do appear, they aren't pretty. On the track 'Send It Up,' they have the screeching timbre of an air horn; the blaring sound evokes the Prodigy, the English rave group of the mid-nineties." — Sasha Frere-Jones, The New Yorker
* "Yeezus is the most musically adventurous record he's ever released, and after a handful of listens, it's pretty obvious that it will shock a lot of people. Those that already don't like the polarizing Chicago rapper and producer will have a replenished arsenal come its Tuesday release date. The record, which overtly addresses issues of race in three song titles – 'New Slaves,' 'Black Skinhead' and 'Blood on the Leaves' – is the hardest, most abrasive record, both musically and thematically, of his career. It's not one that you'll want your kids listening to – especially if you're a woman in the Hamptons who may or may not have had the fling with West mentioned in 'New Slaves.'" — Randall Roberts, LA Times
* "This is a vicious, petulant, abrasive, colossally vain, frequently hilarious record, most of the time intentionally — he thunders, 'HURRY UP WITH MY DAMN CROISSANTS' fully cognizant of how many thousands of people would be powerless to resist Tweeting those words verbatim within 30 seconds of hearing them. I would not want to work at a Starbucks this weekend…Way into the grating, unnerving, forbidding clatter of most of this — better he emulate the Knife than, like, the National. At first blush what I miss is a 'Blame Game': a sober, somber, marginally humbler acknowledgment of what all this narcissism and hostility costs him. ('Blood on the Leaves' is gunning for that spot but had better work pretty goddamn hard over the next 20 or so listens to earn 'Strange Fruit.') Leave the corny horrorcore screams 'n' synths chicanery to Tyler, the Creator; leave the diminishing-returns retarded sexuality to Lil Wayne. But as exhausting as this dude can be, pretending that any other rapper alive is one-tenth as fascinating is doubly so." — Rob Harvilla, Spin
* "Yeezus is the darkest, most extreme music Kanye has ever cooked up, an extravagantly abrasive album full of grinding electro, pummeling minimalist hip-hop, drone-y wooz and industrial gear-grind. Every mad genius has to make a record like this at least once in his career – at its nastiest, his makes Kid A or In Utero or Transall look like Bruno Mars…The dick sure has some balls. [Ed. note: Oof.]" — Jon Dolan, Rolling Stone
You can form your very own opinion after listening to Yeezus here.