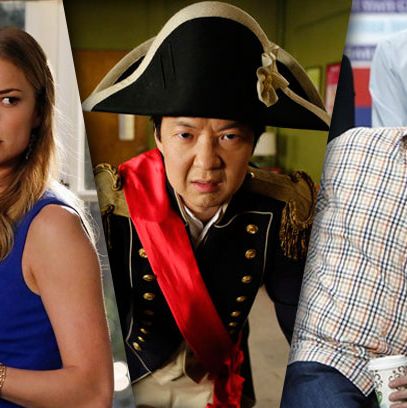 There was a time I was very caught up in the world of Emily Thorn, her weird violent vengeance quests, her fancy Hamptons parties. I loved the first season of Revenge! I waited excitedly for the second season to start, and then … just … meh. My enthusiasm waned. Declan's accent became too much to bear. Victoria's machinations became rote. Even Nolan's charms couldn't keep me engaged. I got show-divorced from Revenge. Oh, it stung, and every once in a while I'd hear a tidbit about the show and wonder if I'd made the right decision. But with the season behind us, I can comfortably say this was the right choice for both of us. (Me and the show, that is.) Things just weren't working out.
I'm not the only person who went through a show divorce this season. A quick poll of Vulture staffers revealed lots of others: Community. Glee. Many ended their relationships with Modern Family. One person even show-divorced Mad Men.
We're not talking about shows you watched for a while and grew tired of — to qualify as a show divorce, it has to be a series you once really liked. Loved, even. What shows did you divorce this year?