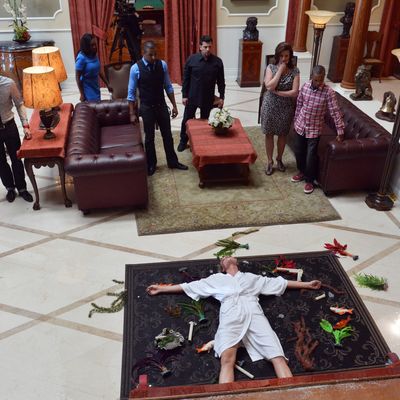 Photo: Eric McCandless/ABC
ABC's new reality series Whodunnit? might end up being one of the best things on television this summer. In the show, which premiered last night, thirteen contestants are tasked with finding a killer in their midst. The survivors must search a large mansion for clues, decide whom to trust, and then dress up like it's a Bachelor rose ceremony and present their suspicions. Whoever is the wrongest is killed (but not really!) and each week's episode has the rest of the housemates attempt to solve the crime. Sounds fun, right? Here are a few more reasons why Whodunnit? will be much more fun to watch than anything else this summer:
All the reality clichés, and yet none of the reality clichés.
Sure, no one is "there to make friends," but you most likely won't see any actual physical fighting among the Whodunnit? contestants. No one's gonna get into a fight for the "room with the hot tub" or hook up behind the haunted tool shed. This is a game and we're here to play it. "It's the introduction of reality fiction," says the show's executive producer, Anthony Zuiker, whose other TV success stories include CSI: NY and CSI: Miami. There's also a drama about a reality show airing this summer that also falls under the umbrella of "reality fiction," but it feels a bit Survivor for my taste.
Murders that are supposed to look fake, because they are fake.
One of the funniest things about Whodunnit? is that the contestants repeatedly mention that they are "fighting for their lives" even though it's obvious that they are not. For those of us squeamish about TV's love affair with serial killers, the dramatic fake deaths on Whodunnit? are a nice break.
The "killer" has a Twitter account.
I'm not saying this is a good thing, but it's definitely a thing:
A group of contestants whose suspiciously suspect job titles should be good enough for them to start their own detective agency.
TV Crime Reporter? Insurance Investigator? Ex-Homicide Detective? Homeland Security Advisor? This is a regular crime-solving Dream Team and yet they all seem to be collectively stumped by the Clue-like excess of hints. Was it Kam in the kitchen with the slingshot? Maybe. That isn't to say there aren't some typical reality-show job titles on Whodunnit? — just a bit too many people with germane job experience.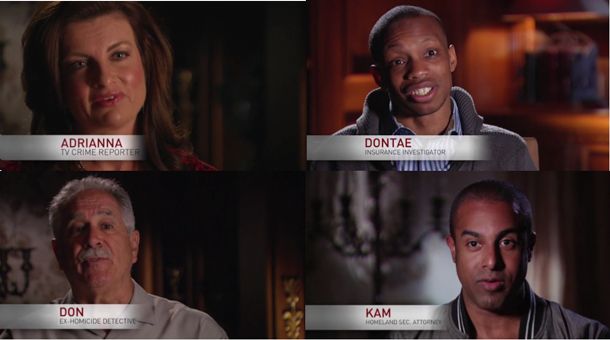 It's a show that might inspire you to go out and plan your own murder mystery dinner party.
I am a huge advocate for murder mystery dinner parties, and if by watching Whodunnit? you are inspired to buy one online and encourage your friends to really get into their roles, then it has all been worth it.
Just another good reason to bring back The Mole.
With Edward Snowden on the run and Whodunnit? on TV, there is no time like the present to bring back ABC's other reality game show: The Mole. After getting canceled right before its sixth season, fans sent candy Lemonheads to ABC in protest (a reference to the fifth season, in which "Moletestant" Paul drew a face on an actual lemon and turned it into a mascot). The Mole's premise (game show; problem solving) made it fun to play along. In a slightly sillier way, so does Whodunnit?