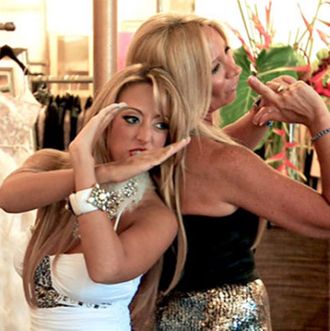 These are the pricesses of Long Island.
Photo: BravoTV
High temperatures, damp armpits, hellacious subway rides, miserable, limp children staring dejectedly from their strollers — summertime, and the living is easy. And per tradition, dozens of new and generally horrendous reality and documentary shows will be joining us in the coming weeks. (A few have already started.) Every couple of years, someone declares some reality show a new nadir for American culture, but that's not at all what this list is. This isn't the worst year, just our usual TV lot in life, so here is a sampling of this summer's terrible-sounding shows that caught our eye, broken down by genre.
Bring me murder things!
ID could rebrand itself as the Murder Channel. Its new crime-retrospective shows this summer include: Deadly Devotion (about murders within isolated religious sects); Swamp Murders (you know what that's about); Most Likely To … (about promising high-school students who eventually become murderers); Southern Fried Homicide (again, you know what that's about); Pretty Dangerous (about she-murderers); and, of course, Poisoned Passions  (about love affairs gone wrong). There's also Fatal Attraction on TV One.
More things from the south!
Let's see, Hillbillies for Hire on CMT, about a group of "pranksters," and Kentucky Bidders on TruTV, about an auction house.
Hmmm, I want a show about women, and how terrible they are.
Lifetime's Pretty Wicked Moms is an "unscripted comedy" about competitive mothers in Atlanta. TLC has My Teen Is Pregnant and So Am I. Bravo has Princesses of Long Island and, later this summer, Eat, Drink Love, about female chefs in L.A.
What about something about rich people, and how terrible they are?
This is what Bravo lives for, obviously. They have Property Envy — shockingly not already a show! — that goes inside different very fancy houses every week, and Below Deck, a docu-soap set in the upstairs-downstairs of a luxury yacht.
Wow, I can't believe there aren't any new pawn shows.
Ha-ha, of course there are pawn shows! Beverly Hills Pawn on Reelz and Cash Dome Pawn on TruTV, the network's third pawn series.

Eh, I just want something with a dumb name.
What's in the Barn? on Velocity is about old motorcycles and cars people have lying around (presumably in barns). Naked & Afraid on Discovery drops naked people off in the woods, where they have to nakedly fend for themselves. Animal Planet's Top Hooker is about fishing. And the Travel Channel's Ride-iculous is about thrill rides.
Surely there's something lower-concept than that.
Behold Syfy's Exit, a physical-challenge-type show about trying to leave a room.