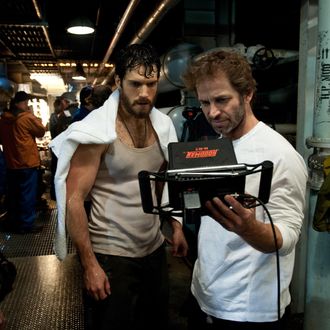 Photo: Clay Enos/Warner Bros
Man of Steel opens this weekend, and it's sure to reignite chitchat about what kind of director Zack Snyder is. The good kind? Or the less-good kind? The kind that can make a comic-book movie, or the kind that can't? Amid these discussions, it might be helpful to refer to "Zach Snyder's 10 Golden Rules of Moviemaking," from MovieMaker magazine, a list originally compiled in 2009, known to Snyderites as the pre–Sucker Punch era. Anyway:
1. There are No Rules.

2. The Will to Suffer.

3. Your Point of View.

4. Storyboard.

5. Movies are Pictures.
6. Respect.

7. Throw things.

8. I Still Shoot Film.

9. Passion.

10. Shoot Every Shot
Use these wisely, fellow filmmakers.