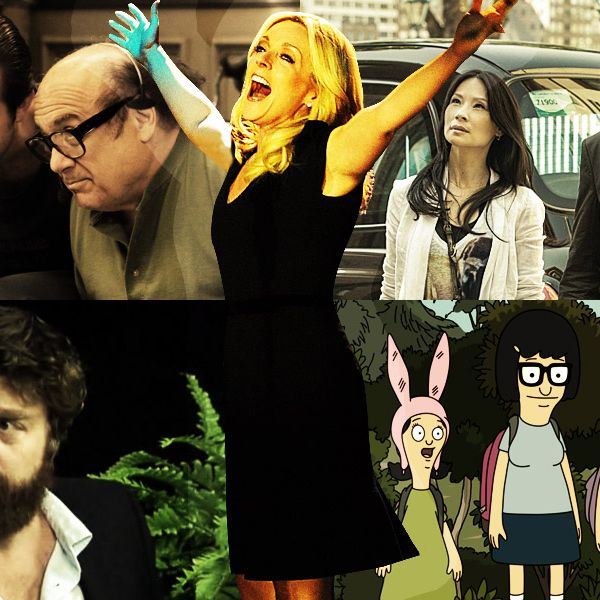 Photo: Patrick McElhenney/FX, Ali Goldstein/NBC, Joss Barratt/CBS, FOX, funnyordie.com
Today's Emmy nominations have caused much delight and consternation, as do any major award nominations. But there are also some oddities in the mix. Here are surprising tidbits from beyond the major categories.
1. Louis C.K. has seven nominations. Outstanding Lead Actor in a Comedy, Guest Actor in a Comedy (for hosting SNL), Writing for a Comedy (the "Daddy's Girlfriend Part 1" episode of Louie, which is the one where he meets Parker Posey), variety special (for Louis C.K.: Oh My God), Writing for a Variety Special (the same), Directing a Variety Special, and Picture Editing for Short-Form Segments and Variety Specials. Picture editing! Jeez Louise, no wonder the guy needed a break from his show.
2. Between Two Ferns, Burning Love, and Childrens Hospital are up against the Super Bowl Halftime Show. And The Daily Show and 30 Rock webisodes are in the Outstanding Special Class Short-Format Live-Action Entertainment Programs category. Weird one! Childrens Hospital won the category last year, so let's call them the favorite.
3. Bob's Burgers was nominated for "O.T.: The Outside Toilet." Nominees in the Outstanding Animated Program category are picked for a specific episode, and the brilliant and lovely Bob's went with the episode in which Eugene finds and befriends a high-tech toilet (voiced by Jon Hamm). Magic.
4. Key & Peele earned one nomination! For Outstanding Makeup for a Multi Camera Series or Special (Non-prosthetic), for episode 209, which includes the wonderful sketch "Manly Tears."
5. The song "Rural Juror" is nominated for Outstanding Original Music and Lyrics. Please, dear God, let it win. It's up against Nashville's "Nothing in This World Will Ever Break My Heart Again," Alan Menken's "More or Less the Kind of Thing You May or May Not Possibly See on Broadway" from The Neighbors, "Hang the Moon" and "I Hear Your Voice in a Dream" from Smash, and a song from last year's Tonys. But come on, it has to be "Rural Juror." These are the best days of our flerm, after all.
6. Liz & Dick earned a nomination, too! For Outstanding Hairstyling for a Miniseries or Movie, which, fair enough. (Behind the Candelabra should win, though.)
7. It's Always Sunny in Philadelphia and Workaholics were not completely shut out. Unlike New Girl. Yep, Sunny and Workaholics were nominated for Outstanding Stunt Coordination for a Comedy Series or Variety Program. They're up against Modern Family and Nickelodeon's Supah Ninjas.
8. At least Southland got something? Even if it's a nomination for Stunts Coordination in a Drama? Oh, Southland, why didn't everyone love you?
9. The most far-flung nominations are in Outstanding Title Design. We've got network (Elementary is on CBS), basic cable (American Horror Story: Asylum is on FX), premium cable (The Newsroom is on HBO), obscure premium cable (DaVinci's Demons is on Starz), and Internet (Halo 4: Forward Unto Dawn is on Machinima.com). And here they are, in their individual glory: