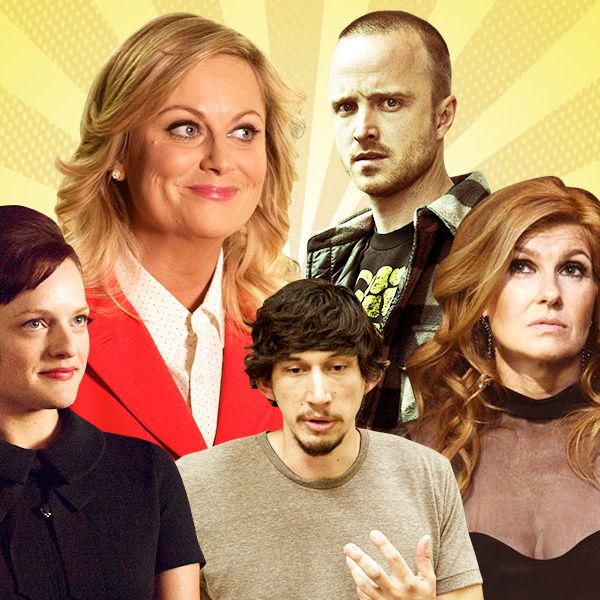 Photo: NBC, ABC, HBO and AMC
It's Emmy nominations day! Christmas in July! Other holidays, too, really: It's not just joy we're experiencing this morning. There are plenty of other feelings, too. Let's explore all the emotions this year's nominees are eliciting.
Determination
Elisabeth Moss has got to win a goddamn Emmy already. This year marks her fifth nomination for her role on Mad Men, plus she got a (well-deserved) nod for Best Lead Actress in a Miniseries for Top of the Lake. Claire Danes won Best Actress in a Drama last year and could certainly take it again, but Moss has even stiffer competition in the miniseries category: She's the only one who hasn't also been nominated for an Oscar. There's no shame in losing to Helen Mirren, Jessica Lange, Laura Linney, or Sigourney Weaver, but I'm really pulling for Moss.
Skepticism
Emilia Clarke earned a nomination for her performance as Daenerys Targaryen on Game of Thrones, and Morena Baccarin earned one for her performance as Jessica Brody on Homeland? They're both fine, I guess?
My Heart Is Bursting With Too Many Kinds of Love, and I Could Die
The Best Supporting Actor in a Drama category is trying to kill me. Can I root against Aaron Paul? Spiritually, no, I cannot. But Jonathan Banks was so spooky as Mike Ehrmantraut on Breaking Bad , and Paul has already won and could be nominated again next year while Banks can't! This is conflict enough, but the category also includes Mandy Patinkin and Peter Dinklage (and Jim Carter and Bobby Cannavale, though I am not devoted to them). Saul vs. Tyrion vs. Jesse vs. Mike (vs. Carson vs. Gyp)? What a great category. And possible boy band.
Under-enthusiasm
It is not possible to love Connie Britton more than I love Connie Britton. (Well, it's not responsible to do so, at least.) But her nomination for Nashville feels more like residual goodwill toward Mrs. Coach than any genuine assessment of her performance on the show. It's not that she's bad on Nashville or anything, it's just that Rayna James is not as interesting as some other female characters this year. Also, if someone's getting a Nashville nomination, it should be Hayden Panettiere.
Darkness
Only one lead actor in a drama is nominated for a role that can be described as a good guy: Hugh Bonneville as the Earl of Grantham on Downton Abbey. Otherwise, it's a terrorist (Damian Lewis on Homeland), a murderous drug lord (Bryan Cranston on Breaking Bad), a murderous politician (Kevin Spacey on House of Cards), a drunken pit of human despair (Jon Hamm on Mad Men), and your run-of-the-mill smug asshole (Jeff Daniels on The Newsroom). Antiheroes, start your engines!
Tender Sadness Mixed With Delight
Enlightened got two nominations! One for Laura Dern and one for Molly Shannon! It's not enough, but it is something.
Acceptance
Surely The Office had to get some kind of nomination in its final season. And Outstanding Writing for a Comedy Series, for the finale episode, seems about right.
Boredom
No more Modern Family nominations, please. Weirdly, Eric Stonestreet — who's won twice for his role as Cam — wasn't nominated this year, but all the other grown-ups were. ¡Basta!
Hope
Amid all those Modern Family nominations in the supporting comedy categories, there are still a few bright spots, like Anna Chlumsky getting nominated for Veep, and Mayim Bialik and Merrit Weaver getting their second nominations each for Big Bang Theory and Nurse Jackie, respectively. On the dude side, Adam Driver was nominated for Girls, yay, and Tony Hale was nominated for Veep. (We'd have accepted a Hale nomination for Arrested Development, too.)