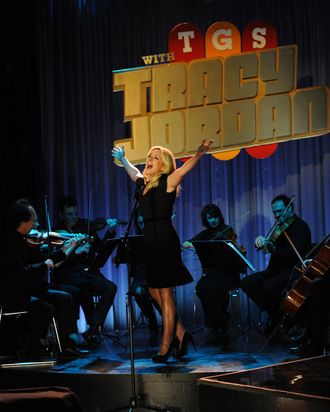 Jane Krakowski, Rural Juroring.
Photo: Ali Goldstein/NBC
One of the highlights of today's Emmy nominations was 30 Rock getting recognized in the Outstanding Original Music and Lyrics category for the finale song "The Rural Juror." Vulture spoke to the show's musical composer, Jeff Richmond, who was nominated alongside show creator Tina Fey (his wife) and Tracey Wigfield, about their stiff competition. Plus, how the trio might accept the award should they win — it might involve three-part harmony — and what the Richmond-Fey family was doing when the nominations were announced.
Walk me through your morning as these announcements were coming out. What were you doing?
My wife and I were up early because we have a child that's 2 years old, so she gets up at seven. So we're up with her and we have to walk the dog, because we have a dog. Everybody's taking their craps, their dumps. Some of them go outside and some of them come inside. Then we're having coffee and we're trying to find when the — where, actually, where to find [the Emmy nominations]. Where were they on TV? Was it on E!? You know, we finally found it around 8:30 or 8:40, and we were all eating cereal. And we thought, Oh, here they come. That's great! Great news, very good. It was very — is unglamorous a word? It was not glamorous. We weren't up early and having a Champagne breakfast and waiting. We're at the office now. We're all planning on going out this afternoon and maybe having a boozy lunch. We're looking forward to that.

Boozy lunches are always good.
You've got to — and it's hot. So the best thing you can do is drink a lot of booze in the middle of the afternoon, in the middle of a heat wave. That's how you celebrate New York–style.

I'm sure you're still basking in the glow, but have you sized up your competition in the Original Music Category yet?
Oh, you know. I have to look again. Can you remind me?

You've got two songs from Smash that you're competing against.
Those will be great.

You've got the opening number from last year's Tony Awards —
That was fucking great, yeah.

A song from Nashville and then a song from The Neighbors that was written by Alan Menken, so there's a strong Broadway contingency here. It's a tough category.
Oh, you know … Jen, don't think I think we're going to win. I just like the trip. I am not holding out any hope of winning, but it will be nice to be there with those people. They're all very nice people. Last year we got to sit poolside at The Four Seasons with Marc Shaiman and we got to, like, just sit around. It's always a good time.

When you sit poolside with Marc Shaiman, do you sing? Because in my fantasies, you would just sing.
Yes. That's what composers do. They sing. They drink mimosas and sing all the time. That's why we're so happy and gleeful.

Here's an argument for why you might win. This is the first time, to my knowledge, that an original piece of music containing the word flerm has ever been nominated for an Emmy Award. How does it feel to be a groundbreaker in that regard?
"These are the best days of our flerm." You're right! That may sway peer groups. I had not considered that yet.

You might want to use that in your Emmy campaign.
"Remember that these were the best days of our flerm." I think that's great. We did find great joy every time that we would see that at the end of the episode. "That's nice, we ended our seven years of television with the word flerm." There's great poetry there somewhere, right?

I assume you haven't thought about your acceptance speech yet, but really, the time is now. Do you imagine composing something special if you win?
 Maybe I would just read the lyrics, just go with the beauty of  the lyrics: "The Irma Luhrman-Merman murder / Turned the bird's word lurid. Good night! Thank you!"

I feel like there's an opportunity for three-part harmony, considering that three of you are nominated.
You're right. Knowing Tracey and Tina, we'd have to rehearse all summer to pull that off. We should definitely try. I guarantee you that if we win, Jen, if for any reason we win, somebody will sing in three-part harmony up there.

Is that a promise?
That's a promise.

This is going to go in writing.
Go ahead  and write it out. Maybe that is what we need to win: Tina Fey, Tracey Wigfield, and Jeff Richmond will sing in three-part harmony at the acceptance speech.