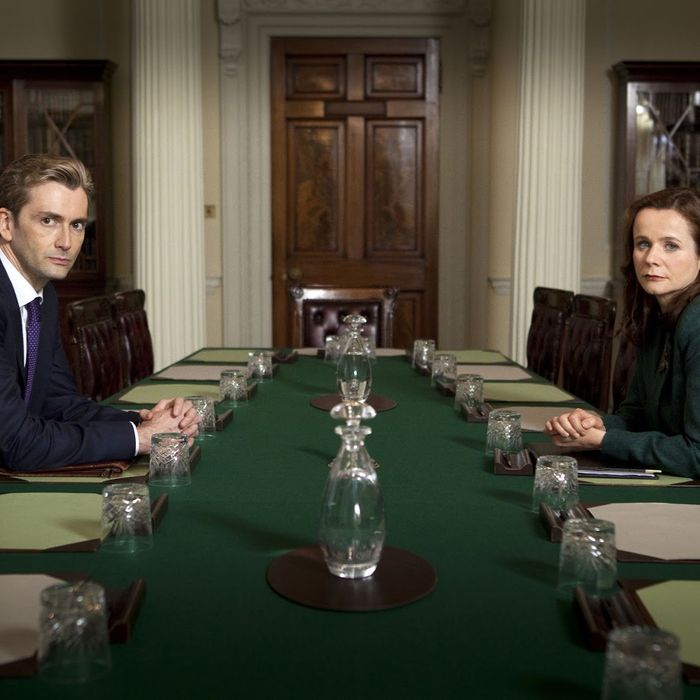 FX's new Tex-Mex serial killer drama The Bridge premieres tonight, and it's pretty good. (Read Matt Zoller Seitz's review here.) The series is based on a Danish and Swedish show called Bron/Broen, though, and that show is really good. But it's far from the only international series we're dying to be shown on American TV. There are loads and loads of other recent international shows we wish would formally air or stream in the U.S., but thanks to the magical powers of the Internet, even though these shows aren't technically "available" in the States, they're, well, pretty available. If you're poking around the unofficial TV corners of the Internet, this is what to watch next.
Borgen: This 2010 political drama centers on the first female prime minister of Denmark, Birgette Nyborg, but unlike American political characters who tend to be either secretly villainous or superhumanly valorous, Nyborg's more like an actual person. (An awesome actual person with a super-hot husband, but still pretty regs.) There are 30 episodes over three seasons, but the show's so compulsively watchable that will seem like a tragically small number. Feminism! Lefty politics! Deep familial love!
The Politician's Husband: Former Doctor Who David Tennant stars as the titular husband in this gripping three-part miniseries from the U.K., which just aired there last spring. Said politician is Emily Watson, and their characters' marriage is fascinatingly dysfunctional: Both husband and wife are politicians, but her star rises as his suddenly fades, disrupting the awkward power balance in the bedroom, in their household, in the halls of parliament. The combo of light kink and severe cynicism is basically irresistible. (BBC America excitedly wrote about the show in April, but gave no indication of if or when it would run in the States.)
Blackstone: This under-the-radar Canadian drama airs on APTN — the Aboriginal People's Television Network — but it's so bleak and gutsy it would be at home on FX, HBO, or AMC. (Well, it would if those channels decided to air shows that were not almost exclusively about white people.) Blackstone is about the internal politics, power-grabs, and violence within the (fictional) Blackstone First Nation reserve — troubled teens, scheming elders, the whole shebang. There's some talk of the show airing in the U.S., luckily.
The Returned (Les Revenants): French ghosts! They're French, they're ghosts, it's a French ghost drama, and it's great. Deceased residents of a small French town return to their lives as if nothing has happened and they haven't been dead for years. (It's a similar premise to the ABC's upcoming fall drama Resurrection.) It's both sad and spooky.
Puberty Blues: If you can't get onboard with a seventies-set Australian coming-of-age drama, you have no business watching television. Based on the book (and movie) of the same name, the show follows teenage BFFs and their respective families through the ups and downs of jazzy seventies sexual awakenings with a gentle pacing and understated simplicity. Surfing, hanging out, squabbling — not everything has to be ghosts and prime ministers.