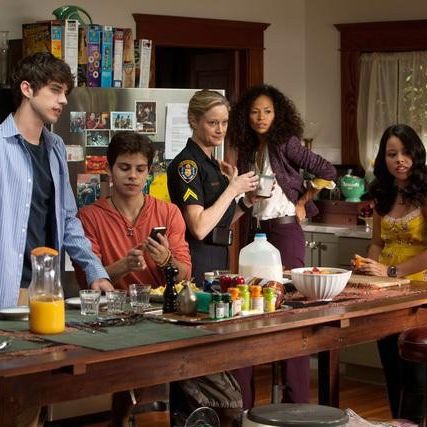 Once upon a time, my favorite summer TV show was Dexter. When that began to lag, I really got into True Blood for a while. But I guess I've lost my appetite for those super-bloody summer series, because this year the backbone of my hot-weather viewing is a little more innocent, with a lot less nudity, no cursing, and only a little bit of murdering. This summer, I am all about ABC Family shows.
On Mondays, I get my ultrawholesome bloc with Switched at Birth and newcomer The Fosters. I've written about SaB before, and I continue to enjoy its emphasis on ethical behavior and self-possession and learning American Sign Language. But The Fosters has completely won me over, too. The show centers on the Foster family — which is also a literal foster family! Sulky teenager Callie and her sweet little brother Jude find themselves living in yet another foster home, this time with moms Stef (Teri Polo) and Sherri (Lena Adams); Stef's handsome, sensitive biological son from her previous marriage, Brandon; and the couple's foster-to-adopt 15-year-old twins Jesus and Mariana. There's a lot of teenage hormones and competitiveness floating around. But so far the show has tackled the availability of emergency contraception, some of the struggles that face undocumented immigrants, the guilt some survivors of sexual assault deal with, homophobia, the value of talk therapy, slam poetry, the lack of sex in long-term relationships, parental substance abuse, and the beauty of collaborative song writing. And it's only been five episodes. Both shows occasionally veer a little close to Very Special Episode territory, but usually the overearnestness is balanced by humor, pathos, or some good old-fashioned makin' out.
And then on Tuesdays comes the teen murder soap one-two of Pretty Little Liars and Twisted. PLL is enjoying its reign as ABC Family's flagship show, and Twisted is more than happy to follow in its footsteps. The show centers on Daniel Desai, a 16-year-old who just got out of juvie, where he was serving time for murdering his aunt. He's quickly nicknamed "socio" — as in sociopath — but luckily he has his two childhood BFFs, Jo and Lacey, who are (sort of) standing by him, or at least they were, until the most popular girl in school is murdered and Daniel becomes the prime suspect. Like PLL, the kids try to solve all crimes themselves, and there's the requisite nineties familiar face as a parent (here, Denise Richards as Daniel's mother). But unlike PLL, I have hope that the show will solve at least some of its central mysteries, like why Daniel killed his aunt or what the exact connection is between the murders. And so far, no one has slept with his or her teacher, so bonus points for the current lack of statutory rape.
Part of me feels like a traitor for loving these shows so much, since ABC Family still has not renewed my precious Bunheads for another season. But even through this conflicted guilt, I'm able to enjoy something I get a lot less of during the regular TV season. These shows have racially diverse casts; queer characters; characters and actors with disabilities; stories about women and girls that do not primarily involve men, romance, or sexual exploitation; and characters seem to use cell phones and the Internet the way actual people actually use them in the actual world. (Take note, other cable shows!) These aspects aren't synonymous with quality, certainly, but it's nice when someone makes an effort.
I can't watch another show about selling houses, or about the wedding-industrial complex, or any of the reanimated garbage warlocks of Bravo. I don't want to watch any more true crime shows. My only other scripted options are USA shows, which have their occasional charm but have never quite enchanted me. None of these shows offers the completely bananas escapism of, say, True Blood, but they are escapes in their own way — from the crippling sameness of everything else that seems to be on.