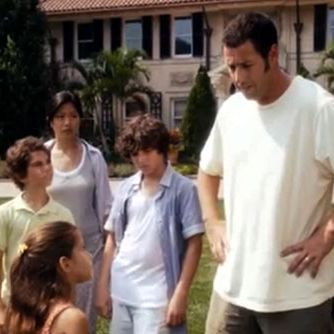 Ostentatious displays of wealth are a tricky thing onscreen: Movies are meant to be aspirational, but if the main characters live in over-the-top splendor, not many audience members will be able to relate. No one has passed this note to Adam Sandler though; his characters, more than those of any other modern movie star, tend to live in gigantic, multi-million-dollar megamansions. How does Sandler so often manage to luxuriate in his own wealth without alienating his less fortunate fan base? It probably helps that as his characters' homes grow ever grander, Sandler's clothes remain eternally grubby. (Hey, you don't have much money left over for new duds when the mortgages are this high!) Join us now on a tour of Sandler's biggest screen houses, accompanied by a look at his wardrobe in each corresponding film. Get ready for some sticker shock!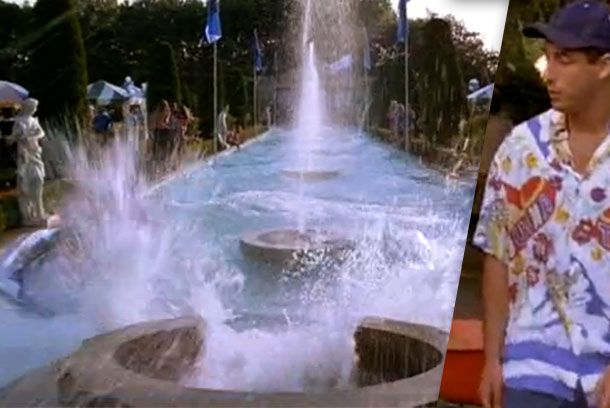 Billy Madison
In Adam Sandler's breakout film, he plays a 28-year-old slacker who's forced to complete his school years all over again. Good thing that this father, a wealthy hotel magnate, allows him to live rent-free in his megamansion! Check out that amazing pool … and the commensurate ball cap and Tommy Bahama–ish shirt. (Spoiler alert: This will be the nicest thing Sandler wears on this entire real-estate tour.)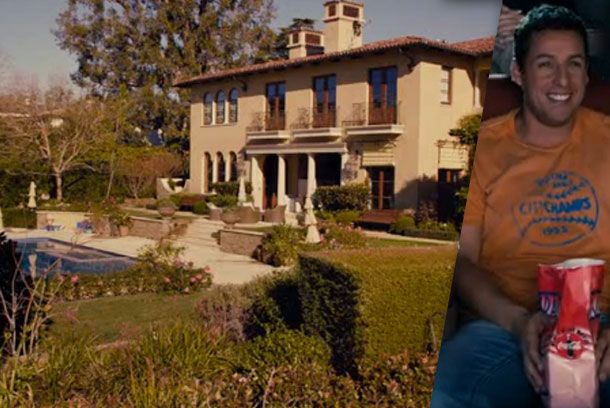 Jack and Jill
When your screen wife is a soon-to-be-divorced Katie Holmes, you'd better treat her in the manner she's become accustomed to. Hence, this gorgeous, Spanish-style Beverly Hills mansion, which is so sumptuous that even Nancy Meyers might have said, "You know what, guys? Rein it in a little." And what better wardrobe to offset those lush surroundings than … a ratty baseball T-shirt and Gap jeans. Sure, why not?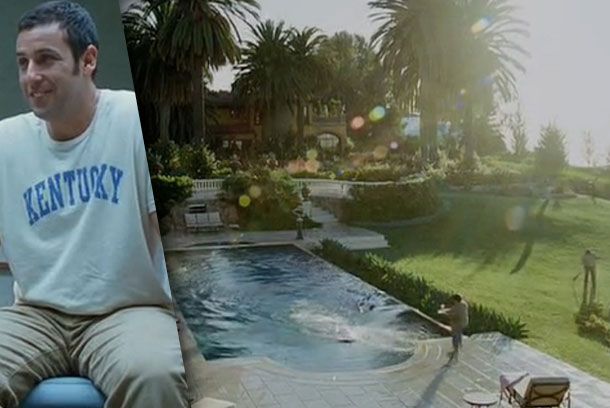 Funny People
In Funny People, Sandler at least seemed to acknowledge that sometimes, it's lonely to live in a gigantic, fabulous mansion all by yourself. So lonely that your only recourse is to wear a T-shirt bearing the name of a state that your mansion is as large as.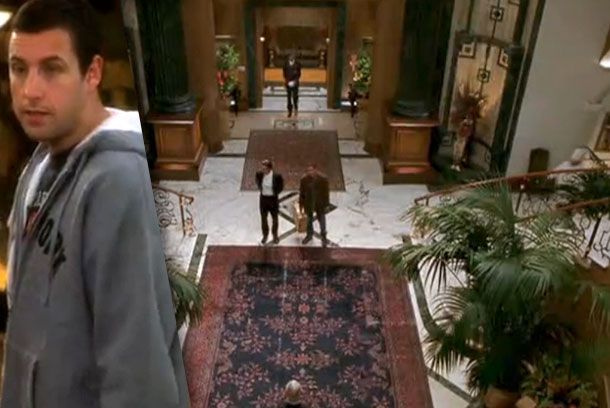 Mr. Deeds
Once again, Sandler plays the heir to an enormous fortune; this time, he's a pizzeria owner plucked from nowhere to live in the mansion of his deceased uncle, a media magnate. Your apartment would fit on that rug.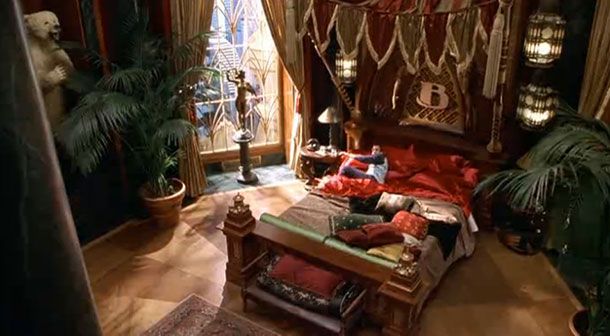 Still Deeds. Here's the bedroom. Is Sandler wearing pajamas or an actual shirt that he would don for a movie premiere? Who can tell?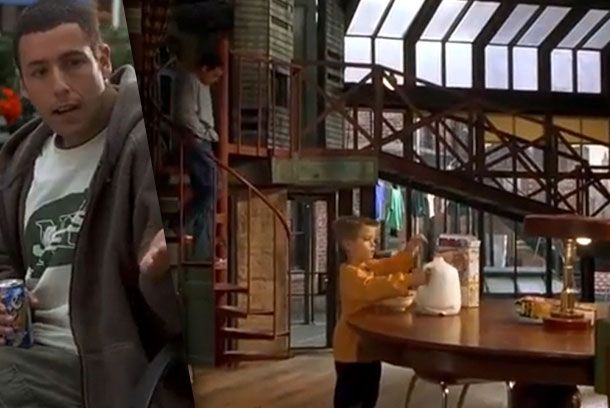 Big Daddy
What kind of Manhattan apartment can a part-time job as a tollbooth attendant and a six-figure car accident settlement earn you? Oh, just the biggest, most enviable flat on the entire island. But don't be jealous of Adam Sandler! He still wears hoodies!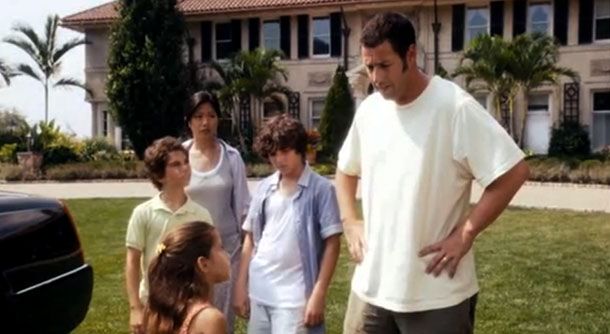 Grown Ups
In the predecessor to this weekend's Grown Ups 2, Sandler plays a Hollywood talent agent who lives in a gigantic mansion that is too big to even fit in the frame. By the end of the movie, when Sandler realizes that his family is too spoiled and entitled, he decides to downsize … by buying another gigantic New England abode. With the leftover money, maybe he can replace his single XXL Hanes T-shirt.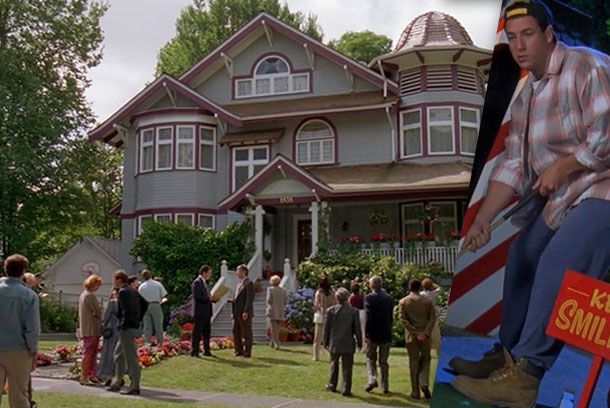 Happy Gilmore
Happy's grandfather supposedly built this house himself, but the exterior is actually a ritzy mansion in the Shaughnessy section of Vancouver, where comparable homes list for $3.5 million and up. But at least everything Happy wears can be bought for approximately 3.5 dollars in the Old Navy clearance bin.