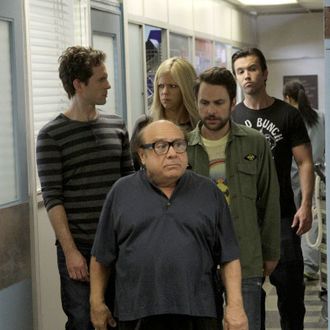 On September 4, the new season of It's Always Sunny in Philadelphia premieres on FXX, FX's comedy-focused sister channel. This will be Sunny's ninth and, apparently, second-to-last season. The show's popularity isn't waning; it just appears its creators don't want it to get stale. In an interview with Rolling Stone, the interviewer asked Glenn Howerton flat out if the show's tenth season will be its last and Howerton answered:
"Yes. There's a certain point where you wear out your welcome and we don't want to do that. We want to leave them wanting more. We spend a lot of time trying to find new lines to cross. We're not trying to offend people or gross them out, but we're looking to surprise them. I think we're proud of what we've done so far, so it's time to stop. I'm sure there are already a few people who are like 'Jesus Christ is that show still on? Go away.'"
He reiterated that the tenth will be the final season, when asked if the team would attend the Emmys this year: "I don't know, maybe in the 10th season, just because it's the last season and for the sake of the show, maybe we'll try to butter some people up." Butter up? Pretty sure Emmy voters are really into homoerotic musicals.
UPDATE: Howerton took to Twitter to refute these claims, tweeting, "That was a misquote in Rolling Stone, y'all. We're signed on through 10 seasons, but may do more." So relax, fans, it's still It's Always Sunny in Philadelphia not It's Sunny in Philadelphia for Only 10 Seasons.