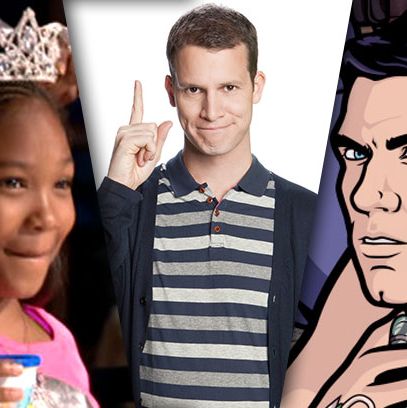 Photo: Comedy Central, FX and VH1
Last season was something of a tipping point in the decades-old battle between broadcast TV and cable: For the first time ever, a cable series — AMC's The Walking Dead — ended as the No. 1 show on all of television among the advertiser-craved demo of adults under 50. Yes, broadcasters still churn out far more big, broad-based hits, but cable proved once and for all that it can give birth to a blockbuster. But while big-tent hits such as The Walking Dead, HBO's Game of Thrones, and A&E's Duck Dynasty (rightly) generate headlines with their spectacular ratings, a number of less-heralded cable shows are doing amazingly well among narrower niches of viewers, such as women under 35, teen boys, and older men. Within these smaller slivers of the TV audience, these demo dominators routinely destroy everything else on cable on the nights they air and often beat many (and sometimes all) of the shows airing simultaneously on the broadcast networks as well.
On one level, these micro-hits don't represent much of a threat to network TV; Madison Avenue still wants its adults under 50, so broad hits like The Big Bang Theory are always going to generate far more revenue. Yet advertisers looking to reach a particular concentration of key groups of consumers can turn to the handful of smaller shows with blockbuster demos. (If you're a rep for Taco Bell, for example, and hoping to inspire male viewers aged 12 to 24 to sample your latest culinary monstrosity, you'll probably want to say "yo quiero Adult Swim" on a regular basis.) Vulture took out its Nielsen microscope and went hunting for the cable shows that consistently crush it among groups other than the standard adults 18 to 49 demo. These seven stood out.
Love & Hip Hop: Atlanta (VH1)
Most of cable's biggest hits air in the 10 p.m. hour, but VH1 has found jaw-dropping success luring young women to the network at 8 p.m. with its Real Housewives–esque series chronicling the trials and tribulations of a collection of characters in the Atlanta hip-hop scene. On Monday nights, Love & Hip Hop: Atlanta almost always emerges as the top show on cable among women 18 to 34; an hour-long episode in May not only managed to draw three times as many female adults under 35 as Bravo's Real Housewives of Orange County and A&E's freshman hit Bates Motel, it also drew bigger ratings in that demo than CBS's 2 Broke Girls and doubled the tune-in for NBC's Revolution (even though the latter had a huge lead-in from The Voice). This summer, Love continues to reign among young women: The show's July 1 episode easily beat ABC's The Bachelorette and nearly doubled the number of women 18 to 34 tuning in to CBS's otherwise huge Under the Dome. VH1's decision to schedule the show at 8 p.m. on Mondays has also allowed the network to build other reality hits behind it, including T.I. and Tiny and this summer's Hit the Floor.
Gold Rush (Discovery)
With Friday nights pretty much a dead zone on broadcast TV (and wide swaths of cable), Discovery has rushed in to fill the void with a block of Dudes Doing Tough Jobs programming, which does particularly well with older men. While Bering Sea Gold  and Yukon Men are both hits, the biggest thing on Fridays among Discovery's demo of adult men under 54 is Gold Rush, an action-packed hour devoted to miners extracting the precious ore. First-run episodes of the show demolished everything on both broadcast and cable last winter (except for sports), including ABC's guy-friendly Shark Tank. But it's not just a Friday hit. Consider this: The February 8 episode of Gold Rush averaged a 3.1 rating among men aged 25 to 54. While that was 50 percent bigger than the top broadcast show in the demo (Shark Tank, with a 2.0 rating), it also tied the older male audience for CBS's Thursday night freshman hit Elementary, beat the Eye's Wednesday stalwarts Criminal Minds (2.8) and CSI (2.4), and crushed NBC's Law & Order: SVU (1.4). Finally, while older men is where Gold Rush dominates, the show actually has a pretty broad audience: That February 8 episode, for example, also beat everything on cable among younger men and younger women.
Archer (FX)
Like It's Always Sunny in Philadelphia before it, Archer had a relatively modest start and has blossomed into FX's top-rated comedy. Its strength is among adult men under 35: It attracted just over 1.1 million young dudes during its most recent season, surging a whopping 55 percent versus the show's third season. During the thirteen weeks it aired this winter, the show consistently drew more men under 34 than any of NBC's Thursday comedies (sorry, Ron Swanson) or CBS's hit procedurals Person of Interest and Elementary. In fact, the animated program actually scored bigger ratings than every other Thursday night TV series, save for CBS's nuclear The Big Bang Theory. And so far this year, the only scripted comedy or drama on basic cable that has done better among young men than Archer is AMC's The Walking Dead.
Sam & Cat (Nickelodeon)
Programming to attract teens requires a certain kind of chemistry; in the case of this new Nick hit, the network simply combined elements of two past successes (iCarly and Victorious) to create a Saturday night summer sensation. Since it bowed last month, Sam & Cat has rocketed to the top of the teen Nielsens, regularly ranking as Saturday's most-watched show among eye-rolling viewers aged 12 to 17. Admittedly, there usually aren't many new shows targeted at kids on Saturdays, but Sam & Cat's overall performance among teens, and especially teen girls, has been impressive nonetheless. Indeed, its same-day ratings among teenagers puts the program on par with the teen ratings for network shows such as Once Upon a Time, The Simpsons, and The X Factor. It is also performing about as well as rival Disney Channel stand-outs Good Luck Charlie and Jessie.
Catfish: The Series (MTV)
There's no confusing the identity of this MTV reality show: It's a total smash. Season one of the series averaged 1.8 million viewers in the network's target demographic of viewers aged 12 to 34, and it regularly won its Monday time slot last winter, outdrawing everything else on television airing at the 11 p.m. hour in that not-undesirable demo — including The Daily Show and all network late-night offerings. Catfish initially rode the huge lead-in supplied to it by Teen Mom, but late last month the show returned on a new night and time (Tuesdays at 10 p.m.) and, even without the benefit of pregnant teens, it was still undeniably huge: The season two debut on June 25 was the No. 2 show that night on all of TV in the 12 to 34 demographic, beating everything on cable, including ABC Family's teen magnet Pretty Little Liars, and it nearly beat NBC's America's Got Talent.
Tosh.0 (Comedy Central)
Defenders of Daniel Tosh's often ribald comedy would probably not take kindly to it being labeled "frat boy" humor. And yet, perhaps not surprisingly, his Comedy Central series Tosh.0 is an absolute beast among men between the ages of 18 and 24, which we're guessing is a demo shared by 98 percent of all fraternity members. When Tosh.0 is in original episodes, it beats every single show on television on Tuesday nights, including NBC's The Voice, Fox's New Girl, and CBS's NCIS. Tosh's Tuesday total TV hegemony is maintained even if you expand the demo to adult males as old as 34, and on many nights this winter, his show also usually beat everything airing on cable among guys up to age 50.
Your Pretty Face Is Going to Hell  (Adult Swim)
Jimmy Kimmel's move to 11:35 p.m. got lots of attention earlier this year from those of us in the media who still refer to the race between Jay Leno and David Letterman as the late-night "war." The thing is, among viewers under 35, that battle ended years ago — and the winner was Adult Swim. The Cartoon Network's after-hours programming block regularly dominates the post-prime-time landscape, and the ten-week-old Your Pretty Face Is Going to Hell has quickly emerged as one of the channel's biggest hits. Among men under 35 and viewers aged 18 to 34 and 18 to 49, the fifteen-minute comedy (think The Office, but set in hell rather than Scranton) has regularly won its midnight Thursday time slot versus everything else on cable and all of the late-night shows airing on the big network as well. And when you include folks who catch up via DVR, Your Pretty Face pulls in just over 800,000 adults 18 to 34, attracting more viewers in the younger demo than FX's The Americans or TBS's Cougar Town. It also draws more than twice as many young viewers as HBO's Girls (at least when comparing first-run broadcasts). And, in just its first season, the show is now Adult Swim's second most-watched show among adults under 35, behind only the long-running Robot Chicken.