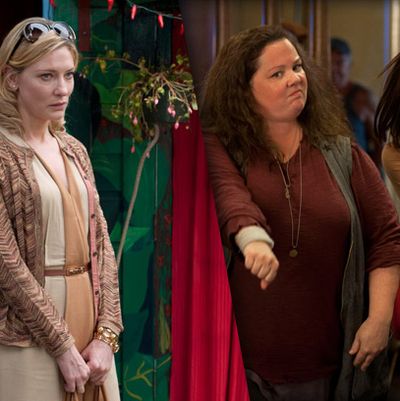 In a summer movie season that's increasingly dominated by superheroes, there's not much room out there for movies starring women. This year's crop of summer films has been particularly bad when it comes to female representation onscreen, as studio chiefs now seem much more concerned with tailoring their blockbusters for the burgeoning Chinese market than with making movies that appeal to half of the audience here at home. Why have things gotten so bad, and how can they improve? Vulture's Jennifer Vineyard and Kyle Buchanan debated the topic.

Kyle: Hey, Jen! We've been talking a lot lately about the lackluster representation of women in summer movies, and now that we're heading into the last month of the summer season, it's time to take a long view of what we've gotten so far. Things are finally looking up a bit: The Wolverine found plenty of room to add women to the action, and Woody Allen's Blue Jasmine is led by two great actresses — principally, Cate Blanchett in a tour-de-force performance — and seems headed for wide release after a fantastic limited opening. What have you made of what you've seen so far this summer?
Jen: I was happy to see that The Wolverine had so many strong female supporting parts — and it's definitely progress — but that's still rare in a summer blockbuster. And when I say "strong," that doesn't have to mean "superhero-level physical strength"; I'm just looking for something well-written, allowing for complexity of character. So while Cate Blanchett's Jasmine/Jeanette falls apart in Blue Jasmine, she's got a lot to work with, and Cate is amazing, as usual. I was also happy that The To Do List, out that same weekend by writer-director Maggie Carey, followed a teenage girl (Aubrey Plaza) on a quest to lose her virginity without the trappings of romance, since those coming-of-age V-card stories are usually told from a male perspective.
But that's the thing: Most big summer movies are told from a male perspective, and a lot of the biggest fare relegates women to the sidelines. Star Trek Into Darkness wasted its opportunity with the Dr. Carol Marcus character by making it all about Alice Eve in her underwear. (Seriously?) I had hoped Man of Steel would have a better Lois Lane in Amy Adams than Kate Bosworth's take on the character in the previous Superman installment, but the movie made her sit on the biggest story of her career. World War Z kept Mireille Enos waiting patiently for Brad Pitt's call. (Granted, he did get a female Israeli soldier as a sidekick for a bit). And then there's what you wrote previously about Pacific Rim's woman problem.
It was nice to see that some of this summer's surprise hit genre movies like The Purge and The Conjuring had women in both hero and villain modes, and yet they weren't considered "female films" or "chick flicks," per se. Although, come to think of it, there aren't a lot of chick flicks these days. Usually we get one big one per summer, one movie that reminds Hollywood women actually can be a box-office force. I guess that was The Heat this year?
Kyle: That was indeed The Heat, just as Bridesmaids was the standard-bearer for women in the movies two summers ago. At least that summer, we also got Cameron Diaz in Bad Teacher and the female ensemble cast of The Help, which made even more money than Bridesmaids; this summer, when it comes to movies in wide release, there's even less to see and most of it has been shunted off to the end of the summer. Could there be a stronger sign of how befuddled Hollywood is by its female audiences than the fact that they consign most of the movies starring women (Jennifer Aniston in We're the Millers, Amanda Seyfried in Lovelace) to the August dumping ground?
Jen: It's a question of who they think their audience is. For some reason, when stories are being told on television, the powers-that-be understand that a large percentage of their viewing audience is female; consequently, there are a lot of women-driven stories with high-caliber leads, and you've even got female showrunners on shows like Ray Donovan and The Killing that aren't conventionally about women. So is it a question of big Hollywood movies catching up to quality cable television? Because while August is a problem as a dumping ground (and this August we get Hit Girl Chloe Moretz back in Kick-Ass 2), this is an issue year-round. Sometimes I wonder if part of the problem would be solved if we had more women in power, making decisions — women as writers, directors, studio heads. There are a few, of course, but when we talk about the issue of female representation onscreen, we have to look behind the scenes as well. You could have a film populated with nothing but women and it might still be a misogynist mess. Just being there isn't enough.
Kyle: True enough. It would definitely help to have more women in powerful Hollywood positions, but then again, Sony is run by Amy Pascal, and her summer slate has so far consisted of male-bonding comedies Grown-Ups 2 and This Is the End, After Earth (essentially a two-hander between Will and Jaden Smith), and White House Down (which had female supporting characters but was sold solely on Channing Tatum and Jamie Foxx). If Pascal has had nothing for women to star in (or direct) since May, then is she leading by example? 

Part of the problem is the glut of male-bonding comedies we've gotten this summer; in addition to the two that Sony put out, there's also The Hangover Part III, Monsters University, well-reviewed indie The Kings of Summer, and the forthcoming The World's End. I was hopeful that the latter might have at least a little something to offer when director Edgar Wright cast Rosamund Pike as the movie's de facto female lead — Pike is a great, game actress whom David Fincher just picked for his adaptation of Gone Girl — but she's barely in it, and as soon as she starts to assume equal footing with the five leading men, she's essentially exiled from the movie. It reminded me of Emma Watson in This Is the End: Her extended cameo is welcome and bracing — finally, some different energy in this film — and yet the movie seems eager to push her stage left and return to business as usual with its six male leads. It's like these movies don't even know what to do with a woman once they have one. Hollywood may not know, either.
Jen: This is what we call the Smurfette Principle: Some movies add a token girl to their all-dude ensembles for dubious inclusivity points, but ultimately, she doesn't get to matter much. (Speaking of which, Smurfs 2 is coming out this weekend … ) One way to solve the problem is to add a second female character, because then they can talk to each other, right? And that's where the Bechdel Test that you cited previously comes in, because if you have a movie with two women who can talk to each other about something other than a man, the movie passes the test. (And you'd be surprised by how many movies fail that test.) But since that test is from 1985, and it's pretty simple and basic, I'm wondering if we can update it?
Kyle: I wish the Bechdel Test demanded an update, but when so many movies still can't pass it — when the very notion of having two female characters talk to each other seems beyond the reach of a summer blockbuster — the test doesn't seem like it's in need of much fine-tuning.
You mentioned earlier the idea that summer movies ought to catch up to cable television, and I have to say, when I look at the divide between the formulaic network shows and the intriguing cable shows that offer more for women to do, I'm reminded of the gulf between these barren summer movies and the prestige pictures coming out this fall and winter. In much the same way that the networks seem to have conceded a smarter, hipper demographic to cable (or even Netflix, in the case of Orange Is the New Black), it feels like movie studios have given over the summer movie season to men, which means women must wait until Oscar season for smart movies that star them. Down the road, we've got the Sandra Bullock space epic Gravity as well as August: Osage County with Meryl Streep and Julia Roberts; there's even The Hunger Games: Catching Fire in November, which is the rare action blockbuster centered around a woman. It's notable, though, that by the time the Hunger Games franchise wraps in late 2015, none of those four movies will have come out during the summer season. Even the Twilight franchise made only one foray (out of five) into summer, with the June 2010 release of middle installment Eclipse. Is it odd to you that these juggernaut, female-fronted franchises still seem like they're not allowed to play in the boys' summer sandbox?
Jen: If the boys of summer won't let us play in their sandbox, we'll make one of our own! Indie films have been this summer's salvation for women. Just look at all the other female-centric films starring, written, or directed by women this summer: Before Midnight, Frances Ha, Shadow Dancer, Violet & Daisy, Byzantium, The Bling Ring, Girl Most Likely, Lovelace, Austenland, and The Lifeguard. And we didn't even get into one of the next Hunger Games hopefuls, the would-be blockbuster The Mortal Instruments, arriving in late August. Don't underestimate the YA fans!
Still, the reason I thought we might need a Bechdel Test update is that sometimes, movies can pass or fail on pretty flimsy grounds. For example, The Canyons can pass because in between gratuitous nude scenes, Lindsay Lohan talks to another woman about her lack of interest in the movie business. Meanwhile, Before Midnight may fail the test because Julie Delpy discusses the complexity of long-term commitment with a group of both sexes … and that's one of the most feminist movies of the summer! I don't think talking about a man is necessarily the problem in most of these films. Being solely defined by a relationship to a man, perhaps. Being the sole female, usually. Having a narrowly written, ill-defined stereotype of a character, definitely. But my hope is that by next summer, with X-Men: Days of Future Past, Maleficent, Edge of Tomorrow, Jupiter Ascending, and yes, even Fifty Shades of Grey, we'll have a wide array of complex, dynamic female characters to talk about, and we can put this summer behind us as a mistake and not a harbinger of things to come.