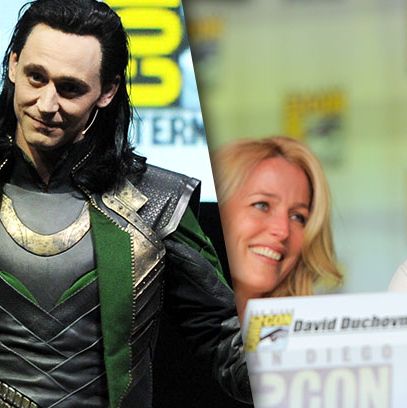 It's time to send your Stormtrooper outfit to the dry cleaners, because after several days of costumed, close-quarters companionship, Comic-Con is officially over. The San Diego gathering served up quite a few whoppers this past week, but which announcements were met with a "BANG!" word bubble, and which were met with an italicized WHIMPER? Let your Vulture editors walk you through sixteen of the best, worst, and craziest moments of the Con.
Best-Kept Secret
So many of Comic-Con's biggest reveals had been spoiled long before anyone set foot in Hall H: We knew that Batman and Superman would team up hours before Warner Bros. announced it, and Vulture reported on the super-secret Days of Future Past panel days before it happened. But you've got to hand it to Marvel: While everyone expected completely different announcements regarding the sequel to The Avengers — some casting scoops, maybe, or a clarification on those rumors that Vin Diesel might be joining the Marvel franchise — director Joss Whedon showed up with a title reveal, Age of Ultron, that also blew the lid off the film's new baddie. It was the very last big surprise, and the panel ended as soon as we saw it, ensuring that everyone would leave Comic-Con talking about it. And they have.
Happiest Moment for Shippers
X-Files star Gillian Anderson not only said Mulder and Scully should have gotten it on way sooner than they did, she also revealed that she and David Duchovny had in fact filmed a sex scene that never aired. "We shot it, we shot it. It's somewhere," she said. In less exciting news, Anderson said she wouldn't be open to bringing back the show in a limited capacity, à la the recently revived 24, but she would sign on for another movie; series creator Chris Carter said seeing the crowd was "inspiring," but didn't commit to anything.
Best Cosplay
We're going to have to call this one a tie. Andrew Garfield showed up in full Spider-Man drag on Friday, and spent the whole first part of the panel cracking jokes in character. ("Who's Andrew Garfield?" the web-slinger asked earnestly.) But the next day, Tom Hiddleston kicked off the Marvel panel as his villainous character Loki — also fully costumed and in character — and it was glorious. Press play and giggle like a schoolgirl for the next three minutes (Loki comes in around the three-minute mark):
Most Potentially Disastrous Pitch
First, the executive producers of How I Met Your Mother reassured us that the final season would not literally only take place during the wedding weekend of Barney and Robin. There will be flashbacks and flash-forwards, they said. Decades will pass, they said. Great, we said. But then they revealed plans for one episode to take place over the course of a single slap. Hmm … Not to rush to judgment, but good God.
Best Sales Pitch
Edgar Wright on his new film, the British sci-fi comedy The World's End: "If you've ever watched Doctor Who and thought it would be funnier if the Doctor was really hammered, this is the movie for you. Why don't we just rename it Doctor Hooch?"
Biggest Gasp
Speaking of that long-running British show, former Doctor Who star Karen Gillan was one of the actors at the Guardians of the Galaxy panel, where it was revealed that she'll be playing the Marvel character Nebula. "Isn't Nebula bald?" asked moderator Chris Hardwick. "Yeah, she is, and I might have done something a little bit crazy," replied Gillan … before removing her red wig to reveal a chrome dome. The audience reaction was bonkers, and that's before Gillan flung the wig into the crowd (she soon realized that she kinda needed it back). "I'm sorry, I just had an urge!" laughed Gillan. "It just got the better of me!
Best Case of Narcissism
Bryan Cranston made his way around Comic-Con in disguise as himself. How? He had a custom-made Heisenberg mask that he used to fool fans; in real life, Cranston now has a full head of hair and no goatee. The Breaking Bad star was so enamored of his fake head, he decided to make out with it during the show's panel. We're still not sure if Aaron Paul approved.
Most Startling Footage
Alfonso Cuaron and Sandra Bullock showed up to the Con to tout Gravity, their upcoming outer-space epic, and of all the footage we saw in San Diego, this has got to be the most astounding. Over the course of a few minutes, we see Bullock and George Clooney's astronauts bantering in space as they do work outside of their station … and then a hail of debris comes their way, crashes into all of their support, and sends Bullock spinning into space. Totally terrifying and completely stunning.
Best Spoiler
Benedict Cumberbatch didn't attend the Sherlock panel (nor did Martin Freeman, who is busy filming extra Hobbit things), but he did send a pre-taped video in which he revealed what happened to the detective after his season-ending plummet. He used a stuffed monkey to demonstrate. It was awesome. The real spoiler was even sweeter: Producers treated fans to a scene from the upcoming third season in which John asks Sherlock to be the best man at his wedding.
Yet Another Reason to Love Daryl
Look, we have never been as irritated by the Ricktatorship as some of our TV recapping colleagues out there (leading is a lot of pressure!), but it was still kind of thrilling to see Daryl punch Rick in the trailer for the new season of The Walking Dead. (Now, we just need to see him make a move on Carol.) Teases were sparse elsewhere, but the other super promising one was hearing that Chandler Riggs, who plays Carl, has hit puberty. "His voice is about an octave lower now," Andrew Lincoln revealed.
Worst Reason to Get Excited
During the Game of Thrones panel, author George R.R. Martin revealed he was open to writing a prequel about a few of the Aegons before Robert's Rebellion. While the Hall H crowd went berserk at the prospect of more story, let's all remember Martin still has TWO MORE BOOKS TO FINISH. Focus, guy.
Biggest (and Best) Cast
We knew it was coming, but holy shit, that X-Men: Days of Future Past panel, which brought on over a dozen of the movie's storied, Oscar-winning cast members … that was a whopper. It was fun enough to watch Ian McKellen flirt with Michael Fassbender, but even better to examine the dynamics of the cast all brought together: Jennifer Lawrence and on/off love Nicholas Hoult sitting next to each other! Michael Fassbender, cracking up at everything! Evan Peters, totally spaced out and isolated! Patrick Stewart and Ian McKellen's friendship, the absolute best! It was as much fun as anything in Hall H all year.
Most in Denial
You have to hand it to Vera Farmiga. The Emmy-nominated Bates Motel star won't give in to the idea that Norma's very intimate relationship with her son (and future serial killer) Norman is anything other than … very intimate: "Every mother in the audience will tell you, 'They grow up so quickly. You gotta slather it on while you can!'" Well put, said absolutely no one.
Most Anticipated Comeback
Doctor Who's 50th-anniversary special should please Whovians everywhere. The trailer, shown exclusively to Con-goers (some of whom had camped out overnight to attend the session), was full of so many good things, like Rose and a sonic screwdriver-off, and Rose's tears, and David Tennant and Matt Smith crossing their legs in unison, and have we mentioned that ROSE AND TEN ARE BACK?
Most Welcome News About a Show You Used to Love
True Blood installed new showrunner Brian Buckner a few months ago, and he showed up to Comic-Con to tell everyone that he's going to re-ground and refocus the vampire drama. Here's how he talked about the upcoming finale: "You're going to feel that the show is going to return back to its roots and be about this gang of people living in Bon Temps. We're going to try and condense the number of stories we're telling and really make this feel like we're going home."
Second-Most-Welcome News about a Show You Once Loved
Dan Harmon took only one shot at his corporate overlords during Community's "fan celebration" panel ("I'm not gonna say Sony can sip on a tall glass of syndication money because the people in this room brought it back"), but otherwise appeared more Zen than ever. He told fans he's not looking at the upcoming thirteen-episode fifth season as the show's last. "I'm going to do everything I can to get us the sixth season," he said. That work begins with "re-grounding and reestablishing" the characters. "I know that's not an exciting thing to say at Comic-Con: 'Get ready for grounded story work! Who likes their characters dimensionalized?'"