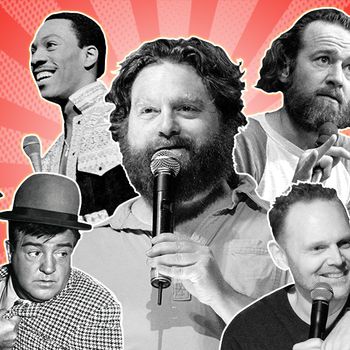 Earlier this week, Netflix announced plans to ramp up production on its own stand-up specials. The move makes sense: Not only will they be far cheaper to produce than, say, House of Cards, they'll go nicely with the already solid lineup of comedy specials available to stream on the site. As part of our multi-part look at subscription video-on-demand services, we've looked beyond offerings from current stand-up stars (such as Aziz Ansari, Louis C.K., Kevin Hart, Whitney Cummings, and Jim Gaffigan) to find specials that showcase the talents of less-heralded, unique, and/or classic comics. Here are ten we urge you to stream right this second.
Bill Burr, You People Are All the Same
Among comedians, Burr (whom you might know from Breaking Bad) is generally considered one of the funniest stand-ups working. Luckily, Netflix has three of his specials. You People Are All the Same best captures his unique blend of bemused grouchiness. 
George Carlin, On Location
Impressively, Netflix has every Carlin special available for streaming. If you're a newbie, the logical starting point is the beginning, with On Location, his first HBO hour. It includes, of course, "Seven Words You Can Never Say on Television," and because this was 1977, the bit is preempted with a fun warning that reads, "THE FINAL SEGMENT OF MR. CARLIN'S PERFORMANCE CONTAINS ESPECIALLY CONTROVERSIAL LANGUAGE, PLEASE CONSIDER WHETHER YOU WISH TO CONTINUE VIEWING." It's endearing.
Comedians of Comedy: Live at the Troubadour 
The Comedians of Comedy tour was like a mission, spreading the gospel of alternative comedy across this fair country. (The documentary about it is also on Netflix.) This special is a celebration of what it preached. Big-name alt-comedians Patton Oswalt, David Cross, Bob Odenkirk, Sarah Silverman, and Zach Galifianakis are all involved, and the rest of the lineup is just ridiculous: Dana Gould, Andy Kindler, Maria Bamford, Brian Posehn, Steve Agee, Blaine Capatch, Doug Benson, Morgan Murphy, Jasper Redd, H. Jon Benjamin, and Eugene Mirman.
Abbott and Costello, Colgate Comedy Hour
I'll say this about Abbott and Costello: They don't mess around. They open with "Who's on First?" They breeze through the bit as if they'd done it a million times — because they had. It still holds up. The 50-years-old ads for Colgate, however, do not.
Earthquake Presents: From the Outhouse to the White House
Filmed the weekend of Barack Obama's first inauguration, Earthquake brought together five black comedians — namely, Sheryl Underwood, Joe Clair, Don DC Curry, Dominique and Dez White — to do sets on the election of the country's first black president. Consistently funny, it is also an incredible portrait of that time in our nation's history.
Zach Galifianakis, Live at the Purple Onion 
Especially considering where Galifianakis's career is at now, Live at the Purple Onion is an interesting watch. As he told the A.V. Club in an interview, "[he] just wanted to show the rawness of stand-up." What that translates to is a lot of imperfections. In between killer one-liners and bits, we see a frustrated Galifianakis interacting with a tense audience. It was recorded in 2005, at a time when Galifianakis has admitted he felt washed up. It's not always funny (though, at times, it very much is), but it's constantly compelling.
Moshe Kasher, Live From Oakland
Kasher's 2012 hour is one of the few specials that Netflix has already released, and it is a good sign for their future as comedy producers. Kasher is an incredibly fast and smart stand-up, able to tackle difficult subjects deftly and quickly. He was included on our "50 Comedians You Should and Will Know" list for good reason. 
Kathleen Madigan, Gone Madigan
I hadn't really seen Kathleen Madigan before working on this list, but I am happy I rectified that. A former contestant on Last Comic Standing, Madigan is able to tackle a diverse array of subjects from a fresh angle. She's cutting and honest; more important, she's just flat-out funny.
Joan Rivers: A Piece of Work (and Other Comedy Documentaries)
Netflix has a whole bunch of documentaries about stand-up that are worth a watch for comedy fans. Beyond the one on Rivers, there is Red Skelton: America's Funniest Man; Goodnight, We Love You (about Phyllis Diller); Certifiably Jonathan (about Jonathan Winters); Looking for Lenny (about Lenny Bruce); Woody Allen: A Documentary; American: The Bill Hicks Story; and Johnny Carson: King of Late Night.
Eddie Murphy, Raw
Let's get this out of the way: The homophobic material toward the beginning of Raw is kind of gross. To his credit, Murphy has since apologized for this, blaming his youth (he was 26 when the 1987 concert film was released in theaters). However, once you get past those parts, Murphy is something to behold. He's just so naturally charismatic, talented, and funny that even when punch lines aren't perfectly wrought, you'll find yourself enjoying the show.