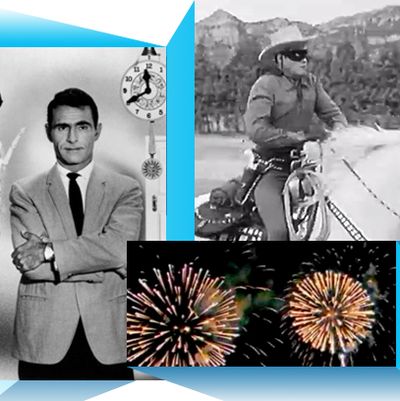 This holiday weekend, as you search for a movie to watch, you can either go out to see The Lone Ranger (don't!!), Despicable Me 2, or stay home and pick one of approximately 14 billion options available on streaming over a variety of services, be it Netflix, Hulu, Amazon, On Demand, or other sites. Every week, Vulture tries to make life easier by narrowing it down to a handful of heartily recommended options. This week we get educational with a documentary about fireworks, offer an alternative to The Lone Ranger, and suggest that you pick The Twilight Zone episodes that you want to watch.

The Twilight Zone
Each Independence Day, SyFy holds a marathon of Rod Serling's timeless anthology series. The initial reason for doing so is obvious; most people are home on the Fourth, so why not glue them to their chairs with the show's clever twists? But there is something uniquely American about the show's stories. The nostalgic waxing of "Walking Distance" and "A Stop at Willoughby," the inverted quest for beauty in "The Eye of the Beholder," or "It's a Good Life" and its examination of a God figure in a small town setting are all parables that have a homegrown touch.
But there are episodes that are downright terrifying no matter where you live. Matt Zoller Seitz named "The Masks," a tale of externalized ugliness, the scariest episode in the series. The recent passing of writer Richard Matheson took us back to one of his memorable episodes, "Nightmare at 20,000 Feet," in which William Shatner stars as an anxiety-stricken salesman who believes a gremlin clinging to the wing of his airplane. Directed by Richard Donner, the episode is a  heart-pounding experience that rivals any modern horror film.
Serling produced 156 episodes of Twilight Zone between 1959 and 1964. If packing those into one 24-hour viewing sounds daunting, the fifth dimension is waiting to be entered at one's leisure. (Available on Netflix, Hulu Plus, and Amazon Prime)
Fireworks!
Fireworking: where science, art, and magic collide.
PBS's Nova isn't known for being the liveliest of documentary series, but when the subject is Pittsburgh's Zambelli Fireworks and their 1,400-year-old craft, it becomes the educational equivalent of a Harry Potter movie. The 2002 special Fireworks! pays tribute to the work of the Zambellis, a family referred to as the "fireworks dynasty." Mr. Fireworks is George Zambelli, Sr., whose father traveled from Naples, Italy in 1893 to bring his explosive art to America. George Sr. passed away in 2003, but the family continues to construct shows and entertain crowds to this day. Think of them as the Coppolas of Fourth of July festivities.
Likening a fireworks display to a movie feels particularly apt when the curtain is pulled back on the process. Fireworks! is reminiscent of the best kind of "Making Of" special features. "Master pyrotechnicians" delve into the scientific process of the rather dangerous art form. The powders require an exact mix of elements to achieve the right color. The cartridges must be precisely packed into the canons. Even then, there's room for disaster — a bit of static electricity can set the whole rig off. Like great art, it's a miracle that a fireworks display comes ever together and that there are people in the world dedicating their lives to do it. (Available on YouTube)
The Lone Ranger
In an essay inspired by Disney's Lone Ranger movie, writer Devin Faraci wonders what happened to the heroes that once populated our television sets and movie theaters. "We don't need heroes who make us feel more secure in our own failings," he says. "We need heroes who stand tall and lead the way, heroes who inspire us to be better."
That was Clayton Moore's version of the character in the 1949 TV series. In the first episode, "Enter the Lone Ranger," do-gooder John Reid is ambushed by a gang out of outlaws and left for dead. He's revived by Tonto and immediately determined to fight the crime of the world. There's no trepidation; bad guys need to be caught, so Reid dons the famous black mask and goes to town. He's a superhero on horseback. He's extremely nice. He rules!
The new Lone Ranger movie does a fine job of turning Reid and Tonto into three-dimensional characters. But Moore's broader version allowed the Lone Ranger to be infallible and, therefore, able to be idolized. It's a style translated from the larger-than-life style of The Lone Ranger's radio incarnation from the thirties, when a hero had to be summed by his words. Few men or women would have been able to convincingly declare, "Hi-Yo, Silver! Away!" to the bombastic trumpets of the "William Tell Overture." Moore, and his Lone Ranger, had the stature to pull it off. (Available on YouTube)