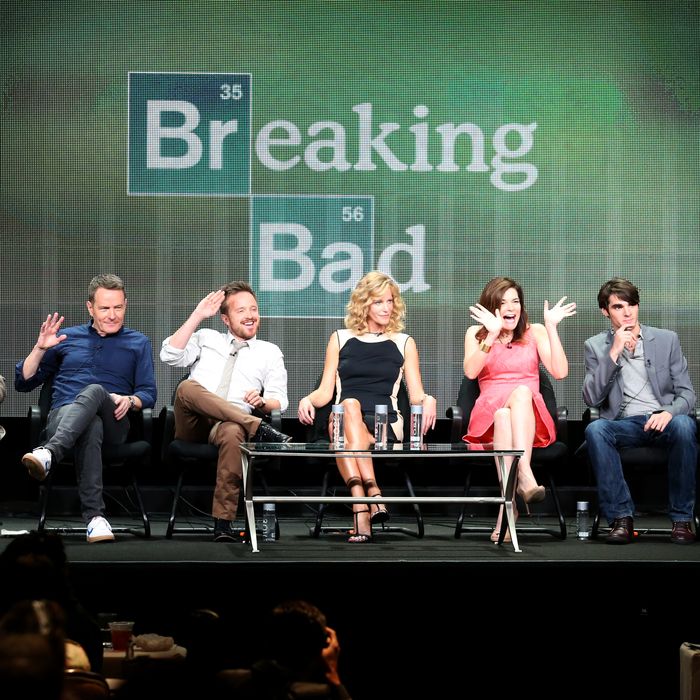 Cranston, Aaron Paul, Anna Gunn, Betsy Brandt, R.J. Mitte, and Bob Odenkirk speak onstage during the "Breaking Bad" panel discussion at the AMC portion of the 2013 Summer Television Critics Association tour - Day 3 at the Beverly Hilton Hotel on July 26, 2013 in Beverly Hills, California.
Photo: Frederick M. Brown/Getty Images
Vince Gilligan and the cast of Breaking Bad greeted journalists for the last time today at the annual summer TV-critics press tour. During the session, they talked about whether or not Walt was ever really Mr. Chips, defended Skyler from the haters, and gave us a status update on the Saul Goodman spinoff. Here's a rundown of everything we learned:
We'll be able to watch the first time Bryan Cranston and Aaron Paul read the final episode. Stu Richardson made a two-hour documentary on the making of Breaking Bad that will be included on the show's fancy Blu-ray box set. Part of it will include footage of Bryan Cranston and Aaron Paul reading the series finale aloud together for the first time. Paul told us earlier that there were definitely tears.
Maybe Walt was never Mr. Chips to begin with. Gilligan said a good argument could be made as to whether Walt's road to hell changed him or revealed things that were already within. "The more I do the show, the more I believe in the latter," he said.
Walt's fate wasn't pre-decided. Gilligan doesn't remember if he had any preconceived ideas about where Walt would end up in the beginning. "I can't remember exactly what my original intention was. I couldn't see that far ahead," he said.
Saul spinoff still homeless. The project still hasn't been green-lit by AMC or any other network, but Gilligan and Bob Odenkirk are still high on it. The show will be a collaboration between Gilligan and fellow writer Peter Gould, who created the character. "It is my fervent wish that there be a Saul spinoff," Gilligan said. "It's for powers bigger than me to figure out if it can come to fruition." Odenkirk previously told Vulture he's down to do it.
Paul doesn't get the Skyler hate, either. Asked why audiences seem to sympathize with Jesse and not Skyler, Paul said he had no clue. "Jesse is a drug dealer, he's a murderer, but for some reason you really care for him and want to protect him," he said. "With Skyler, when I watch it, I feel for her so much. She just obviously wants to protect her family. But I think the audience is really rooting for the bad guy, so Skyler inevitably ends up being the bad guy to the audience." Anna Gunn agreed that that was probably the case, noting that she and the writers had lots of conversations initially about the audience reaction "because we were confused by it." Ultimately, she boils it down to Skyler being the person who most consistently stood in Walt's way. "She was the one who most consistently said, 'You can't just do these things and not have consequences,' and therefore, she became a villain to people who really identified with Walt and were rooting for him."
Gilligan isn't reading your recaps. Gilligan said he doesn't Google the show "out of a very neurotic sense of self-protection." He prefers to keep the writers room walled off from all that, "like a sequestered jury room," the seven of them sitting around telling stories to one another.
As Jesse would say, the finale will be the bomb, yo! Giligan's mighty proud of where the writers landed. "I am very cautious in my estimation, in general, of how people will respond to things. I hope I am not wildly wrong in my estimate that most people are going to dig the ending."
Seriously, Cranston said the end is shocking. Asked how much good is left in Walt, the actor said, "Walt has a large reservoir of good to be shared with everyone else, and he spreads his joy throughout the last eight episodes." Okay, so he was kidding. "I think everyone will be satisfied with the ending where we hug it out."