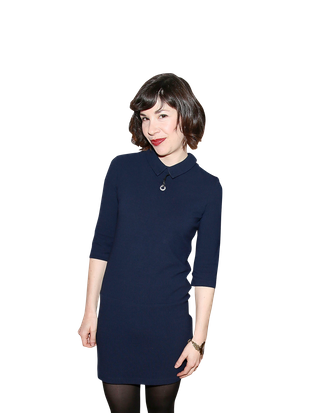 Carrie Brownstein.
Photo: Astrid Stawiarz/Getty
Portlandia treated Emmy season like a political election, and that campaign paid off nicely this morning when the IFC show garnered two nods: one for writing and one for directing. "I think it's always such a surprise to wake up to one, let alone two nominations, so we're not thinking about, 'How many can we get?'" co-writer/co-creator/co-star Carrie Brownstein told Vulture shortly after the nominations were announced. "To even be on the periphery of that nexus of excitement is an honor for us. And it just gives us such a sense of confidence as we write season four." Brownstein also chatted about what's in store for the show, whether there'll ever be a Sleater-Kinney reunion on Portlandia, and what it's like not having to battle Saturday Night Live for Fred Armisen's attention. All this, and her dog barked excitedly in the background!
Congratulations! Sorry it's so early in the morning on the West Coast.
I actually was already up anyway! I'm in this weird phase of getting up between 5:45 and 6:30 in the morning. I know. It's not necessarily conducive to going into a production schedule, but I actually love having a couple hours in the morning before I go into the writers' room.
How much do you think your "Put an Emmy on it" campaign helped score these nods today? You had approved messages — or at least, stickers and buttons — from baristas, bike messengers, feminist bookstores, and other colorful characters from your show's world, which probably helped secure some votes.
[Laughs.] Well, if the combination of the quality of the writing on the show and also a very clever and eye-catching campaign that the IFC people put together for us, and of course James Carville, a very enigmatic fellow, all helped us … Hopefully the Emmy campaign itself was a reflection of the consideration that we put into the show, the minutia and specificity, and the charming and perplexing people with strange details.
It was nice to see a campaign that actually reflected the show, to have a campaign be in character.
On the other hand, you wouldn't necessarily want someone from Game of Thrones to show up at your front door to threaten you, you know what I mean? Not every show fits. If the nature of their show is very violent, they might have a more forceful Emmy campaign.
I wouldn't mind Khaleesi coming to my front door with her dragons.
That's true. If the dragons landed on my roof one morning and just politely put down the season three DVD, yeah, I'd be psyched. And if Mandy Patinkin showed up at my house to have a tête-à-tête, I'd be fine, too.
Were you surprised that Michelle Fairley didn't get nominated after that incredible Red Wedding episode?
You just spoiled that show for me. [Laughs.] I was just kidding. I'm not caught up on Game of Thrones, but obviously, I don't live under a rock. I know that there was a massacre at that wedding. You can't read social media or the news and still feel precious about spoilers.
Does it help going into season four that Fred Armisen isn't tied up with SNL anymore? You can have him to yourselves?
Well, I think just in terms of logistics, we're able to spend a little more time on the writing and preproduction, although I have to say, I think we've operated pretty well with that high-pressure situation of knowing we had a very finite deadline at the end as Fred was going back to SNL. And that did give us some high intensity and energy to put into the show. But it's a relief to a lot of our crew to not have to kill themselves putting together a set or a costume! It's a luxury for the whole show to have a couple weeks at the end of the shoot schedule. So it's allowed us to really focus on the show, although he was always good at focusing on Portlandia when he was doing Portlandia, and then focusing on SNL when he was doing SNL.
Portlandia has been renewed for two more seasons. How do you want the show to evolve over time? Because this last season had a lot of growth.
We're only taking it one season at a time, but certainly for season four, we're focusing on the characters who we have the most kinship with, whose lives we want to explore. We're not sure yet if we're going to do the larger narrative arcs, although we are interested in having there be some connective tissue between episodes and I would say more of a recurrence of certain themes. So as the season kind of reveals itself, there will be more of certain tropes, versus a story that needs four or five episodes to pay off. But I think the nice thing about season four is that we have different modes we can rely on. We can do an episode that has a longer narrative arc. We can do these fast-paced energy pieces that's a one-off that pays off in two minutes. There's more of a variety. We're comfortable trying new things and we don't feel limited by what we've done in the past, or the genre of sketch. We want it to be as elastic and exciting as possible. And we have a sense of what works, and what the show is good at. So we'll do a little bit of both. But I think this season is more about having themes that recur throughout the sketches.
I heard that Sleater-Kinney might be getting back together. Is that true?
Oh, I couldn't comment on that! I'm not sure. It's definitely a possibility at some point.
Well, it might be fun to get them back together on Portlandia. You've gotten other people back together.
[Laughs.] That's true. I think if Sleater-Kinney got back together, it would be a lot more fun to do it in real life. But I'll think about it, and that might happen in the future. But it's not happening right now.
Who do you want back for season four? Are you guys thinking about that yet?
Well, the people we really love working with are Kumail Nanjiani, Jeff Goldblum, people that feel like they can be peppered throughout the season and show up in this almost magical way. Not necessarily playing the exact same role, but they have some intrinsic quality that can be consistent with some random weirdness that we can place in a different context. So those are two people that we … [Dog starts barking.] My dog is excited that we're about to head out on a hike. So yeah, we have a list of people, and comedians we like to go back to, because then it feels like we have a real cast. [Dog barks more.] My dog Toby is just so excited about this Emmy nomination! He doesn't realize right now that it's just a nomination, not the award yet.