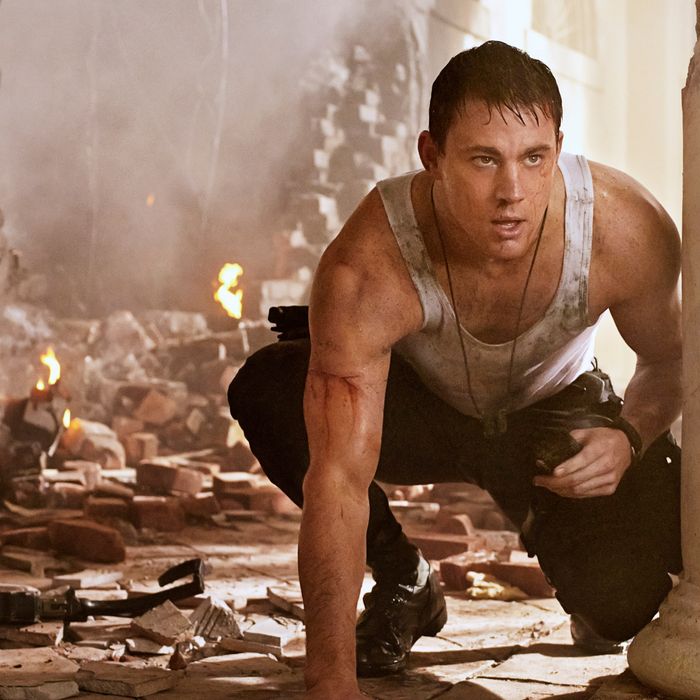 Channing Tatum stars in Columbia Pictures' "White House Down," also starring Jamie Foxx.
Photo: Reiner Bajo/Columbia Pictures
The seeds of Channing Tatum's superstardom were planted last summer, and this year, they were expected to be in full bloom. You could hear the hype around Hollywood: With White House Down, Tatum would confirm his status as a four-quadrant leading man, ready to take his place with Jennifer Lawrence as the Prom King and Queen of a new, homegrown Hollywood generation. Banners were made, confetti was prepared, the box-office crown was fitted and ready to don … and then White House Down premiered this weekend to an underwhelming $25.7 million, far less than any of Tatum's big three films last year (The Vow, 21 Jump Street, and Magic Mike all bowed in 2012 to opening weekend tallies of more than $35 million). What the hell happened? And does this summer-movie setback take Tatum's career out of high gear?
If Sony could call a do-over on White House Down — and when taken in concert with the studio's recent summer flop After Earth, there must be plenty of executives in Culver City angling for a trip in the Wayback Machine — they would almost certainly have changed the release date. It wasn't simply that March's less-starry Olympus Has Fallen stole their thunder; White House Down also lost Tatum's core female fan base to release-date rival The Heat, which starred the only two performers in Hollywood who can rival Tatum's Q score, Sandra Bullock and Melissa McCarthy. Tatum's action movie also had the misfortune of opening a week after the surprisingly potent World War Z, toplined by another hunky movie star with deep reservoirs of female appeal, Brad Pitt. If Sony had put out White House Down in April or May, the film would have felt fresher and Tatum wouldn't have been boxed in by the precious few performers in Hollywood who've got the same expansive draw that he's supposed to have.
But a movie star is supposed to be a movie star regardless of release date, right? If Channing Tatum can't open a Roland Emmerich–directed summer movie just before July 4 — the sort of enviable situation that used to be like tee ball for Will Smith in his prime — does he even deserve his A-list status? At this point, it's entirely likely that the two movies he cameoed in this year — G.I. Joe: Retaliation and This Is the End — will each be seen by more people than Tatum's expensive action movie, intended to be a summer tentpole.
But the news isn't all bad. First of all, Hollywood wants to see Tatum succeed and will keep giving him chances to: There aren't many men like him in Hollywood — confident, masculine team players who can switch between studio movies and indies (like this year's Steven Soderbergh film Side Effects) with ease and good humor — and he's got a cross-genre appeal that's even more rare. Whether it's an action movie, a romantic drama, or a balls-out comedy, Tatum is still likely to get an offer before nearly every young man in town.
He's also well-positioned to bounce back from this disappointment. Oftentimes when an A-lister suffers box-office failure, he or she will retreat to relative safety and make a sequel next: It's why Adam Sandler was moved to make the first sequel of his entire career, Grown-Ups 2, after the back-to-back stink bombs of Jack and Jill and That's My Boy. Tatum is already slated to star in 22 Jump Street next summer — a sequel to the second-biggest success in his filmography — and he's developing Magic Mike 2 as well.

With those safe-bet sequels in the offing, Tatum can still afford to take risks from time to time, and good thing, since he's got a whopper coming next year: Jupiter Ascending, a big-budget sci-fi flick directed by Andy and Lana Wachowski. When the Wachowskis signed Tatum last spring, it felt like a coup; the wildly talented filmmakers haven't experienced box-office success since the Matrix trilogy, but maybe Tatum could help get them back to glory. Now, though, there are no guarantees. If you thought the stakes in White House Down were enormous, just wait until next summer, when Hollywood's new hope faces his biggest test yet.