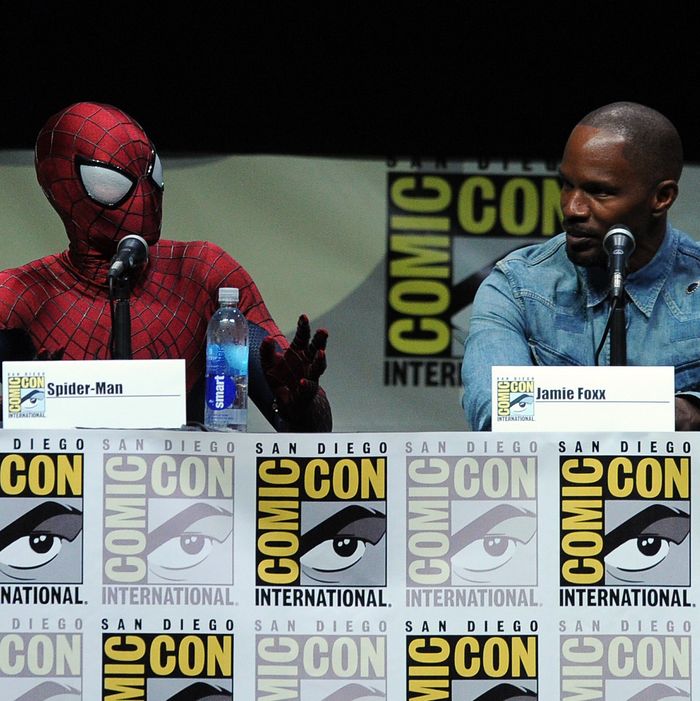 Photo: Kevin Winter/2013 Getty Images
"Who's Andrew?" asked Andrew Garfield. He scratched his head, which was covered in a red spandex mask.
At Comic-Con to promote The Amazing Spider-Man 2, Garfield had ascended the Hall H stage dressed in the Spider-Man costume, a nod to the memorable moment two years before when Garfield showed up to the first Spider-Man panel in costume, too. That time, Garfield quickly doffed the mask to read a heartfelt note about what Spider-Man meant to him, but this year, Garfield went method for the first part of the panel, and the mask stayed on. He wouldn't even cop to being lowly Peter Parker, let alone some 29-year-old Brit named Andrew Garfield. And who is that guy, anyway?
"He's the actor who plays you in the movie we made," offered Marc Webb, who directed Garfield in both Spider-Man movies.

"I thought Eduardo Saverin played me," cracked Spidey, referencing Garfield's character in The Social Network.

Said Webb patiently, "Andrew Garfield is the actor who played Eduardo Saverin."

"Oh," said Spidey. A beat passed, Spider-Man's face impassive under the mask. Then: "He's done more than one movie?"

Suffice it to say, Garfield's fully committed comic performance was the highlight of the panel, even topping an extended trailer for the film that Webb had recently cut together. The preview promised a whole new web of complications for Peter Parker, including Jamie Foxx's villainous Electro, who comes by his electrifying powers when he's electrocuted at Oscorp, falls through several floors, and lands in a vat filled with charged eels. Rough day!

We also caught a glimpse of Paul Giamatti as the Rhino (as a baddie, it looks like his screen time is brief and comes early in the film), Dane DeHaan as Peter Parker's friend Harry Osborn (who appears to be working with Electro and encouraging his malevolent tendencies), Chris Cooper as a dying Norman Osborn, and of course, Emma Stone returning as Gwen Stacy. Though she didn't get too much to do in the trailer, Webb did include one portentous shot of Stone staring off at a bridge in the distance — a quick nod to comic book readers who are familiar with Gwen's most famous storyline.

But back to Garfield … er, Spider-Man. What motivates the superhero to fight crime? "At the risk of sounding earnest, I just have this overdeveloped sense of responsibility," said Spidey, fidgeting at the dais. "And I don't like assholes. Am I allowed to say the A-word?"

What about the power to swing through the air? That must be exciting, right? Spider-Man shook his head ruefully. "The first time, you're like, 'Oh, I'm flying through the sky!' The second time, you're like, 'Oh, I'm flying through the sky!' And the third time, you're like, 'I wish Internet worked up here.'"

Spider-Man turned to Foxx, sitting to his left. "Remember that scene in Any Given Sunday where you and Al Pacino went at it?" asked Spidey, as the crowd laughed. "I was like, 'Oh, he's a young actor, but he's matching him! He's matching Pacino!'" A game Foxx then began to beat-box as Garfield's Spidey tentatively rapped. What marvelous world was this?

Eventually, Garfield shucked the mask and broke character, and his mussed hair stood on end for the rest of the panel, as though zapped by a mild dose of Electro's lightning rays. He still looked utterly adorable, though … maybe too adorable, for some folks in the audience. "Peter Parker's this really nerdy guy, girls don't really like him," one audience member reminded Garfield during the Q&A, adding, "Tobey Maguire really nailed that." As the crowd let out shocked oohs, the kid steered his train of thought in a more flattering direction, telling Garfield, "You just emit this swagger. All the girls, they love you! How do you tone down your awesomeness to play Peter Parker?"

A disarmed Garfield replied, "I'm so, so sorry to disagree with you, but you are mistaken on all counts. Tobey Maguire was a sex machine!" After mulling over the question for a bit, Garfield finally threw up his hands: "I don't know what to say. I'll meet you in the back after, I guess. I'll take anything at this point."

"Time for the new swag!" said Foxx.