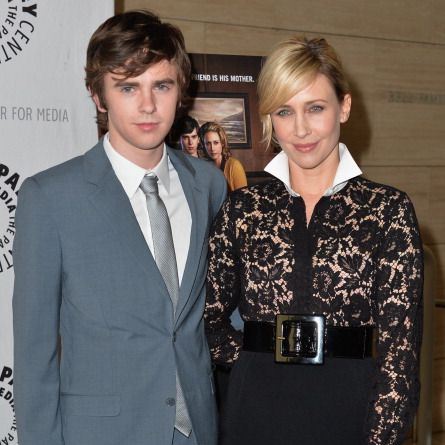 Vera Farmiga has long thought of the relationship between Norma and Norman Bates not as Oedipal, but as "a really bizarre love letter between a mother and a child." At today's Bates Motel panel at Comic-Con, the actress, whose performance as Norman's high-strung mom just earned her an Emmy nomination, continued to make her case. "In her defense, she is the mother of a child with mental issues," she said. In her research, Farmiga said she Googled "parents of psychopaths, and "there was a wellspring of information, so many testimonies. That's where my compassion for the character came from." But her co-star Freddie Highmore says the two actors disagree on the nature of Norma and Norman's extra intimate relationship, i.e., he thinks it's pretty creepy!
Highmore: "I think it's slightly dodgy, she thinks it's really nice."
Farmiga: "He gets this little twinkle in his eye and I'm like, 'No! No, no, no…'"
Highmore: "Do you think it crosses the line, or no?"
Farmiga: "It doesn't!"
The audience seemed to side with Freddie, breaking down in giggles after Farmiga a moment later added, "Every mother in the audience will tell you, 'They grow up so quickly you gotta slather it on while you can!'" Even she had to laugh.
At the start of the panel, executive producer Carlton Fuse joked Highmore almost didn't make it to Comic-Con. Here's why: