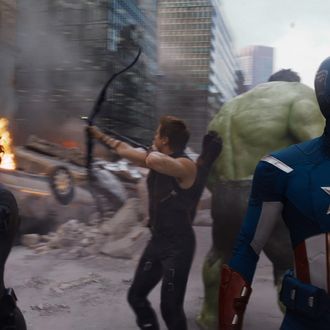 The Avengers
Photo: MVLFF
If you wondered which classic comic-book storyline Joss Whedon might mine for his sequel to The Avengers, it seems the director didn't have to reach back very far. At the end of Marvel's Comic-Con panel just now, Whedon took the stage to announce, "I don't really have anything to say, but I have one thing to add." Cue a short teaser showing the dented armor of the Avengers team, plus a full title — The Avengers: Age of Ultron — that it shares with a just-concluded ten-issue comic book arc penned by Brian Michael Bendis. In that storyline, the villainous Ultron takes over Earth and kills a great deal of its superheroes … so why do we have the feeling that Hawkeye just got very expendable all of a sudden?
Here are three other big bits from the Marvel panel:
Thor: The Dark World has a lot more girl power
The sequel to Thor comes out in November, but none of the major talent from the film showed up to tout it except Tom Hiddleston, who delivered the panel's three-minute, totally in-character introduction as Loki, commanding the crowd, "Claim loyalty to me." Done! (It seems Andrew Garfield has some cosplaying competition this year.) Then Marvel Studios head Kevin Feige showed an extended trailer for Thor: The Dark World, which began with a well-shot forest battle straight out of Game of Thrones — no wonder, since it's directed by series helmer Alan Taylor — and then followed most of the beats from the first teaser, with a few extra moments for good measure. The women of the film really popped here, including Jaimie Alexander as Thor's comrade Sif and Natalie Portman as the feisty Jane, who socks Loki in the face and spits, "That was for New York." Even Rene Russo, as Thor's mom, is glimpsed in mid-swordfight.
The Captain America franchise isn't so square anymore
The first Captain America film was a retro venture that wore its heart on its sleeve, but now that the titular character finds himself in the modern age, the film's look has followed suit. For the sequel Captain America: The Winter Soldier, Marvel showed off a close-quarters fight scene where Steve Rogers (Chris Evans) takes out a whole group of baddies in an elevator, and it's more Bourne than anything we've seen in the Marvel movies thus far. That led into a trailer for the film (which comes out in April) which further detailed its grittier urban look: This is a contemporary looking, city-set thriller that just so happens to star a broad-shouldered superhero.
Guardians of the Galaxy is even weirder than you'd expected
Marvel is taking a big swing with Guardians of the Galaxy, the film that will be sandwiched in between Winter Soldier and Age of Ultros: This one's set in outer space, not on Earth, and it's got an unusual set of heroes that includes a talking tree and a raccoon that shoots guns. The film's cast is just as eclectic, and a good deal of them made the trek to Comic-Con today, including Chris Pratt, Zoe Saldana, and Benicio del Toro, the latter of whom hasn't even started on the film yet. Though production is only two weeks in, there was a well-crafted trailer for this one, too: Pratt's Peter Quill proved a disarming lead, waltzing into typical space adventures — the theft of a priceless artifact, or a battle to the death — with an improv-comedy vibe that recalls Robert Downey Jr. in Iron Man. And yes, there's a shirtless scene that takes advantage of Pratt's newly buff body. The Parks and Recreation actor joked that when he landed the role, Marvel said, "Great job! But you're too fat." How did he lose all the weight? Replied Pratt, "Tapeworm."