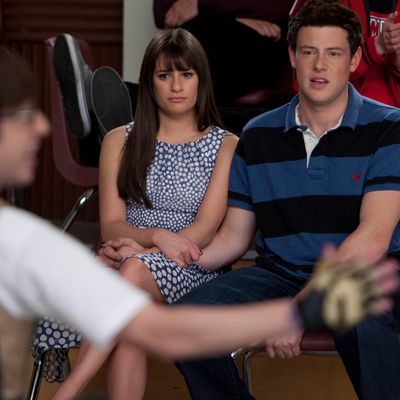 GLEE: Finn (Cory Monteith, L) and Will (Matthew Morrison, R) tend to Rachel (Lea Michele, C) in the super-sized 90 minute "Born This Way" episode of GLEE airing Tuesday, April 26 (8:00-9:30 PM ET/PT) on FOX. ©2011 Fox Broadcasting Co. CR: Adam Rose/FOX
Photo: Adam Rose/FOX
Regardless of the cause, Cory Monteith's death is a tragic one. He was young and talented — a gifted drummer, an awkward-as-hell dancer, and a reliable nailer of power ballads. And he was Finn Hudson, Glee's main testament to the life-changing power of music, arguably the show's primary message.
The loss of Finn alters the show's landscape permanently and irrevocably. There's a part of me that thinks, "Is it too soon to consider what the show will look like now that he's gone?" But as Vulture's Glee recapper for the past two seasons, I think that considering the question is a respectful act; it speaks to his invaluable contribution. And Glee's cast and creative team don't have the luxury of declaring it too soon to move forward; filming on season five is currently scheduled to begin in a week or so, and the writers have been at work for a while now. While Ryan Murphy hasn't said much publicly about what this year holds, he negotiated a two-season renewal for Glee last spring, and consensus is that he wouldn't have been able to do so without some sort of master plan (or at the very least, a general sense) of how this next chunk of story plays out.
This isn't a reshuffling of the deck, then. It's 52 Pickup. Whenever Glee has been at a loss for story in the past, it's circled back to three key relationships: Kurt and Blaine, Brittany and Santana, and Finn and Rachel. Monteith's death and Heather Morris's departure further destabilize a show already on shaky ground as it struggles to take on a more mature tone following the graduation of several of its main characters from high school. Deftly tackling the narrative challenge of Finn's departure from the show seems an almost impossible task. If the season begins with Finn glibly written out ("Oh, he moved to L.A. with Mercedes!"), it will be criticized for insensitivity; if Finn's storyline mirrors Monteith's passing more closely, it will be criticized for exploitation.
Glee has always encouraged viewers to suspend disbelief when it comes to the fact that its main cast is a bunch of 20-something-year-old adults pretending to be teens. They've done this by emphasizing the characters rather than the actors (consider, for example, the fact that the entire cast did a world tour completely in character) and by near-obsessive control of the cast's collective public image.
Sure, there have been drunk appearances at award shows and magazine spreads of questionable taste, but for a cast of late Millennials (Monteith was 31), heady on fame or something close to it for the first time, they come off as reasonably wholesome. Even Monteith's own stint in rehab this spring was spun by the powers that be at Glee not as a scandal, but as a responsible choice by someone taking control of his own well-being (and rightly so). Glee's promise of youth and escape is seen clearly in its return to Katy Perry's "Teenage Dream" in multiple episodes, almost as an anthem. "You and I," Glee promises, "We'll be young forever."
That image of squeaky-clean youth is shattered now, and that seems irreversible. Glee works as escapist television, and it almost always flounders when it tries to be something bigger. Season four's misbegotten school shooting, prostate cancer, teen molestation, and eating disorder storylines – all either insensitively handled or dropped without explanation – are undeniable proof of that.
Monteith's final performance on Glee was a reprise of "Don't Stop Believin'," the same song that closed the pilot. It's just a coincidence, although it's hard not to lend it more significance than it perhaps deserves. Either way, Cory Monteith's death means it will be a little harder to believe in Glee from now on.