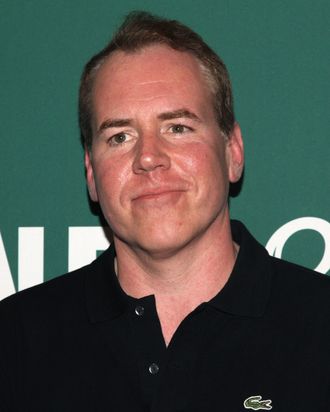 Writer Bret Easton Ellis attends a booksigning for his latest work Imperial Bedrooms at Barnes & Noble Union Square, in New York City on June 22, 2010. © Rob Kim / Retna Ltd.
Photo: ? Rob Kim / Retna Ltd./? Rob Kim / Retna Ltd.
At the end of a quick interview about Kanye's American Psycho remake — he wrote the script last minute! Kanye really liked it! — Bret Easton Ellis drops this reveal: "Kanye and I have been meeting about writing a script for him and so that's a project that's kind of in the works." First question: Is this why BEE and Kanye spent three hours at Cedars-Sinai that one time? Second question: Is it the Jetsons script?!