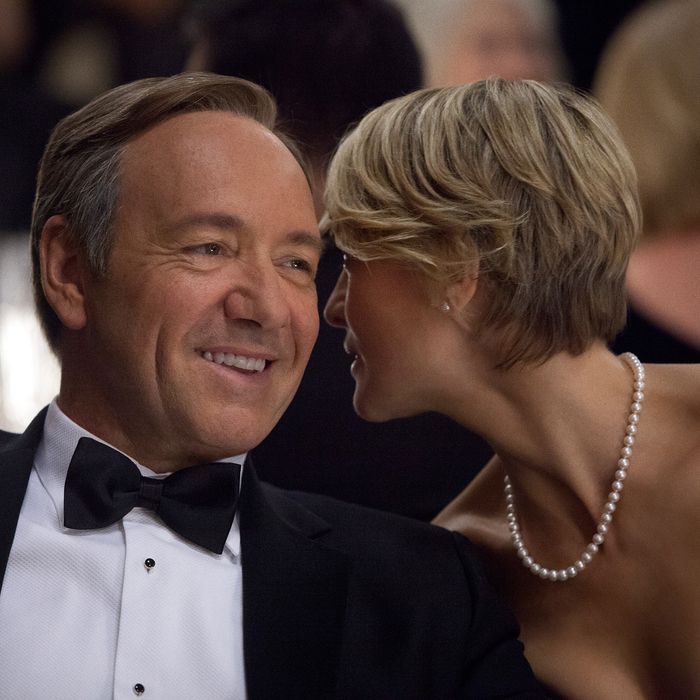 HOUSE OF CARDS
Photo: Photographer: Melinda Sue Gordon/Netflix
Showbiz bible Variety led its first take on today's Emmy nominations with the fact that Netflix had scored a historic breakthrough, and this is as it should be. This is a milestone, one that will almost certainly be cited by historians when chronicling the collapse of linear television about, oh, seven years from now. By ignoring how House of Cards and Arrested Development and Hemlock Grove got to viewers, and instead focusing on the content of those three shows, Emmy voters demonstrated, and admirably so, that they're platform agnostic. Academy members proved this with other nominations as well: the ten nods dished out to Sundance Channel (a network even more obscure than its sister station AMC, pre–Mad Men); the Best Comedy nod for Louie (the first time a basic cable network has squeezed into this category); and the inclusion of Yahoo and Funny or Die in a short-form category, which also includes the Super Bowl halftime show and Adult Swim's Childrens Hospital. "What this shows is that disruption can come from anywhere in our business," Sundance Channel chief Sarah Barnett told Vulture. "It can come from the nature of the platform or from a small network you wouldn't have expected to be a contender. In the end, great content wins out."
Barnett is right, of course: Today's nominations are a nice demonstration of progressiveness from a voting bloc that, just a decade ago, somehow failed to award a single nomination to The Wire, a series considered by many to be TV's greatest ever. And yet, look more closely at most of the "breakthrough" nominations revealed today, and something else quickly becomes clear: Emmy voters may be okay with alternative distribution methods, but they're still very much in love with Big Names. Star power remains Emmy's everything.
It takes nothing away from Netflix or House of Cards to point out that its biggest nominations were for people who have been nominated  for (or have won) Oscars and Golden Globes: Kevin Spacey, Robin Wright, and David Fincher. Sure, it's historic that their nominations were for a show which didn't air on a "network," but it is otherwise not at all surprising that these very well-known talents woke up to good news this morning. It is equally not a shock that the lesser-known actor Corey Stoll, who delivered House of Cards's most unexpected and searing performance, was overlooked. But Emmy's obsession with well-known names played out in other arenas as well:
• Sundance's Top of the Lake is certainly deserving of the Emmy love it got, but so was the network's Rectify, which got almost identical critical acclaim. The difference between the two: One starred Emmy vet Elisabeth Moss and was co-written by Oscar winner Jane Campion, and the other hailed from relative unknowns. (The good news for Barnett: Rectify will make it on many critics' year-end lists of best shows, and the fact that it's even being discussed as a "snub" is victory of itself, given how relatively small Sundance is.)
• Tatiana Maslany, star of BBC America's Orphan Black, had the backing of every single person on Twitter and countless critics. Anyone who's stunned that the Canadian actress didn't get a nominated today hasn't been paying attention to Emmys.
• Those nominations for Yahoo and Funny or Die in the short-form programming category sound less impressive when you see who's attached to them: Ben Stiller (for Burning Love) and Zach Galifianakis (Behind Two Ferns). The nonfiction counterpart of the same category is equally dominated by stars, including Jerry Seinfeld and Jay Leno.
• Comedy Central has had a great year reinventing sketch comedy with shows such as Key & Peele, Inside Amy Schumer, and Nathan For You. Did any of them displace long-in-the-tooth veterans Stewart, Colbert, Maher, or SNL in the variety categories? Of course not, because none of the people on those shows is currently a star. (Portlandia is nominated, but it co-stars SNL veteran Fred Armisen and is executive produced by Lorne Michaels.)
• Political Animals scored five nominations, and for those of us who really liked the show's soapy shenanigans, that's nice. But let's not pretend that the presence of Hollywood icons Sigourney Weaver and Ellyn Burstyn didn't make all the difference. While it helped that the miniseries category is less crowded than drama, there are lots of talented actors on Scandal who didn't get nominated because, unlike the amazing Kerry Washington (who deservedly did get recognized), those actors just aren't very well-known.
This year's Emmy star fetish is nothing new, but, to the Academy's credit, neither is it absolute. Academy members absolutely do step up to reward performers and writers who are unknown; Mad Men alone is proof of how unknown actors and first-time showrunners can become overnight Emmy sensations. Glee and Modern Family also broke through instantly, and last year, some dude named Max Greenfield was nominated for comedy acting in New Girl (sadly, he was overlooked today). But here's a troubling thought (and it's just a thought, not a prediction): With so many more outlets now doing really good TV, and with Netflix opening the doors to even more platforms for good content, what if it becomes harder than ever for amazing TV performances to tally enough votes to get nominated? "It's such a cluttered marketplace," one Hollywood insider notes. "What really cuts through in terms of the Academy, what gives you a leg up is if your talent has some sort of profile or recognition. It's naive to think otherwise."
There's nothing wrong with big stars or high-profile writers racking up nominations, of course — particularly when the finished product is as good as Top of the Lake or House of Cards. And networks such as FX and Sundance and Comedy Central will continue to make highly watchable, groundbreaking shows, and those networks will continue to thrive, whether their wares get Emmy's blessing or not. What's more, it's important to remember that often it just takes time for Emmy voters to come around to a show or an actor. Be bummed, as we are, about the shut-out of The Americans or the criminal neglect of Tatiana Maslany, but then remember this: While Louis C.K. got nominated the first year he was eligible, Louie was kept out of the Best Comedy category for three years. Today, as writer Noah Hawley tweeted, Louis C.K. snagged seven total Emmy nominations for an "existential comedic experiment. Moral: You thought there were rules? There [are] no rules." Well, except maybe one: It's still a whole lot easier to get an Emmy nomination if everybody already knows your name.