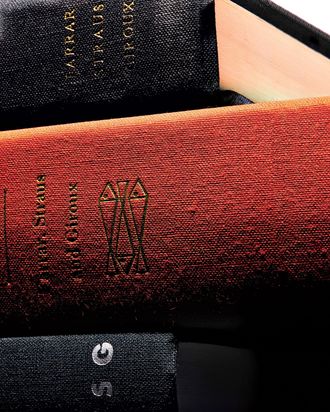 Photo: Bobby Doherty/New York Magazine
There's an old saw about journalism that the more you know about a subject, the less sense reporting about it makes. I had an odd, vertiginous sense of unreality reading Hothouse, by New York's Boris Kachka, about the publishing house where I've worked for the past quarter-century, Farrar, Straus & Giroux. I loved reading the spiky, spicy evocation of the company's good old days. But the story of those years casts a shadow on the current life of the company, and I found myself wondering: Do the book-­publishing cynics have it wrong, or do I?
Kachka takes us back to the black-and-white era when good old-fashioned hard­covers stood unassailably at the very heart of the culture. It's a rough-and-tumble, heroic tale about two strong-willed men, as different as chalk and cheese, who created a publishing house that shouldered its way into the red-hot center of the literary Establishment in record time and has continued to punch well above its weight for nearly 70 years.
As the publisher of FSG and the custodian of its legacy, I have an interested insider's view. I've been around long enough to have lived through the transition from what was still basically a shoestring, seat-of-the-pants nineteenth-century artisanal shop to membership in a media conglomerate that has brought us financial stability and supply-chain-style efficiency. Our tools and toys are digital; our editions are both print and e. The phones don't ring off the hook, because most of what goes on in our now-silent offices happens onscreen. The media focus now is on formats and pricing, on the war between ­Amazon and Apple. But writers are still writing, and readers are still reading. Which means that publishers are still producing new books, by the tens of thousands, and while publishing looks different today, like everything else in the digital age, our core activity is exactly the same as it always was.
It all began in 1945, when Roger W. Straus Jr., a brash young New Yorker fresh out of the Navy, decided to apply his talent for public relations to starting a publishing house. Straus was the black sheep in a powerful "Our Crowd" family with a burning desire to make good on his own. Roger was no littérateur, but he loved the glamour and excitement of books. He was destined to be the last of a string of Jewish "gentleman" publishers, including Horace Liveright, Alfred Knopf, Bennett Cerf, and Donald Klopfer, who broke into a Wasp-controlled business and ended up dominating it.
An aristocrat with powerful connections (his uncle Harry Frank Guggenheim was the publisher of Newsday; Peggy Guggenheim was a cousin), Roger was a rank newcomer to publishing and knew he needed an editor with a name to give him credibility. So he asked John Farrar, recently cashiered from the Wasp house of Farrar & Rinehart, to come in with him. But it was the arrival of Robert ­Giroux that made Farrar, Straus & ­Giroux, as it came to be called, into a significant player in the business.
Giroux was a working-class Catholic boy from New Jersey who had to drop out of Regis High School to get a job during the Depression. He later fell in love with literature at Columbia and went on to become a renowned editor in the mold of his hero, Scribner's legendary Max Perkins. Bob, in his blue banker's suit, was an "old maid," in the words of his star poet, the fire-breathing, manic-depressive Robert ­Lowell—and almost monastically devoted to his authors, whom he chose with virtually perfect pitch. He had been editor-in-chief of Harcourt, Brace and Co., where he'd edited T. S. Eliot and discovered Jack Kerouac and William Gaddis, among others, but his bosses hadn't let him sign up J. D. Salinger's The Catcher in the Rye. When Giroux joined Straus, a crowd of important authors, including Eliot, came along too.
FSG came into its own at a moment when postwar America was opening up and out—when "semi-outsiders," in the words of critic Irving Howe, were "starting to break into the central spaces of American culture." What made FSG significant, though, was its ability to catch a long series of literary waves. Straus and Giroux and a whole series of talented younger editors made stars out of Southerners (and Catholics) like Flannery O'Connor and Walker Percy and Jews like Bernard Malamud, Philip Roth, and the émigré Isaac Bashevis Singer. There were the poets of the ­Lowell-Bishop-Berryman generation; Susan Sontag, an entire typhoon on her own, who clued Straus in to great, obscure European writers; and the late-sixties Latin American "boom" (Fuentes, Vargas Llosa, Neruda). There were the New Journalists (Tom Wolfe, Joan Didion) and New Yorker epigone John McPhee; the internationalist poets Derek Walcott, Seamus Heaney, and Joseph Brodsky; and great children's writers like Maurice Sendak, Madeleine L'Engle, and Roald Dahl. All contributed to what Kachka calls "FSG culture," which he ­describes as "high-minded and scrappy, aggressive and refined, quintessentially American but thoroughly international." Early on, the market-­minded Straus had seen the Nobel Prize as a way of selling books; in his later years, when his authors had won innumerable awards and he'd been lionized as the king of the Frankfurt Book Fair, he came to view his "Nobels" as the capstones of a prodigious career.
Bella figura was part and parcel of the FSG mystique. Roger was a warm and exuberant ladies' man, a flashy dresser, and a loudmouth who loved profanity as much as he loved making friends—and having enemies. He and his bluestocking wife, Dorothea, a Rheingold-beer heiress and a writer of Proustian memoirs, entertained like "Fred Astaire and Ginger ­Rogers," in the words of their only child, Roger III, at their Upper East Side townhouse, though on nights when there was no party, the place could feel like "an ­airport runway waiting for the plane to come in."
Downtown on drug-ridden Union Square, it was another story. FSG's grungy quarters resembled "the branch office of a failing insurance company," in the words of author Calvin Trillin, and publishing was not the only game being played. Dorothea Straus called the place "a sexual sewer"; the tone was unquestionably set in the corner office. Giroux used to complain about Straus returning from lunch with wet hair, and Kachka reports that two staffers kept matching robes at their apartments for the boss—by all accounts an empathetic and generous lover—so he'd feel equally at home during their noontime assignations.
I arrived in 1986, when Giroux had more or less retired and the magic had become a little shopworn (if there was hanky-panky in the office, it was entirely discreet). Roger III had been lured back to the firm after his father's 1984 bout with cancer, and was valiantly trying to get Straus, now on the verge of 70, to modernize. Shortly afterward, we won an auction for Scott Turow's riveting literary thriller Presumed Innocent—a somewhat unlikely choice for the FSG of the period, but Turow, like many an author before and since, had luckily fallen under the FSG spell. The next year, Tom Wolfe having finally delivered his long-delayed first novel, The Bonfire of the Vanities, he and Turow spent months trading places at the top of the best-seller list. FSG had caught another wave.
The FSG story starts to lose its fairy-tale aura when filthy lucre invades the sacred enclosure, as it did ubiquitously in the every-man-for-himself Reagan era. As Sontag put it, "I was happy to be a poor intellectual in New York when everyone else was, but when money came along in the eighties everything changed." After Bonfire, another house offered Wolfe a huge contract for his next book, and to keep him, Roger potchkeyed together a deal with a reprinter. Philip Roth heard about it and wanted his own payday. ­Enter Andrew Wylie, an agent who understood better than most the potential leverage for serious writers in the new landscape.
Wylie admired Straus, but he was shrewd in playing on his strengths and weaknesses. "Every writer has that feeling of gratitude declining into resentment, just by virtue of the way the relationship is structured," he remarks in Hothouse about Straus's paternalistic model, which had indeed become passé. Wylie prefers to view the publisher as a service provider: "If the gardener does what you tell the gardener to do, and is attentive and careful, and does the job thoroughly, why are you going to fire the gardener?"
Wylie's patrician style makes him sound not unlike the Roger whose favorite toast was "Fuck the peasants!" Perhaps that's why the two enjoyed sparring so much; they recognized each other. In any case, Wylie and his confrères hastened the inevitable demise of the old dispensation. Before Straus knew what hit him, the garden belonged to them.
The old FSG had never been about money, but survival. Cash flow, not profits, was what mattered to FSG's bankers and to Straus, who "loved skating on the thin edge of nothing," as Dorothea put it, and whose sense of fiscal reality harked back to his own youth (he was the chintziest tipper I have ever known). The house was a Rube Goldberg–like construction, surviving for decades on the backs of the overqualified, underpaid true believers who loved working there and the publisher's share of paperback licenses, with Straus selling off slices of his ever-­thinning controlling interest for ready cash, until FSG could no longer compete in the ever-escalating scramble for authors and was acquired in the mid-nineties by the German Holtzbrinck publishing family. Not long before, Roger III had finally thrown in the towel after struggling heroically with the man he shared a name with for his rightful place in the firm.
Kachka's book is most exciting about the company's swashbuckling youth, but the story takes on a declinist cast once the giants who gave FSG life no longer walk its no-longer-water-stained halls. I stared into the mirror after reading Hothouse and asked myself, "Are you really the introverted, aloof, corporate tool Boris makes you out to be?" Maybe so—or maybe the Good Old Days are always more inspiring, more golden, less weighed down by drudgery, because the drudgery is precisely what we let ourselves forget. The past looks coherent, its actors and their actions decisive, when it was more plausibly an endless round of good and bad days not all that unlike the present, with endless good and bad decisions that add up in retrospect. Then again, a list that is home to writers like Michael Cunningham, Jeffrey Eugenides, Jonathan Franzen, Thomas Friedman, Louise Glück, Daniel Kahneman, Alice McDermott, George Packer, and Marilynne Robinson suggests that "FSG culture" today may well add up to something, too.
Yes, the contemporary publishing environment is very different: disappearing bookstores, inimical trading "partners," and a still-consolidating industry (the new Penguin Random House is set to publish more than 15,000 books next year worldwide) in a "mature," i.e., declining, market. There are too many books and readers with too little time to read, and too much competition for anything with a chance of exciting their wavering interest. Everything is different—except for publishing itself: getting hold of an amazing author, working to make his or her book the best and best-looking it can be, telling the world. In Kachka's version, publishing today is all about "marketing chutzpah." Hasn't it always been?
*This article originally appeared in the July 29, 2013 issue of New York Magazine.