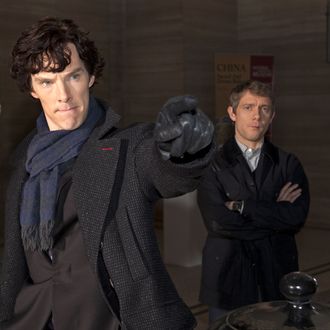 Oh yes, there will be bromance coming up on Sherlock. Benedict Cumberbatch and Martin Freeman did not make it to San Diego for the series' Comic-Con debut Thursday, but as a make-good, executive producers Steven Moffat, Mark Gatiss and Sue Vertue brought a rough cut of a sweet, squeal-eliciting scene from — spoilers, ahoy! — Watson's wedding. Sherlock is giving a toast about the day he became John's best man. Flashback to John casually bringing up the subject and Sherlock rattling off a list of potential candidates — until Watson interrupts: "But he's not my best friend!" It finally hits Sherlock. "I'm… your… best friend," he says, to which John replies, "Of course you are." Awwwwww.
Cumberbatch, who was just announced as an Emmy nominee for his performance in Parade's End, offered slightly less reliable intel via this pre-taped video in which he used a stuffed monkey to "spoil" what happens to Sherlock after his season-ending plummet.  The footage is a bit garbled but, Gatiss insisted, "He really does reveal it." In all seriousness though, the explanation will be a quick and rational one. "There are really only a few ways you can fall off a roof and survive. It's not black magic," Gatniss said. Moffat said the real showstopper of next season's premiere – title: "The Empty Hearse," based loosely on "The Adventure of the Empty House" – is when John and Sherlock meet again. "It's electrifying," he said. "And it goes on and on. That lengthy sequence is my favorite moment of Sherlock that we've made."
What else to expect? Andrew Scott will be back as Moriarty even though he is dead – and he is dead. ("He shot himself in the face. What more do you want?" Moffat said.) Mycroft will also be around but unlike in the original stories, all won't be forgiven when Sherlock resurfaces. "We wanted to explore how [his disappearance] affected all of his friends and family," said Gatniss. Sherlock will stay true to the books, however, when it comes to John's marriage to Mary, happening in episode two. Romance for Sherlock is less likely. "Sex for Sherlock is up here," Moffat said pointing to his head. "Romance? He'd poison his girlfriend just to see if it worked!"
Producers are waiting for Freeman to finish shooting the next Hobbit film before they can complete production on the season's final episode, but they already know it all ends with another big cliffhanger. "You'll be watching the end of the last episode thinking, 'They wouldn't stop it there. Oh my God, would they stop it there?' " Moffat teased. Rest assured, the producers confirmed the cast has already been optioned for a fourth season, so all will be delightfully resolved.