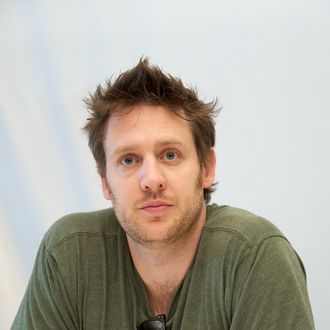 Photo: Vera Anderson/WireImage/Getty
33-year-old director Neill Blomkamp came out of nowhere with 2009's District 9. Good thing he did: Beyond making a great, game-changing film, Blomkamp is legit interesting; his Wired profile proves it. You can read the whole thing here, but below are nine interesting tidbits. Learn about the very unlikely people who were supposed to star in Elysium instead of Matt Damon, why the director loves Michael Bay, and more.
1. He turned down the opportunity to work on the new Star Wars movie when Simon Kinberg, his friend and Elysium producer who's also working on the restarted franchise, brought it up. He's hesitant to work on someone else's ideas, especially one with such high expectations.
2. Elysium was not meant to reference the Occupy movement in any way.
3. Early in the production of Elysium, Blomkamp approached Die Antwoord's Ninja to star in what would've been a lower budget version.
4. When Ninja said no, he approached Eminem. Eminem said he'd only do it if they'd shoot in Detroit.
5. Blomkamp loves Michael Bay. "It's not just blowing stuff up," he explains. "I like the way he composes scenes and action. He's inspiring." At 19, he took a trip to L.A. to try to meet him.
6. As a kid, Blomkamp was obsessed with designer Syd Mead, who worked on Aliens and Blade Runner. At 80, Mead designed sets for Elysium.
7. He and his writing partner/wife Terri Tatchell have written an eighteen-page treatment for District 10, but he's not sure when he'll make it, as he has other ideas he wants to pursue first.
8. One such idea is Mild Oats, which he described as "somewhere between John Waters and Jackass." Here's a description of a prop from the project: "A 3-foot-tall, photo-realistic silicone puppet rocking a mullet and jailhouse tattoos. The deranged redneck stands completely naked, revealing six nipples and a prodigious, uncircumcised penis. The character's name, Marvin, is inked on said organ in gothic lettering."
9. In the next six years, he hopes to buy a skyscraper in downtown Johannesburg. He sees it as his own version of Blade Runner's Tyrell Corporation headquarters or Elysium.