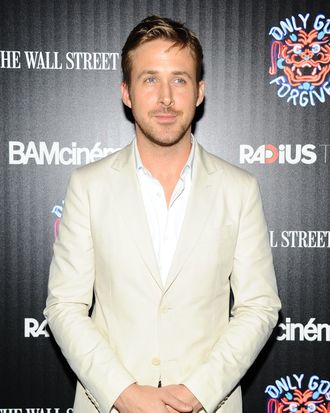 Ryan Gosling.
Photo: Paul Bruinooge/Patrick McMullan
There are very few words in Only God Forgives, Ryan Gosling's latest collaboration with Nicolas Winding Refn. But the words are memorable. For example: "cum dumpster," which Kristin Scott Thomas, who plays Gosling's mother, calls his character's female friend. The idea for the insult came from Gosling, Refn told us earlier this year at Cannes. "I would ask Ryan, 'So what's the worst thing you can call a woman in America?'" Refn said at the festival. "He goes, 'We call her this …'" We gave Gosling a chance to set the record straight last night, at a screening of the movie at BAM. "You know, as shocked as you are by that [expression], I'm as shocked to be thrown under the bus for that," Gosling said.
"They were trying to come up with terrible things to say, and what was the worst thing you could say, and there was a long list of options, which they came up with, too, which never hit the newsstands, thank God. But Kristen got it wrong: I said the worst thing you could call someone was a "dumb hipster." And she heard it in this other way, and I can't take responsibility for how her brain twists things." So the worst thing you can call someone is "dumb hipster"? [He laughs.] "Yes." You heard it from Ryan Gosling.