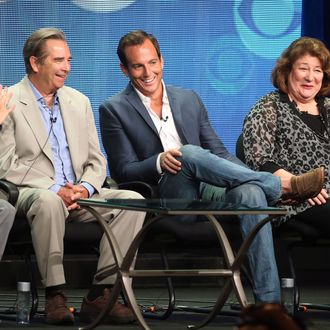 Photo: Frederick M. Brown/Getty Images
Critics drew knives back in May when they got their first look at The Millers, a new comedy from Raising Hope executive producer Greg Garcia. Margo Martindale joking about throwing silent bombs? This would not stand. In the show, Martindale plays a mom who moves in with her son (played by Will Arnett) after she and her husband decide to separate. The first passing of gas went a little something like this: Arnett: "Did you fart?" Martindale: "Yes." Arnett: "Gross. Go outside or something." Martindale: "Oh, relax, it's a fart. Some people think they're funny." During today's TCA press tour session, one journalist took Garcia to task for it, questioning the showrunner about the tone he was setting for the half-hour.
Garcia came wearing his flak jacket. He had apparently given the fart jokes some thought. "There's a run of fart jokes in the pilot," he began, while beloved Emmy winner Martindale cracked up. "I watched [the pilot] with people. People laugh at these things." Garcia added that the next eight or nine scripts would be free of passed gas, but made no promises beyond that. "I'm not saying there won't be more … because fart jokes are funny." At this point, Beau Bridges, who plays the husband of Martindale's character on the show, jumped in. "I will never fart on your show," he said.
But Garcia soldiered on. He said he recently attended the AFI tribute to Mel Brooks, where he sat elbow to elbow with the likes of Robert De Niro and Martin Scorsese, and when they played the Blazing Saddles fart scene "everyone was dying laughing." So there you have it. "There's no arguing fart and shit jokes are funny," Garcia said. "They have their place on TV every once in a while."