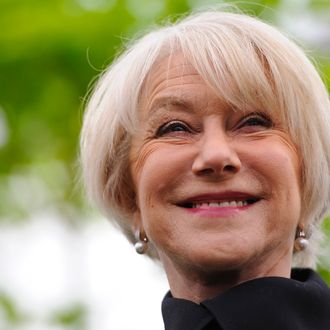 Helen Mirren attends the Chelsea Flower Show press and VIP preview day at Royal Hospital Chelsea on May 20, 2013 in London, England.
Photo: Ben A. Pruchnie/Getty Images
Helen Mirren has been cast in the upcoming chef-stravanganza The Hundred-Foot Journey. According to Variety, Mirren will be joined by 90210's Manish Dayal in the Lasse Hallström–directed film. The movie, based on the novel of the same name, is about an Indian family who opens a restaurant in the French Alps — right across from a fancy-schmancy French establishment. The family's son (Dayal) turns out to be a super food prodigy, which rankles Madame Mallory (Mirren), owner of said competition; she of course becomes his mentor, and everyone enjoys both delicious food and even more delicious life lessons.